Where is Cabo San Lucas?
On the southern tip of the Baja California Peninsula, you'll find the Los Cabos region which includes the cities of Cabo San Lucas and San José del Cabo. When booking your hotel and transportation, it's extremely important to pay attention to whether you're staying in Cabo San Lucas or San José del Cabo. These two cities may be in the same region but they are not the same city and they're quite a few miles apart. It would be a costly mistake to book your hotel in one area and, accidentally, book your transfer to the other.
The towns are about 30-minutes apart but they're connected by a 22 mile stretch of beach-front hotels and resorts. Cabo San Lucas is the most touristy area where you'll find tons of bars, clubs, restaurants, beaches, water sports, and more. So, for those who want to be in the center of the action, this is your spot! On the other hand, San José del Cabo is quieter and moves at a slower pace. If you're looking to relax with the family or spend more time in your hotel or villa, then that is the place for you.
Getting to Cabo San Lucas:
You can fly directly into Los Cabos International Airport (SJD) from several places in the United States. Alaska, American, Delta, Southwest, Spirit, and United all service SJD Airport. From Los Angeles (LAX), the flight is just over 2.5 hours which is convenient for a quick getaway. Wherever you live, you should be able to find a flight to Cabo San Lucas but you may have a connection.
Getting to your Hotel:
The best way to get from the airport to your hotel is by booking online with your hotel's recommended transportation company.  We chose to go with Josefinos Transportation and they were great! Once you land, you need to walk outside to meet your shuttle driver. This part is very important: do NOT stop to talk to the people inside the airport telling you they have a shuttle (timeshare/excursion/etc) for you. Just keep walking. All of the prebooked shuttle drivers are outside and they don't have any representatives inside. You can read more about our airport experience in my post Cocktails and Cabanas in Cabo San Lucas.

Where to stay in Cabo San Lucas:
You can stay in many different areas and enjoy the whole city. You have the Marina, resorts right on the beach, and the neighborhoods up in the hills where most vacation rentals are located.
Medano Beach
Medano Beach is the most famous beach in Cabo San Lucas and the best area to choose for a fun-filled vacation. This area has the largest selection of accommodations (hotels, vacation rentals, and apartments) in Cabo. It's a popular location since it's near nightlife, restaurants, and the pickup spot for most excursions including the famous Land's End (Arch of Cabo San Lucas). It's also the best place for swimming and water sports such as SUP, diving, kayaking, water skiing, etc.
Downtown Cabo
Downtown Cabo is another great place to stay if you want to be in the center of art, culture, cuisine, and more. Some of the most famous spots in Cabo San Lucas are downtown. Places like Cabo Wabo Cantina, Giggling Marlin, Taco Guss, and the Museum of Natural History. You won't run out of things to do if you stay in downtown Cabo.
Pedregal
The residential neighborhood Pedregal is the perfect place if you're looking for a luxury stay. This hillside city has the most incredible sweeping views of the ocean and marina. Here, you'll find luxury vacation rentals and resorts like The Waldorf Astoria and The Resort at Los Cabos. While there are no swimmable beaches in Pedregal, nearby Lover's Beach and Divorce Beach are easy to reach. If you're looking to get away from it all (without going too far), this would be the best place to stay.
El Tule
El Tule is another area where you can find upscale resorts and golf clubs. This neighborhood is located in the middle of San José Del Cabo and Cabo San Lucas so it's very central and convenient. Nearby Playa El Tule (or Tule Beach) is great for surfing and other outdoor exercises.
Where We Stayed:
On our first trip to Cabos San Lucas, we stayed at the Riu Palace Resort. This 24-hour all-inclusive resort is located right on the beach and offers amenities, like free Wi-Fi, a drink dispenser, a minibar, and a balcony or terrace. There are two pools where you can relax in a hammock or cool off with a beverage from the swim-up bars. In addition, they have many fantastic restaurants including Mexican, Japanese, Indian, several Buffets with cooking stations, and a Steakhouse.
On our second trip, we rented a Villa from Cabo Villas with two other couples not far from the Marina area. This was a great choice for the type of vacation we wanted. We barely left the Villa because we had an ocean view, a pool, and our own concierge. Why would you leave?! Whether you stay in a hotel or villa, you can make your way around the city or just relax on the beach and enjoy your vacation.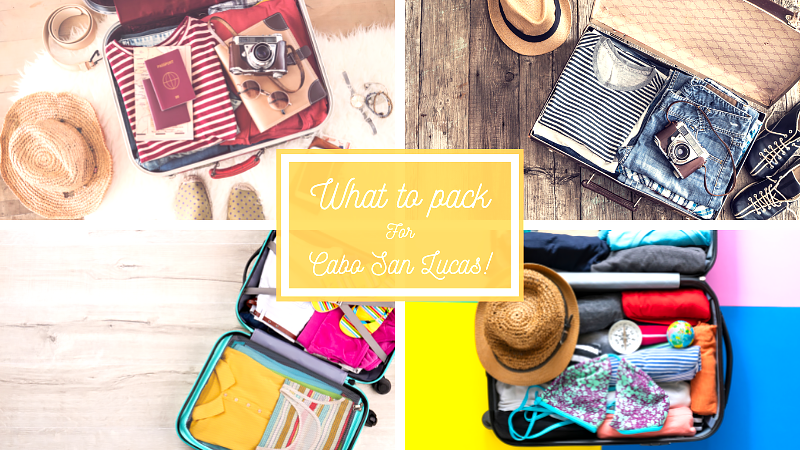 Bonus: What to Pack for Cabo San Lucas:
If you remember one thing from this post, let it be this. DO NOT OVERPACK! You will spend your days in shorts, swimsuits, coverups, and possibly a few cute outfits for the evening. Of course, you want to look great and have a variety of options to choose from. However, I think you'll want to spend more time on the beach and less time changing clothes in your room.
For a three or four-day trip, I take one pair of pants that I wear on the plane. Also, one jumpsuit that can work for the day or night, a skirt, 4 shirts, 4 swimsuits, and a sweater or light jacket. Don't forget your pajamas and plenty of unmentionables. Pack outfits that can do double duty like a coverup that can also work as a shirt or dress when paired with another item.
Pro tip: pack some accessories that will help you change up the look on your "double duty" outfits. Things like scarves, jackets/sweaters, and jewelry are great for making your outfits look different. Here are a few of my favorite things to pack for a beach getaway. This one-piece swimsuit
is perfect for the pool or beach area and it can double as a top when paired with shorts or a skirt. Perfect for hitting the buffet or popping out for some shopping. The Jumpsuit
and Romper
can transition from day to night depending on the weather. Pair these with a light jacket, scarf, or belt and you've got a different outfit!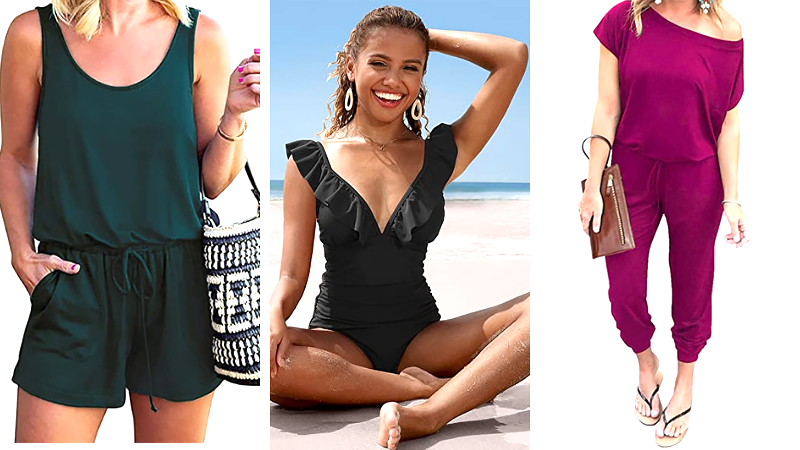 ---
Wrap Up:
I hope this information helped you decide where to stay in Cabo San Lucas (and what to pack)! As always, be aware of your surroundings and be cautious when traveling to any country. Sign up with the State Department if you're traveling from the United States. Check out my post How to Plan (and enjoy) Your First Trip Abroad for more info on the Smart Traveler program.  Now, go plan that trip, and be sure to pin this post for later.