The great American road trip has come back with a vengeance! As the world shifts to doing things a bit closer to home, we're seeing more people plan road trips. Sadly, it's been YEARS since my husband and I packed up the car and set out on the road. We, usually, hop on a plane headed for Europe but we won't be doing that for a while so we decided to take a road trip.
Knowing that traveling by car is not that different from traveling by air, I decided to put together a list of essentials I'm packing for my upcoming road trip. These can all do double duty for travel wear and they can be worn during my trip. Disclosure: This post contains affiliate links on which I may earn a small comission at no additional cost to you. Read my full privacy policy here.
---
WHAT TO WEAR ON A ROAD TRIP
SWEATER
I'm always cold so I never leave home without a SOFT CHUNKY KNIT SWEATER! I like to snuggle up on a long ride with my pillow and a warm sweater. My husband loves to keep his window down so instead of asking him to roll it up, I come prepared.
This high quality soft knit will keep you warm and cozy. It can also double as a pillow or blanket when you're ready for a nap (provided you're not the one driving!). This sweater has an open front style with two side pockets to hold all of your essentials like your phone, lip balm, and an extra face mask.
PANTS
Wearing the wrong pants on a long ride can make you uncomfortable and, quite frankly, irritable. That's why I opt for a pair of loose-fitting, lightweight pants like these  TRAVEL PANTS
These drawstring travel ankle pants are made of Ultra Stretch fabric, which is lightweight but not thin. The mid-rise elastic waist and drawstring offer decent coverage and no dig-in. The side pockets are deep and good enough to hold your hands and any small essentials you need. These pants can be worn for lounge, travel, running errands, etc.
SHOES
A comfortable pair of shoes is essential. You want an easy pair that you can kick off while you're in the car but comfortable enough for long days of exploring. That's why I love my SLIP-ON SNEAKERS
. They can be dressed up or down and they're easy to clean.
These are a twist on a classic sneaker. With a casual, vintage-inspired style and ventilated uppers, they're super light and comfortable with a roomy, forgiving fit. Croslite foam footbeds and outsoles provide the Iconic Crocs Comfort for all-day wearability.
SOCKS
If your ankles swell after sitting for a long time (in the air or on the ground) make sure you have a pair of COMPRESSION SOCKS
.  Working as a flight attendant and travel writer, I try to avoid getting swollen ankles and feet on those long flights by wearing my favorite Go2 Socks. These socks relieve swelling while providing increased comfort. Check out my quote in Self Magazine online to see more!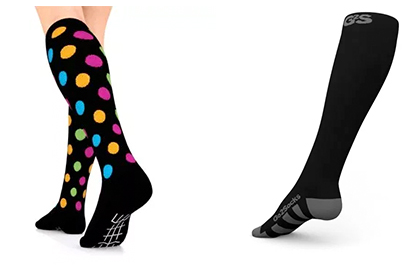 So, now you've got all you need to start planning that road trip. Don't forget to pack your face mask and hand sanitizer! Also, be sure to follow all COVID guidelines before, during, and after your trip. Let's fight this virus together and get back to traveling the world! Check back for my post on our California road trip through the Santa Ynez Valley.
---
Don't forget to follow me on Instagram and save this post on Pinterest!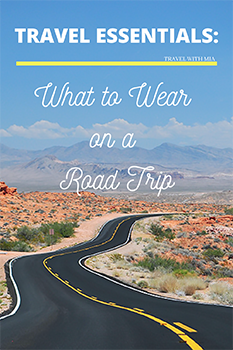 OTHER POSTS YOU MAY LIKE:
5 Ways To Get The Most Out Of Your Vacation