My husband and I wanted to spend a romantic weekend in the Santa Ynez Valley so we made a trip back. We thoroughly enjoyed our first visit and this has turned out to be one of our favorite road trips. It's a quick ride from Los Angeles at just over 2.5 hours and you can see the beautiful coastline off the Pacific Coast Highway for a good portion of the drive.
This time, we wanted to slow things down while still enjoying all the Santa Ynez Valley has to offer. So, we decided this would be the perfect romantic weekend getaway. Of course, romance is subjective! One couple may like candlelit dinners and sunset walks while others enjoy wine tasting and adrenaline-pumping adventure. Whatever your definition of romance, the Santa Ynez Valley has you covered.
Disclaimer: our weekend activities were sponsored by Visit the Santa Ynez Valley. However, as always, all opinions are my own and reflect my own experiences.
---
What is the Santa Ynez Valley?
The Santa Ynez Valley is an area made up of six unique communities and each one has something different to offer. If you want history, check out Ballard, Los Alamos, and Santa Ynez. If you're looking for European charm, hit up Solvang. If it's food, music, and entertainment, make your way to Los Olivos and Buellton. If you want to drink wine all day then any one of these would fit the bill!
Getting There
The Santa Ynez Valley is located about 40 minutes from the city of Santa Barbara. From Los Angeles, you can take the sunkissed route along Highway 1 (Pacific Coast Highway) or take the 405 to 101 for a faster drive. If you want to fly, the closest airport is located in Santa Barbara nearly 30 miles away. If you're driving, get an early start to beat the traffic. I would suggest leaving around 9 am so you get into town before noon.
Once you arrive in the Santa Ynez Valley, you'll probably be ready for a bite to eat (I'm always ready). Since it'll be too early to check into your hotel, make your way to Los Alamos. This town was founded in 1876, and still has a bit of an old west charm alongside modern boutique hotels, trendy restaurants, and wineries. One of my favorite places to visit there is Casa Dumetz Wines.
Day 1
Casa Dumetz Wines
What is there to say about Casa Dumetz Wines that I haven't already said? Lots!! Every time we visit this gem, we find something new to love. The food from dim (SAMA) is phenomenal, Casa Dumetz wines are perfect, and the beer from Babi's Beer Emporium is unique and refreshing.
Owner, and chief winemaker, Sonja Magdevski greets her guests like old friends. This was our second time visiting and she remembered us much like she remembers the locals. Sonja stopped by our table to say hello and ended up chatting with us for a good portion of our stay. She's a lovely person with a genuine love for what she does and that comes across in everything at Casa Dumetz Wines. No trip to the Santa Ynez Valley would be complete without a stop here. Grab a seat on the patio, have some lunch, and sip on the perfect bottle of The Feminist Party (their signature wine).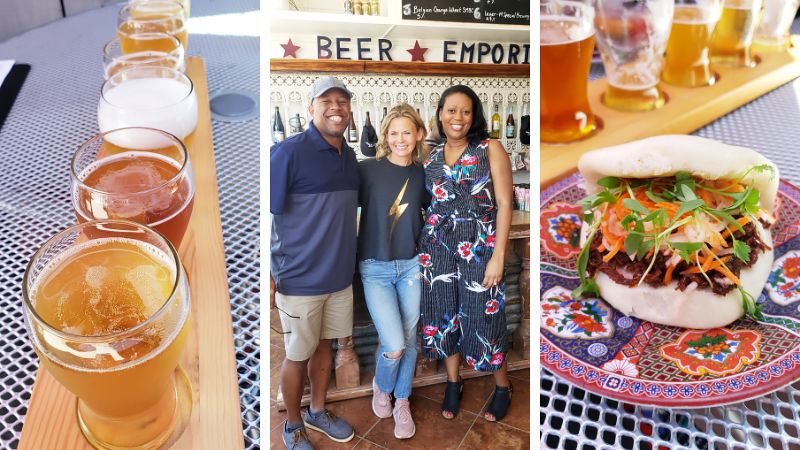 Now, it's probably time to check into your hotel but where will you stay? To set the mood for a romantic weekend, you'll need the right accommodations and Hotel Ynez is the perfect spot!
Hotel Ynez
This rustic, modern hotel located in Santa Ynez has 18 rooms – each with a private patio, hammock, large screen TV, gas fireplace, Nespresso machine, refrigerator, and modern amenities. Outside, the hotel sits on two private acres featuring a pool, spa, lush gardens, bonfire pits, and an outdoor pavilion.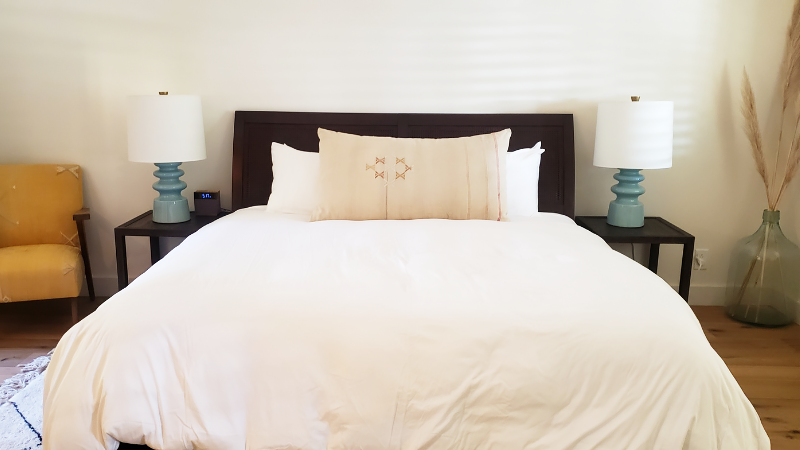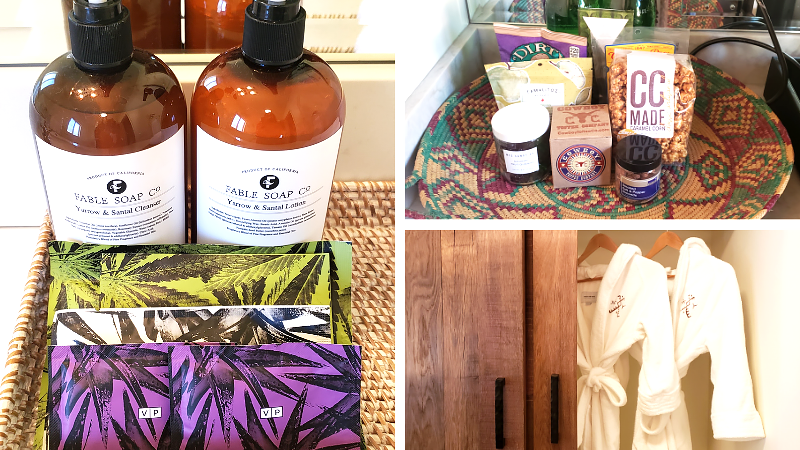 Hotel Ynez is truly special and once you step onto the property you'll feel like you've been transported to another country. The rooms are stylish and sophisticated but they're also cozy and inviting.  You can dine al fresco for breakfast, sip wine from local winemakers in the garden at sunset, or barbecue your own dinner on your private patio or at the communal fire pit. You'll have a hard time leaving the hotel, trust me!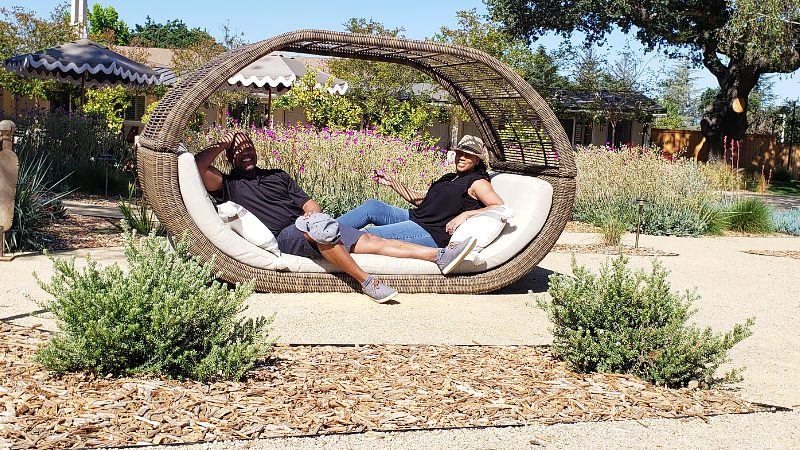 Once you've checked in and gotten settled, you'll want to pop over to Los Olivos. If you're visiting for the first time, you'll see that this tiny town is big on Victorian architecture. Take a stroll and check out all the unique buildings. When you're ready for a break, stop by Tin City Cider.
Tin City Cider
This collaborative effort between winemakers Curt Schalchlin of Sans Liege and Andrew Jones of Field Recordings is really something to experience. Tin City Ciders are carefully crafted with the very best California apples by two excellent winemakers.
We weren't sure what to expect before our visit because ciders, in our opinion, were always a bit sweet with not much interest. However, this is NOT the case here. They've taken a unique approach to cider and it's quite refreshing. My favorite was the Poly Royal – a 50/50 blend of cider and rosé.  This drink is STRONG (in the best way) with notes of raspberry, strawberry sherbet, and touches of citrus. You can have your drinks on the front lawn or in the back where they have a beautiful garden set up.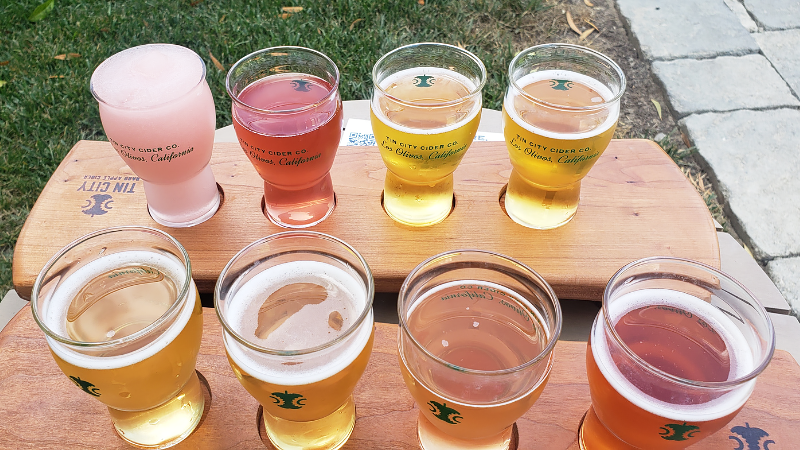 If you need to stop by the hotel for a quick nap or change of clothes this would be a great time to do it. When you're nice and refreshed, make your way to Solvang. This town was founded by a group of Danish immigrants in 1911 and it still has that European charm.  To stay in the European state of mind, get ready for a lovely meal at Cecco Ristorante.
Cecco Ristorante
A romantic dinner at Cecco Ristorante is a must. Chef David's menu will transport your taste buds to Italy where they'll be enticed by Neapolitan-style dishes! A beautiful outdoor patio with a coveted window seat overlooking the streets of Solvang cements that European feel. Order the classic shrimp cocktail and lamb lollipops to start then share a pizza and dessert. Take your time here and savor the food and time spent with your loved ones.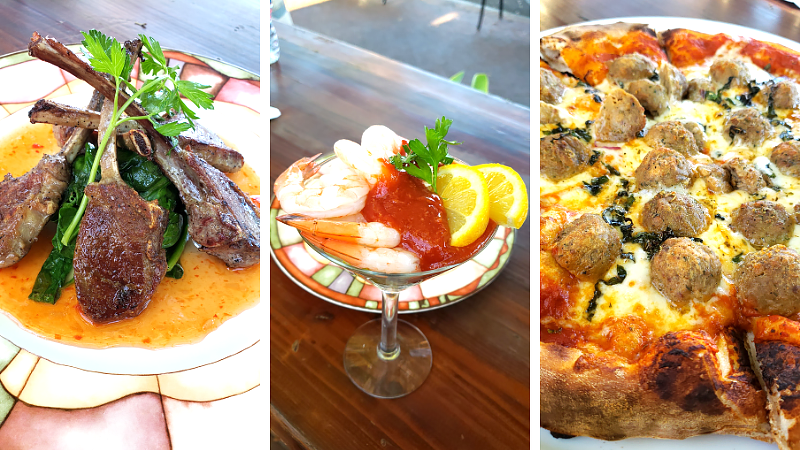 Day 2
Queen Cup Coffee
If you like to start your day with a good cup of coffee, get yourself over to Queen Cup Coffee. Order the Dirty Horchata or the Killer Queen Cold Brew (or anything on the menu, really) and have a seat. This hidden gem has a beautiful view of the Santa Ynez Valley you won't soon forget. Get to know Skyler & Alyce, husband and wife owners who founded Queen Cup Coffee in 2020. They are very cool people and they make sure EVERYONE feels welcome. If you love their coffee, as we did, be sure to grab a bag or two before you leave.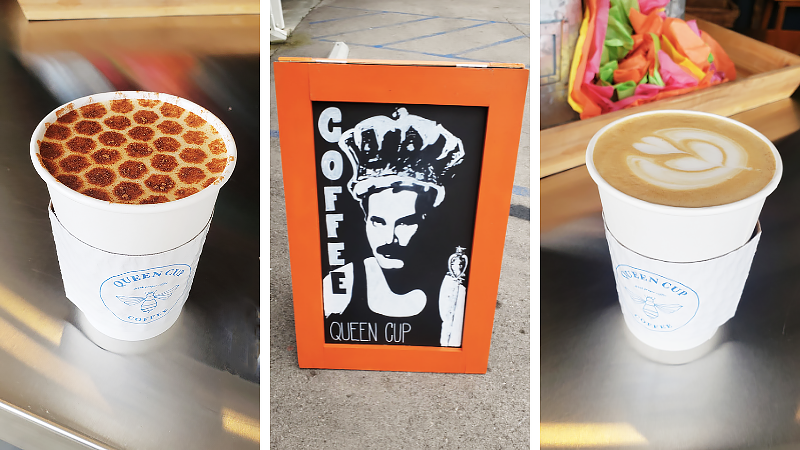 Now it's time for wine tasting, the moment you've been waiting for! Your first stop is one of the coolest tasting rooms I've ever seen and I'm sure you're going to love it! Get camera-ready because you'll want to snap pics from the moment you step inside.
Babcock Winery
This thoughtfully curated tasting room is the work of Lisa Babcock, a former fashion industry executive. Lisa has a stellar eye for all things quirky, arty, and fun. Once you step inside Babcock Winery, you'll see exactly what I mean! This is a place you could lose an entire day so be prepared to stay awhile. The tastings come with generous pours and they allow you to roam while you sip. This makes the tasting last longer and it gives you a chance to really take in all the sights. You can also relax on the patio and take in the stunning views of rolling hills and vineyards.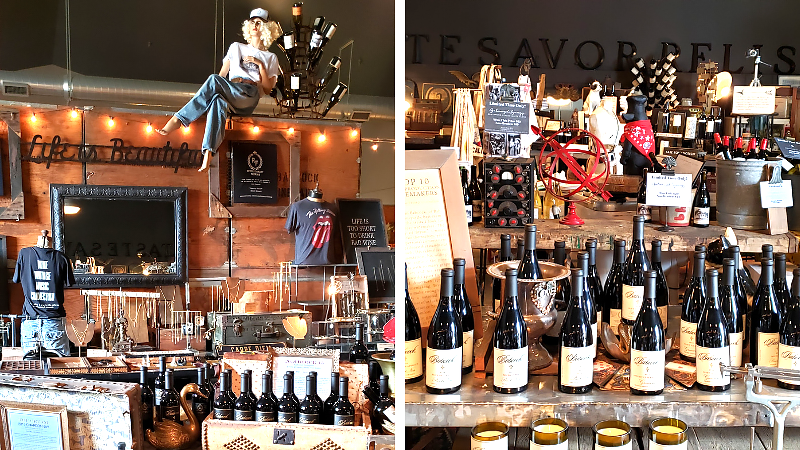 Brick Barn Wine Estate
Your next stop should be Brick Barn Estate.  This place is beautiful and quite large. You can sip wine on one of 3 large patios with fire pits and heaters or get cozy in any number of spots around the property. Pets are welcome as long as they are certified support animals and they stay on a leash. One cool thing about this tasting room is that you can bring outside food. This would be great if you grabbed a charcuterie board from one of the shops in town and brought it with you. We really liked the laid-back, elegant vibe at Brick Barn Wine Estate so we definitely recommend this spot.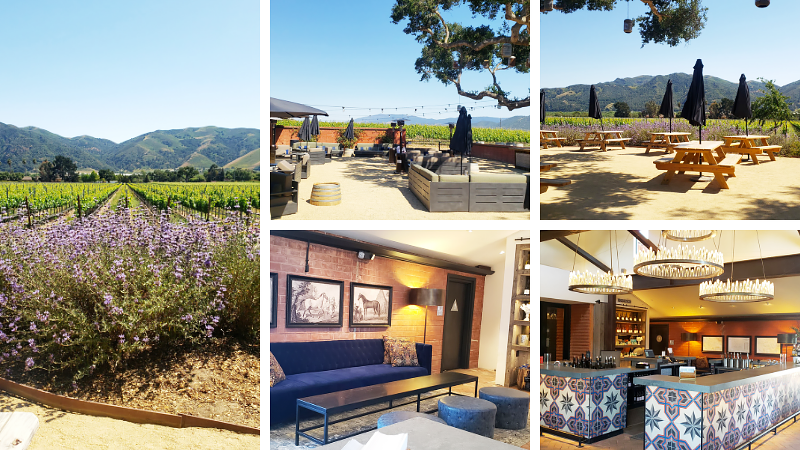 Dinner at Hotel Ynez
At this point, you've had some great wine, delicious food, and you've seen some of the sights. Why not take advantage of your stay at Hotel Ynez and spend the night in. They offer an incredible dining package where they bring you a grill, a box with all the "fixin's" for a BBQ, and they even cart it all away when you're done.
Dine outside on your private patio or sit by the fire pit and enjoy your meal. We thought the food was fantastic as the ribs were falling off the bone and the vegetables had so much flavor. My husband kept going back for a taste of this and that even though we were incredibly full.  I'd call that a successful meal! After dinner, rent a movie and watch it in bed with a nice roaring fire. How's that for romance?!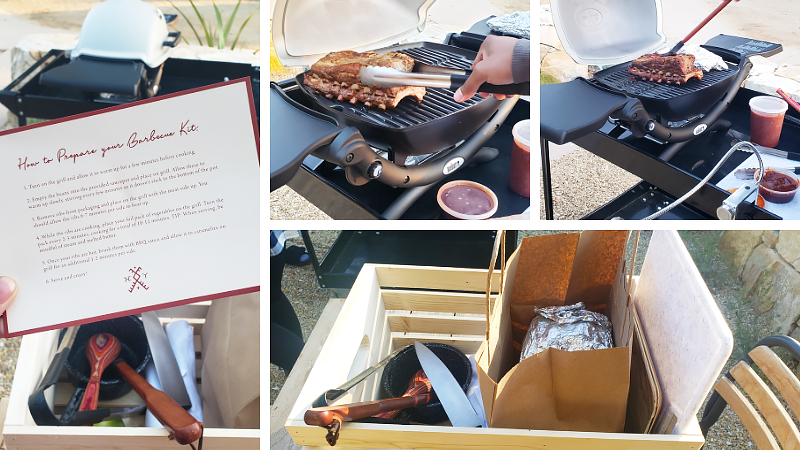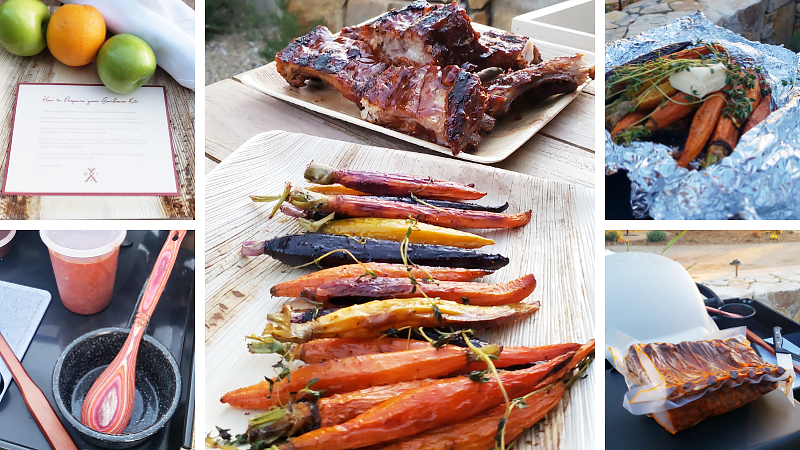 Day 3
On your last day in the Santa Ynez Valley, it's time to have an adventure and soak up some local color.
Wildling Museum of Art & Nature
A great place to start the day would be the Wildling Museum where art and nature meet. Since opening in 2000, the Wildling Museum of Art & Nature has become wildly popular among tourists and locals alike. Sharing works from awe-inspiring artists like Ansel Adams, Georgia O'Keeffe, Maynard Dixon, Carl Oscar Borg, and many, many more.
It may look small from the outside but the museum is actually quite large. With four main galleries dedicated to various exhibitions, there's no shortage of things to see. This is the perfect place to learn more about the Santa Ynez Valley region and experience art from local artists. Be sure to check out the Wildling Museum of Art & Nature website before visiting for modified hours of operation.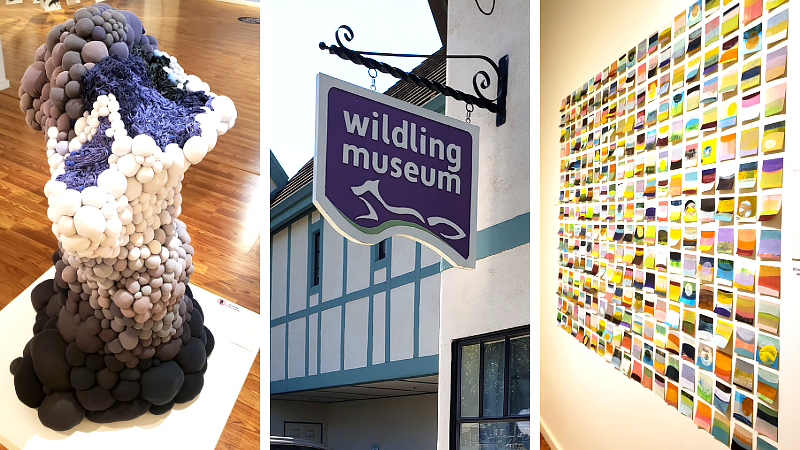 Moke Experience
Solvang Moke Experience owner, Quincy Ruffin, turned these 1950's gas-guzzling military vehicles into sleek energy-efficient electric cruisers. Now, you can have the Moke Experience in the Santa Ynez Valley with "less noise, less pollution, more fun!". We took this quirky car out for a ride through Solvang! While you can't go outside the city limits, there are plenty of cool places to see and be seen in your Moke. Swing by the Santa Ynez Mission for incredible views of the valley.
Next, drive through town and check out all the Danish sights. Honestly, this is an Instagrammer's dream because you can hop in and out of your Moke and snap pics along the way. Don't miss the famous Solvang Windmill (and the three others), the Little Mermaid Fountain, the giant red clog, and the Round Tower. Check out my Instagram for some fun Moke Experience videos!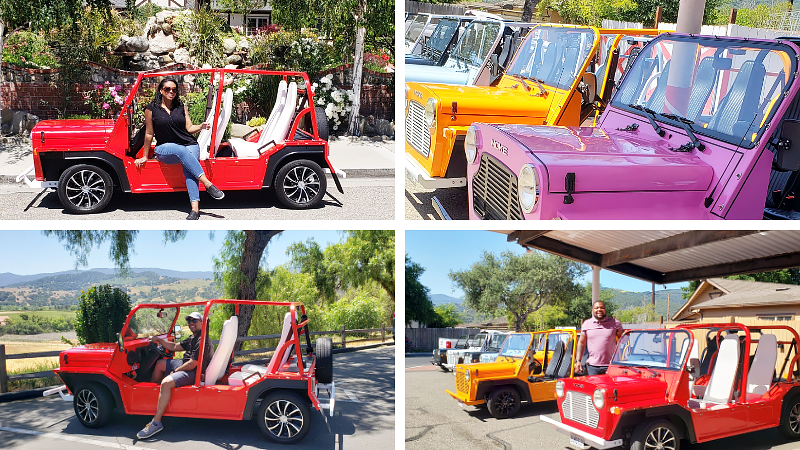 ---
There is so much more to see and do in the Santa Ynez Valley but I hope this gets you on your way to your romantic weekend. See what we did on our first trip to the Santa Ynez Valley and go book that trip! Be sure to pin this post for later.