I write a lot about Europe because my husband and I spend at least two or three weeks there every year. Since most of my readers are in the United States, though, I wanted to write about somewhere closer to home. There are plenty of places in the U.S. that have the same "je ne sais quoi," or that something special, that Europe embodies. So, I'm sharing one of my favorite Midwest cities that has loads of European spirit.
KANSAS CITY, MISSOURI
Kansas City actually spans two states, Missouri and Kansas. The Missouri side of town is where you'll find that European charm I've been talking about. The Country Club Plaza, or as locals call it, "The Plaza," has tons of shops and restaurants covering a 15-block area. Not only can you find some of the best barbecue joints in the country here, but you can also attend festivals, art shows, and live entertainment events. Arguably, the pièce de résistance is the Plaza Lights Ceremony, during which nearly 300,000 lights illuminate 150 shops and restaurants with the flip of a switch.
Even if you've never been to Missouri, you've probably heard of The Plaza. The best thing about it is that it's centrally located, close to downtown, the vibrant Power and Lights District, and several other bustling neighborhoods. Here you'll find plenty of Kansas City hotel deals and a wide range of accommodations for every taste and budget. You can find everything from cute and quirky to chic and modern.
EUROPEAN CHARM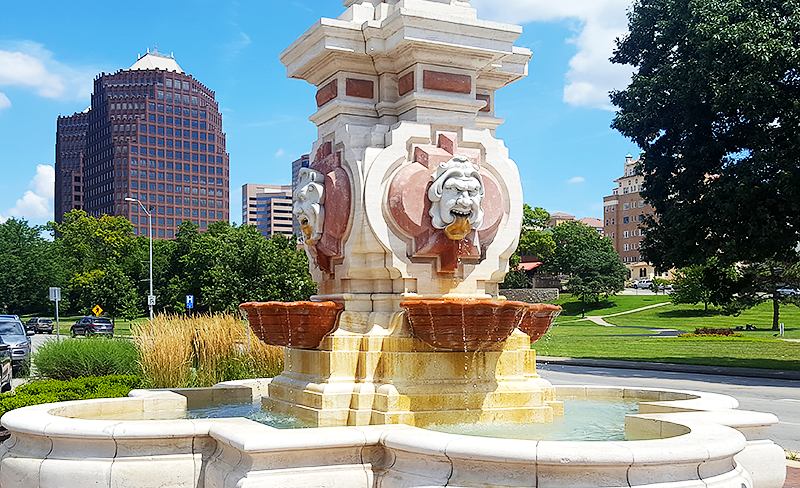 Where does Kansas City's European charm come from? It just so happens that the sister city to this Midwestern town is Seville, Spain. It's easy to see the similarities between the two cities. However, Kansas City boasts Spanish influences in more than just its colors and architecture. Two famous replicas from Seville sit right in the heart of The Plaza.
The first is the Seville Fountain at 47th and Nichols Parkway, pictured above. This fountain may look familiar if you've been to Seville and you've seen the Plaza de Los Reyes fountain, pictured below. Kansas City's version is an exact replica and just as stunning as the original.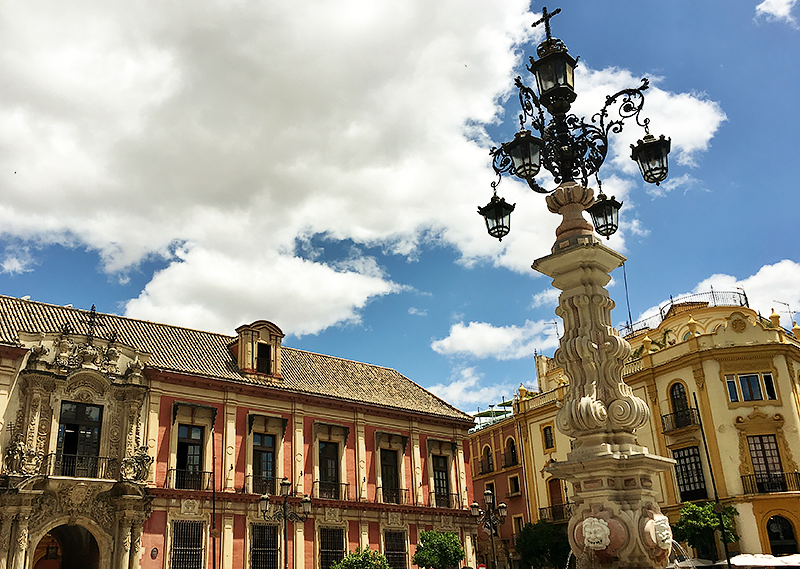 Image via Flickr by Eric Titcombe
The second is the Giralda Tower of Seville at 111 Nichols Road, right across from the Seville Fountain. The tower was built to match its namesake at the Cathedral in Seville. Walking around the Country Club Plaza is a bit like getting lost in Spain. However, going to Kansas City is easier on your wallet and won't cause jet lag.
You don't have to go all the way to Europe to experience some of the continent's charms. If you don't have the vacation time or the budget, or if you're not interested in traveling to Europe, you can still find that feeling of being abroad. Kansas City's European charm is not to be missed. No matter where you live in the United States, Kansas City is just a quick flight or two away. Go book your ticket and find a little piece of Europe close to home.
Have you been to Kansas City? Did you visit The Plaza? Tell me about it in the comments!