Walla Walla is Washington State's best kept secret and the perfect location for wine lovers to indulge in the region's bountiful offerings! This small town is big on beauty with its lush landscapes, stunning Blue Mountains, and majestic rolling hills. They also have award-winning restaurants, a vibrant art scene, and over 120 wineries. It's no wonder USA Today's 10Best Readers' Choice Awards named Walla Walla the Best Wine Region!
Of course, there is a lot more to Walla Walla than just wine. This region produces a wide variety of other fruits, vegetables, and grains like strawberries, asparagus, and wheat. However, the Walla Walla sweet onion has to be the most famous of all the things grown here (besides the grapes)! You can find amazing jams, spreads, and dips showcasing this local favorite. What I'm trying to say is, Walla Walla is a well-rounded city with organic food, stunning views, welcoming locals, and so much to see and do. So, without further delay, here's what I think you should see, do, and eat in Walla Walla, Washington.
Disclaimer: My trip was sponsored by Visit Walla Walla. However, as always, all opinions are my own and reflect my own experiences.
How to Get There?
The local airport in Walla Walla is (ALW) Walla Walla Regional. Flights into ALW operate from SeaTac in Seattle (Seattle-Tacoma Airport) on a daily basis with Alaska Airlines. Another option is Pasco Airport in the Tri-Cities (Kennewick, Pasco, and Richland) which is about an hour away. If you'd like to take a road trip to get to Walla Walla, you can drive from at least four major cities nearby including Seattle, Spokane, Portland, and Boise.
Accommodations: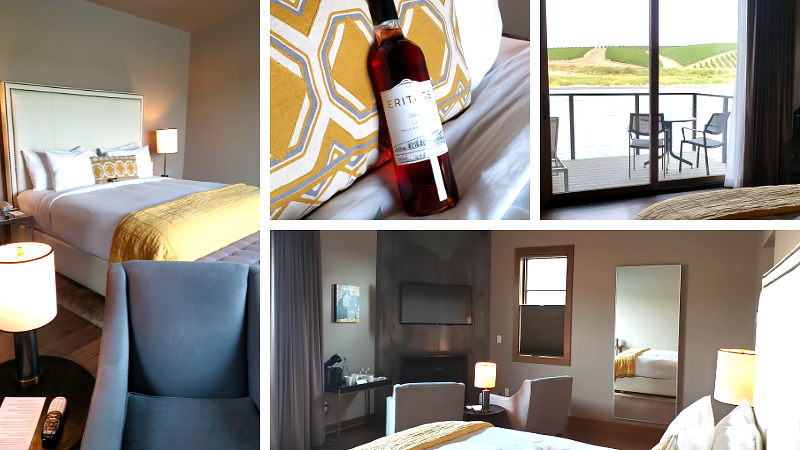 Once you make it to Walla Walla, you're going to need the perfect accommodations. For this trip, the perfect place was a luxury property that sits on its own vineyard called Eritage Resort. The hotel features 20 luxury suites – 10 traditional resort rooms and 10 phenomenal bungalows with balconies overlooking the private, man-made Lake Sienna. All of the rooms are modern, chic, and stylish with everything you'll need for your stay including a Nespresso Machine, Smart TV, gas fireplace, and a steamer instead of an iron/ironing board. Imagine waking up each morning and enjoying a cappuccino while watching the sunrise over Lake Sienna.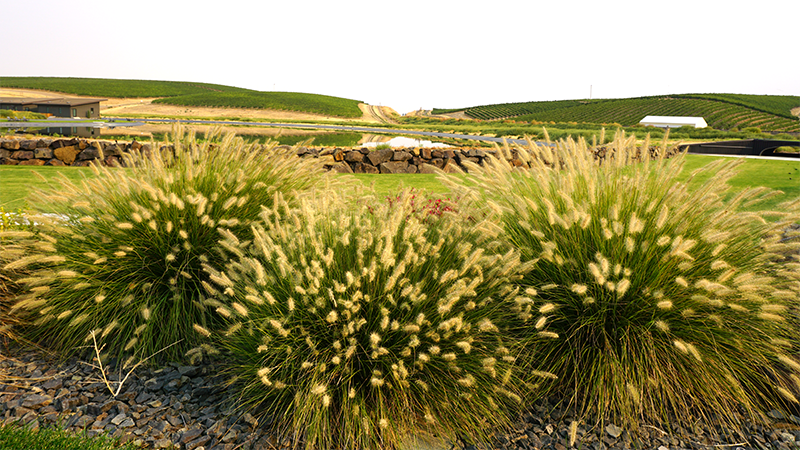 Wine & Dine:
Walla Walla has a fantastic culinary scene that is sure to impress even the biggest food snobs. No matter what you're looking for like pastries in the morning, a low-key lunch, or an upscale dining experience, there's a place that will fit the bill and fill your stomach. While there are dozens and dozens of amazing places to choose from, these are a few of my favs.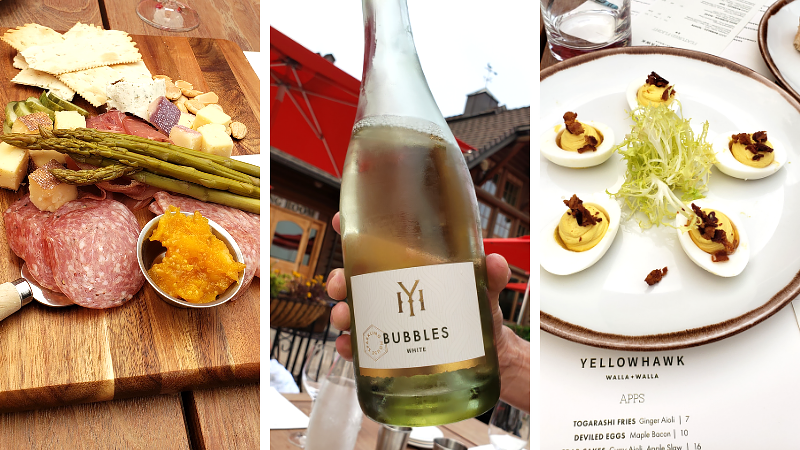 This sprawling estate sits on 84-acres of rolling hills and vineyards with incredible views of the Blue Mountains. The best way to enjoy your time here is to sit on the patio overlooking the vineyard and have a tasting. Order a few farm-inspired dishes like crab cakes, deviled eggs, charcuterie and cheese, or the buttermilk panna cotta. Each dish pairs perfectly with one of Yellowhawk's sparkling wines. The 'Red Bubbles" were my personal favorite!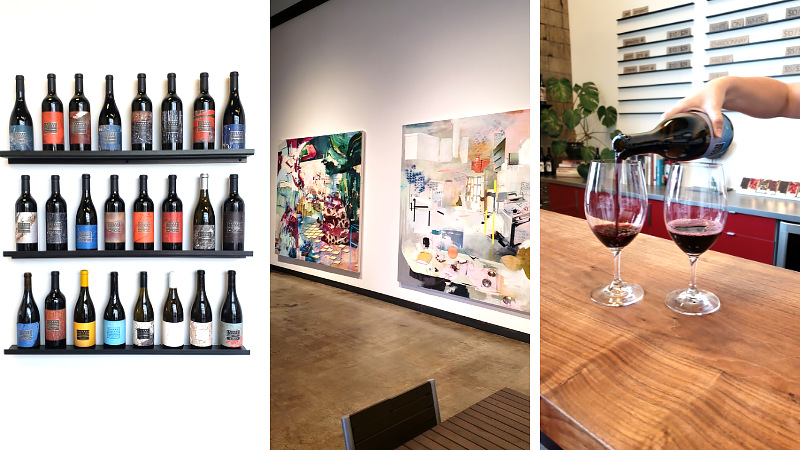 When you're ready for something different, head over to Foundry Vineyards. I can't think of a better way to spend the afternoon than taking in some local art while sipping on local wine. One cool thing about Foundry Vineyards is that each wine label displays a close-up image of a piece of art currently in the works at their contemporary art studio – Walla Walla Foundry. Be sure to try the 2020 GSM (only available in the tasting room)… it's a Grenache, Syrah, and Mouvedre blend and it's AMAZING!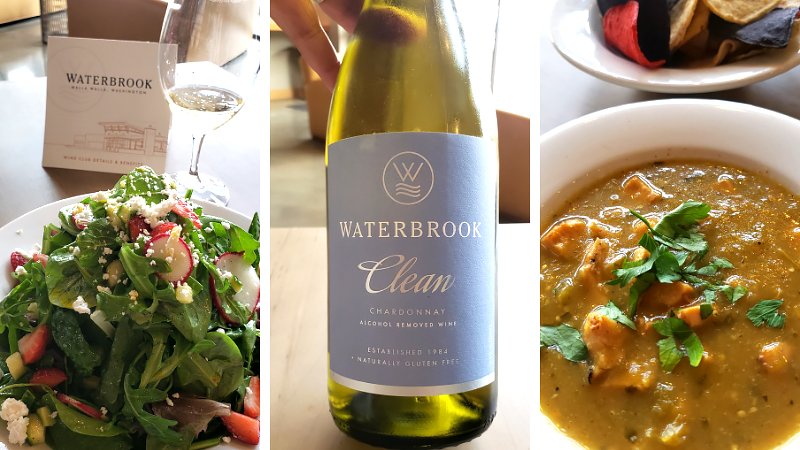 This winery offers a peaceful patio where you can sip wine and lose track of time while enjoying views of the Blue Mountains and the picturesque grounds. You can also order farm-to-table dishes from their full-service kitchen. My favorite was the roasted tomatillo soup and the seasonal salad featuring Frog Hollow Farms apricots and honey pistachios. Since I wasn't "drinking", I tried their refreshing alcohol-free Waterbrook Clean Chardonnay (it has less than 0.5% alcohol). If you're not a drinker (or you're taking some time off) but you don't want to feel left out then this is a great place to start.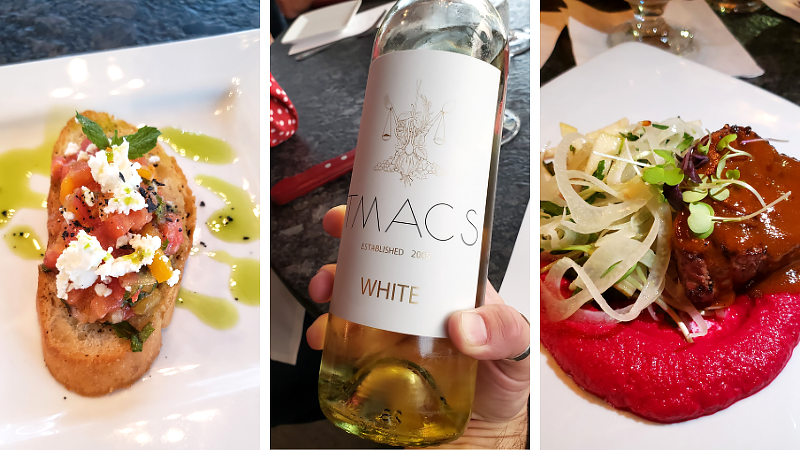 One of the best places to eat (like really eat) is TMACS located in the heart of downtown Walla Walla. This chic, metropolitan restaurant is famous for its unique culinary creations and an upscale (yet laid back and inviting) atmosphere. We were lucky to have the tasting menu which featured items not currently on the menu so I can't give you any recommendations. However, I can tell you that you can't go wrong with anything at TMACS. Also, this is another place to enjoy a "drink" when you're not really "drinking". I was incredibly impressed by the craft "mocktails" they created for me!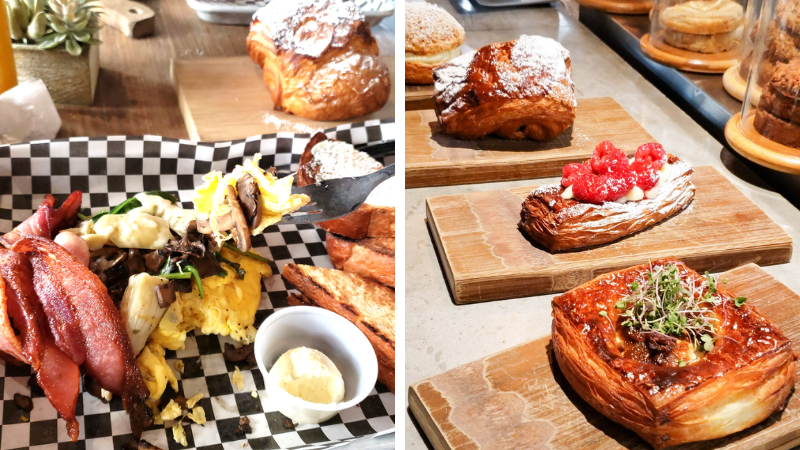 When it comes to breakfast/brunch/lunch, you have to go to Walla Walla Bread Company. Be sure to bring your appetite because the portions are large and the flavors are abundant. Everything from the traditional bacon and eggs to the incredible eye-popping pastries will have your mouth watering. Husband and wife team Coral & Michele Pompei, are putting their stamp on this little town and on TV. For those Food Network fans, you may recognize Michele as a recent contestant on "Best Baker in America"!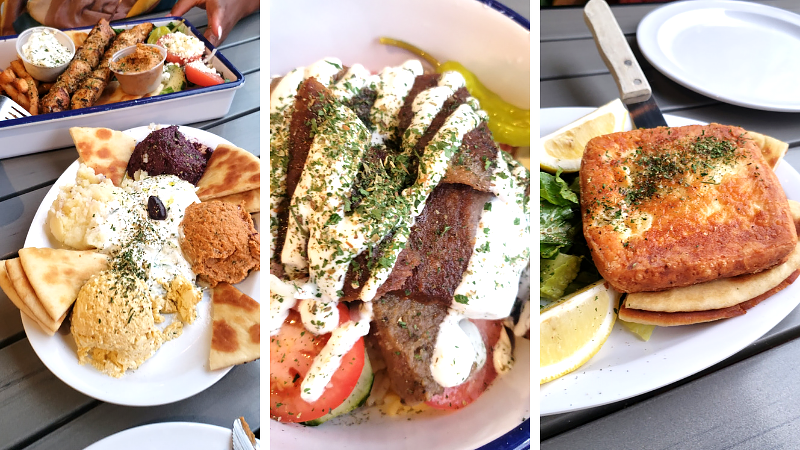 This restaurant serves up traditional Greek cuisine from their downtown location just steps from Main Street. The portions are large and the flavors are bold so you're sure to leave full and happy. Order a few of the different spreads served with pita, they're to die for! I, also, really liked the rice bowl with tomatoes, onions, tzatziki, and choice of meat but everything looked divine!
Shopping & Sweet Treats: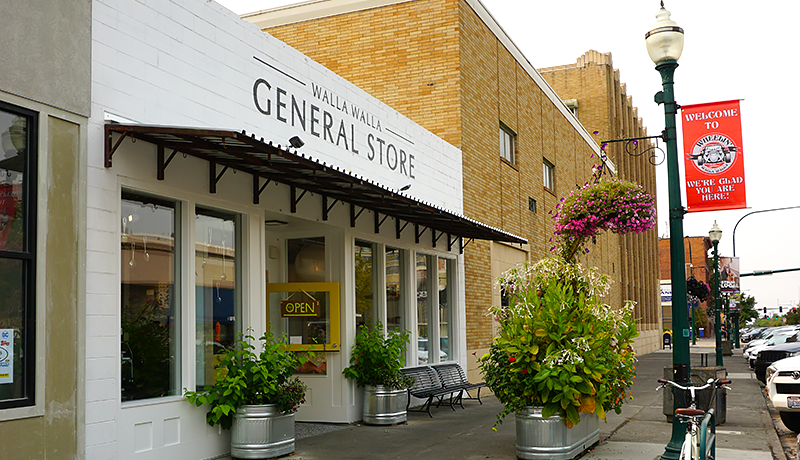 Downtown Walla Walla is the perfect location for shopping, people watching, and just slowing things down. Spend some time wandering down Main Street where it feels like you've stepped back in time to a more simple life. Enjoy the live music as you navigate the streets then pop into a few of the unique shops like Walla Walla General Store and the Showroom on Colville. One thing is for sure, there's no shortage of book shops, art galleries, and funky little spots to explore.
Before you leave, be sure to stop at Brights Candies where locals have been getting their candy fixes since 1934. Grab some exquisite chocolate truffles, fresh popcorn, or some cool vintage candies. If your sweet tooth isn't quite satisfied, head over to Pine Cone Creamery for the incredibly creamy and delicious ice cream. They change flavors frequently but if they have the Peach Cobbler, DON'T THINK just get it! Hands down, it's the best ice cream I've ever had!
Culture & The Arts:
You may be here for the wine but there's so much more to see and do in Walla Walla. So, don't leave without visiting the museums, historical landmarks, and art studios. I had the pleasure of visiting a few of the well-known spots in town and they didn't disappoint.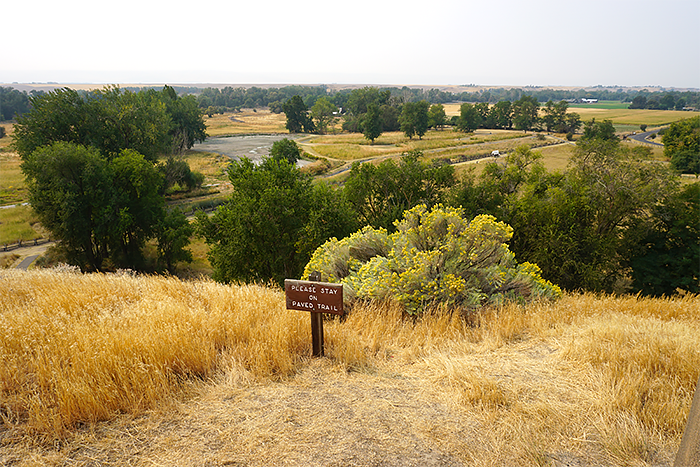 Whitman Mission – "Whitman Mission National Historic Site honors Marcus and Narcissa Whitman who co-founded the Oregon Trail and started a series of events that would eventually turn Oregon into a state. Plan to spend a decent chunk of time here as there are many things to do like visiting the museum, touring the trails, taking in a film, and so much more. One of the most popular things to do is follow the trail that leads you to a reconstructed area of the Oregon Trail. There you'll stumble upon a replica of the covered wagon used back in the 1800s. During the winter months, you can see the wagon (sans cover) at the entrance of the visitors center. Whenever you decide to visit, luckily, you can do it without dying from dysentery!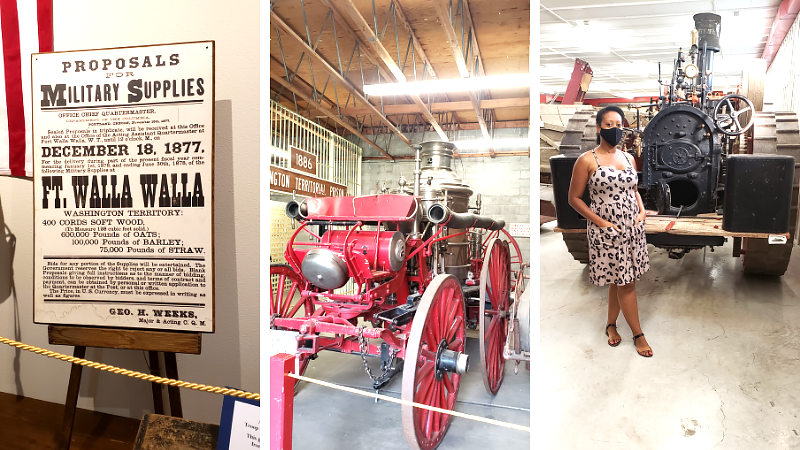 Fort Walla Walla Museum – The Fort Walla Walla Museum sits on a 19th-century military fort and features a 17-building historic pioneer settlement and 5 exhibit halls with thousands of artifacts and photographs. This is the place to learn about Walla Walla's rich Indian Culture, their military history, and the pioneer lifestyle. Don't miss the uniform displays inside the museum, especially those from the African American Buffalo Soldiers who fought with the 10th Cavalry Regiment of the United States Army. Truly inspiring!
Whitman College Outdoor Sculpture Walk – Located just minutes from downtown but you'd never know it once you step foot on campus. Lush grounds, mature trees, and the incredible outdoor sculpture walk are just a few of the things that make this college unique and inviting. Stop by to see the 21 incredible sculptures that are sprinkled throughout the campus. Many of the sculptures were done by Whitman College alumni.
Teetotaler Tips:
While Walla Walla may be the best wine region, there are plenty of things to drink that don't contain alcohol. Many of the wineries offer alcohol-free options, spectacular craft cocktails, organic juices, and so much more. Don't be afraid to ask for something different!
Wrap Up:
I hope this little guide will help you start planning your trip to Walla Walla. I promise you won't be disappointed when you arrive! Be sure to save this post for later and check out my Instagram for more pics and info. Finally, I'd like to send a huge THANK YOU to the team over at Visit Walla Walla, all of the brand partners, and the Port of Seattle for hosting us on this incredible trip. See you next time, Walla Walla!
---
You May Also Like: