If you've read my blog, you know I love food. I love talking about food, eating food, and doing food tours… especially with Eating Europe. They have the best guides, the most authentic restaurants, and the most engaging experiences. So, when my husband and I decided to visit Amsterdam, we immediately booked a tour. This was going to be my third tour with Eating Europe (Rome, Prague & Amsterdam) and my husband's second. Either way, we were both really looking forward to it. 
---

---
Why Amsterdam? Well, my husband and I have wanted to visit for a long time now. Unfortunately, with so many places to go and life in general, we never quite made it. So, when planned a trip to Tallinn, Estonia,  I knew we could pop over to Amsterdam on the way home. 
When we finally made it to Amsterdam, it was mid-October and we were worried that the weather would be rainy and cold but we got a huge surprise. It was sunny, warm, and dry. We couldn't have picked a better day! So, let me tell you about our Jordaan Food Tour & Canal Cruise. Unfortunately, this specific tour doesn't exist anymore.
Luckily, it didn't go away altogether, it was just split into two different tours – Jordaan Food Tour & Amsterdam Food & Canals Tour. I think that was a great idea as both of these tours have a lot to offer and they can stand alone, no problem. So, after reading my post, I hope you have enough info to decide which tour(s) you want to take. Check out some of the highlights of our day!
PART I – JORDAAN FOOD TOUR
Our first stop led us to a historic "brown cafe" (or bruin café) which is what they call traditional Dutch pubs in Amsterdam. The name was also pretty obvious once we walked inside the cafe as it was all brown. There, we had Dutch Appeltaart or, for us Americans, Dutch Apple Pie.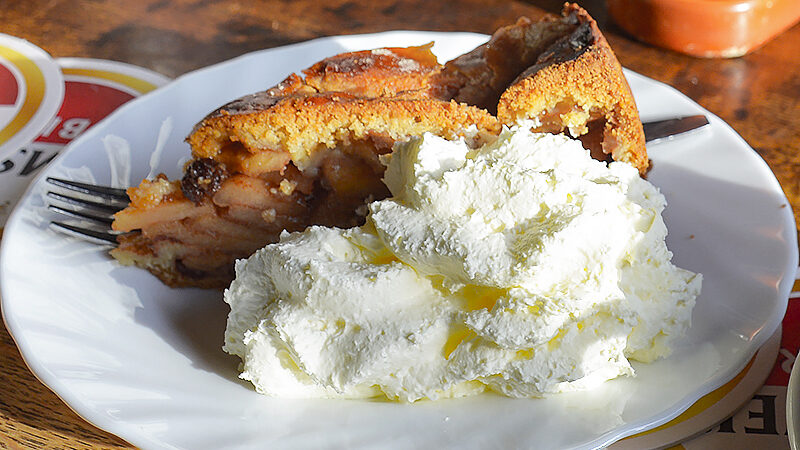 Now, I've never been a huge fan of "fruit pies" but this was unlike anything I've ever tried. It wasn't too sweet or too mushy which I find most fruit pies to be. This was light, flaky, and delicious with the most delicate and airy whipped cream. While enjoying this treat, we learned a bit more about the city and people of Amsterdam. I had no idea how diverse it was with people from over 180 different backgrounds.
As we listened and ate, my husband was "patiently" waiting for me to offer him my leftovers as that's what I usually do with sweets. Not this time! I'm almost ashamed to say that I ate the entire thing but I'm not and I'd do it again. And, get this, I didn't even realize it had raisins in it which I pretty much avoid at all costs but devoured in less than 2 minutes. Whatever voodoo magic they used to bake this Appeltaart is okay with me!
At the next stop, we tried another traditional dish. While I love sashimi (Japanese raw fish), I wasn't sure I would like this haring (brined herring). I didn't know what the texture would be like and that's my biggest food issue.

However, I was very pleasantly surprised by this dish. So much so, I ate two pieces and could have eaten another but I didn't want to look like a little piggy! The pickles and chopped red onion added to the flavor of fish perfectly.
Later, we stopped by a popular cheese shop. There, we tried 4 kinds of Dutch cheeses like Komijnekaas which is a semi-hard cheese with cumin and caraway seeds. I, absolutely, love cheese and take every chance I get to stuff my face. Unfortunately, what they brought out was for the group, not just me! Not to worry, I stopped by the next day for some more artisanal Dutch cheese.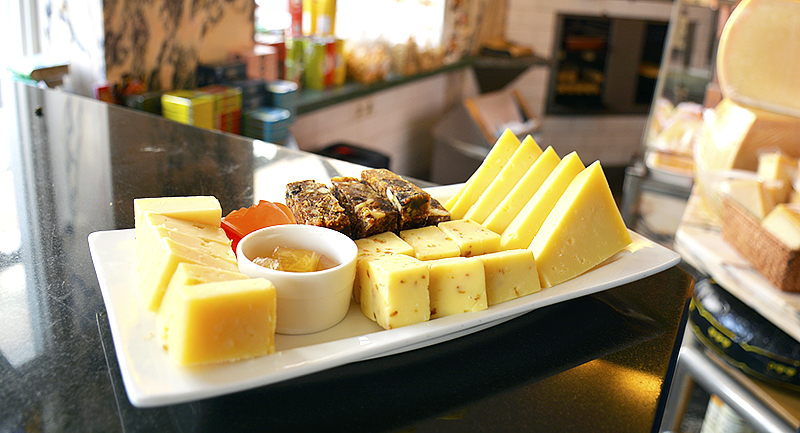 As we made our way through the city, our guide pointed out many of the unique features of Amsterdam. One example is this house that leans forward. There are many reasons the houses lean forward and even to one side or the other but I'll let you hear about that on your tour.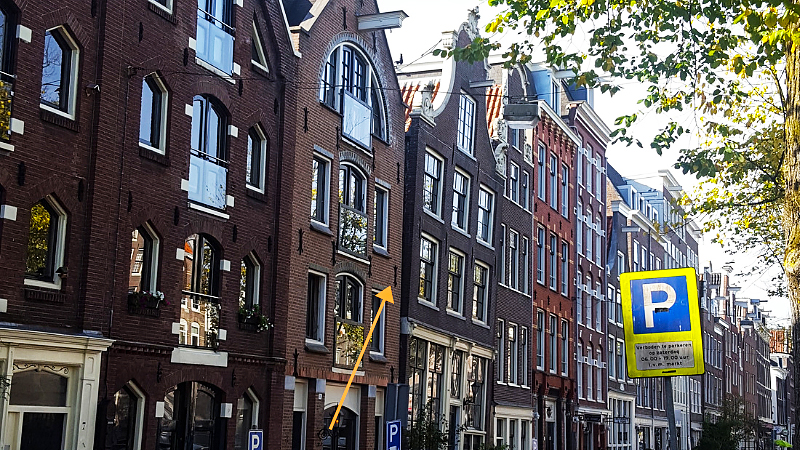 PART II – THE CANAL CRUISE
One of the best parts of the tour was the canal cruise. The boat we boarded was one of the oldest Salon Boats in Amsterdam called "The Tourist". The owner, Imco Bruné, says "Our boat is so old, we call it a 'floating monument.' We've even welcomed Sir Winston Churchill and Queen Wilhelmina on board back in 1946 to celebrate the end of WW2!" By just stepping on this boat, you're stepping into history… how cool is that?!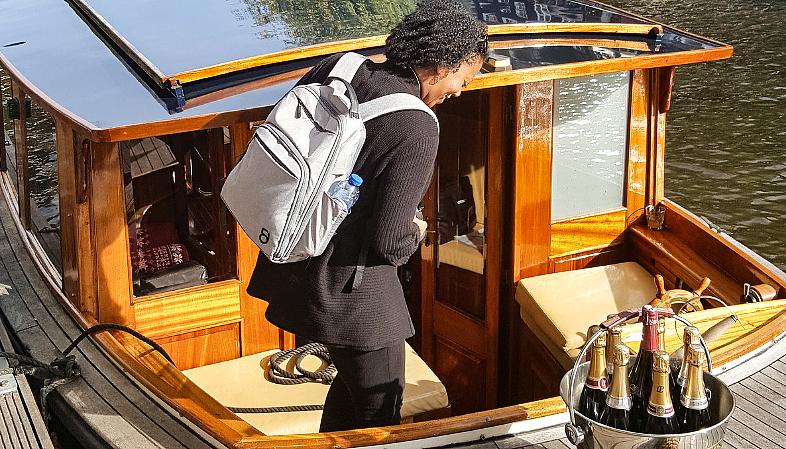 As we cruised along the canals with the wind in our hair and the sun shining down on us, we learned more about the incredible history of Amsterdam. Mid-story, our guide hopped up and grabbed us a few cold Brouwerij 't IJ beers! I think he knew how to keep us engaged. Plus, it was so warm out, these really hit the spot.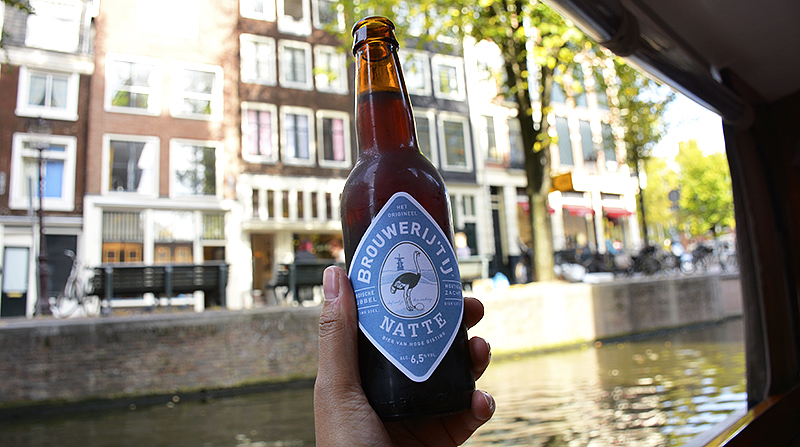 A little later, our guide disappeared and came back with a bag. When he opened it and pulled out a box, a delicious smell came wafting out. Inside the box was the local snack called Bitterballen. These are little deep-fried balls filled with ragout (basically stewed meat and veg). They are, usually, made from beef or veal and they taste like a mix of meat and gravy. There's a similar dish called croquettes that taste, to me, like a mix of beef, mashed potatoes, and gravy. They're both worth a try.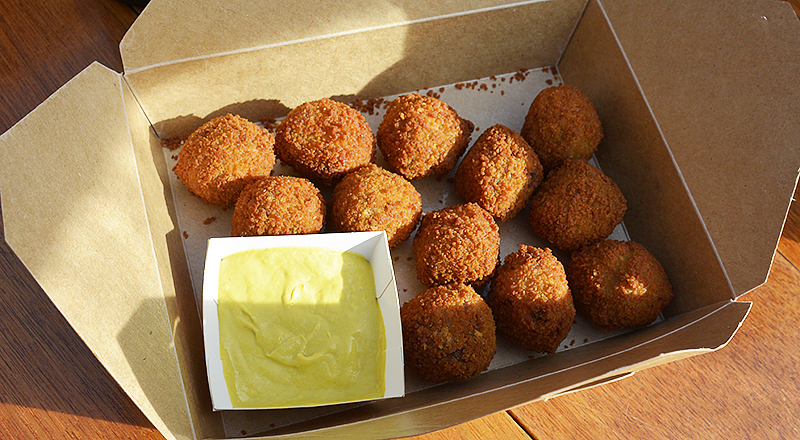 Feeling stuffed, we sat back and enjoyed the remainder of our cruise. There's so much to see along the canals so be sure to pay attention. It's a great time to grab some photos you can't get on dry land.
After our relaxing cruise around the canals, we made our way to the last stop for a sweet treat called, Poffertjes. These pancake-like bites are topped with powdered sugar (or "icing sugar") and butter. By this point, I was stuffed and I didn't think I could eat one more bite. Surprisingly, I was able to take down half of this bowl with little to no effort. I just kept thinking, "later on, I'm going to regret not finishing these!"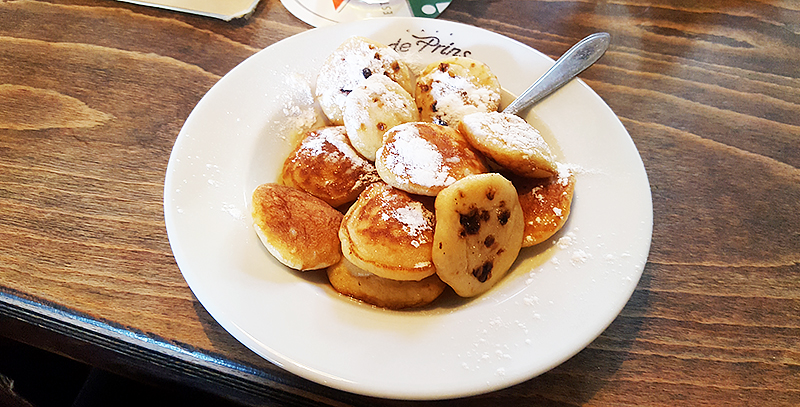 After we finished, we said our goodbyes and took some fun pics. This tour, like the others, was magnificent! Since the tours have changed, I didn't mention all the stops or all the delicious food you'll eat. I want you to experience all the fun on your own whether you do the Jordaan Food Tour or Amsterdam Food & Canals Tour. This should give you a good idea of what's to come and make you book one (or both). I can't tell you how much we love Eating Europe – it's one of the highlights of our travels.
---

---
Why You Should Book with Eating Europe?
As I mentioned, this is my third tour with the company. Every tour guide was knowledgeable, energetic, and had a genuine interest in their city and its food. Each one of my tours went like this… we laughed, we ate, we drank, and we all became friends. I, really, can't think of a better way to spend the day when visiting a new city/country. *Please note that "tour stops, tastings, and the number of tastings are likely to change slightly to reflect seasonal produce, vendor, opening hours, and/or availability."
---
While I partnered with Eating Europe for this blog post, in no way has my opinion been swayed. My reviews have all been (and always will be) 100% based on my experience. I should mention that I'll probably go broke trying to keep up with all the new tours that Eating Europe has to offer. Do yourself a favor and book today! Also, be sure to check out my other tour with Eating Europe in Prague and don't forget to pin this for later!