Dubrovnik, Croatia, the 'Pearl of the Adriatic', is situated along the stunning Dalmatian coast. If you're lucky enough to visit, you'll want to get the most out of your trip and maximize your time. I'm not here to tell you whether you should "slow travel" or "fast travel" (if that's a thing). I'm just here to tell you what you can see, do, and eat in 72 hours. Fortunately, that's plenty of time to explore. So, what can you do in Dubrovnik in 3 days?
DUBROVNIK IN 3 DAYS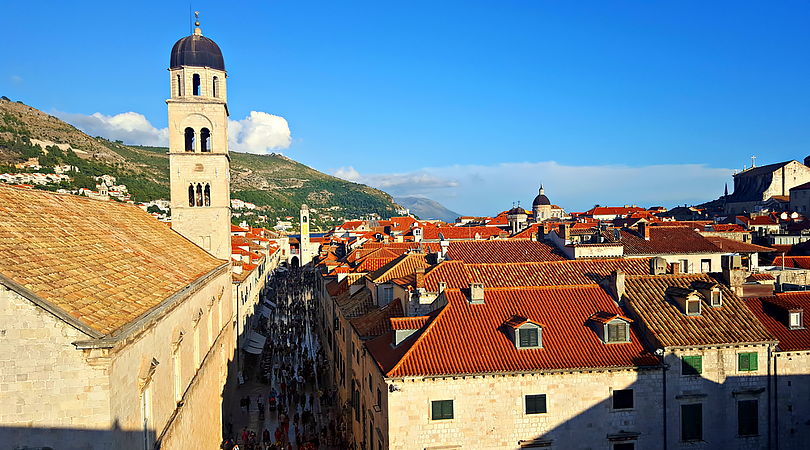 I wrote this post after my first trip to Dubrovnik back in 2016. In July of 2019, I returned and thought I should update my post with new places and prices. I want you to have the best trip and the most up-to-date information.
– DAY 1 –
If you're just arriving in Dubrovnik, you should read my original post on what to see, do, and eat in Dubrovnik in a Day. You can cover a lot of ground in 24 hours like walking the City Walls, taking the cable car up to Mt. Srd, and so much more! Since you have more time, you can do these activities over a few days. Just don't miss a thing in Old Town, the stunning UNESCO World Heritage Site. Now, let's start with day 2 of Dubrovnik in 3 days!
– DAY 2 –
Morning:
Since you spent most of day 1 in Old Town, get out and see more of the city and surrounding islands. Plan a day of sailing with Dubrovnik Daily Sailing and visit Mljet island, Elafiti islands, or stay close and go to the island of Lopud. *If you book with Dubrovnik Daily Sailing, try to get Maro, he's awesome. Plus, his lovely daughter Marcela runs D'inspiration Dubrovnik, a local event & wedding planning service.
Our Experience: We booked a half-day of sailing (4 hours) and went swimming at Sunj Beach. Who am I kidding, we stuck on foot in the water and said "nope!" It was way too cold so we, mostly me, stayed in the boat and took pictures! My hubby did get in the water for about 5 minutes but he couldn't take the chill. After our swim, we walked around the island of Lopud, had a drink and some ice cream, and relaxed by the water.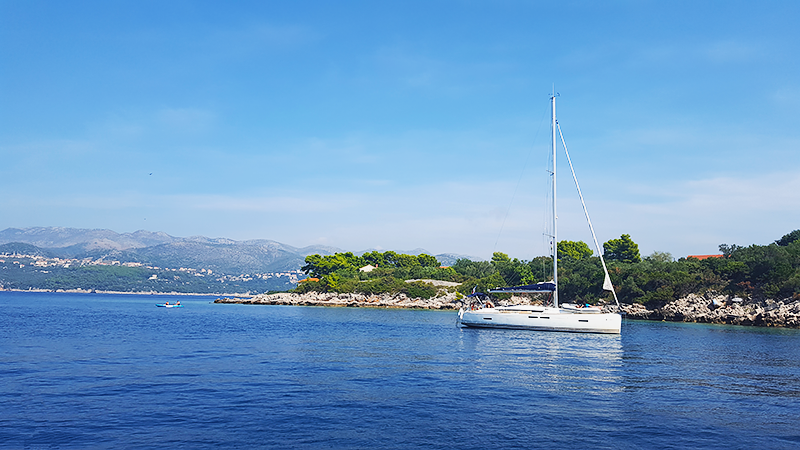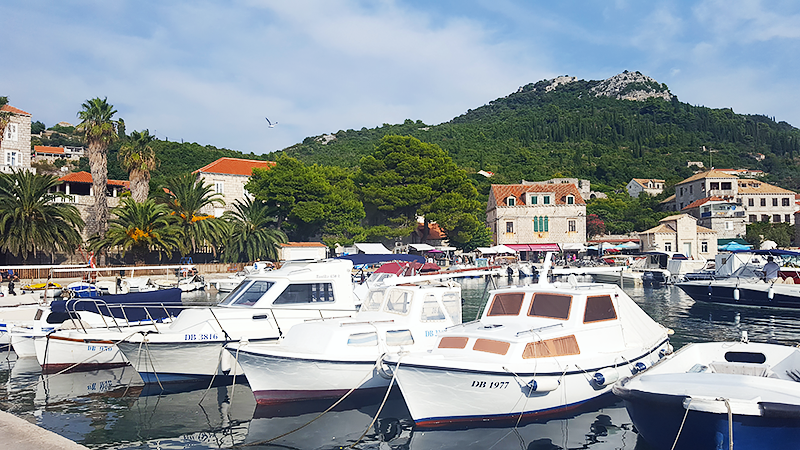 Afternoon:
No matter what's on your schedule for the day, you should definitely check out Piknik Dubrovnik. They'll pack an unforgettable meal with everything you need from appetizers and the main course to dessert and drinks. You'll also have plates, utensils, a nifty tray, a blanket, and a backpack to carry it all in.
Take your picnic with you on your day of sailing and pick a spot to enjoy your meal with the best view. If sailing isn't your thing, take a hike up to Park Orsula for a stunning view of Old Town and Lokrum Island. You can reward yourself with a delicious meal once you reach the top. Or, go to "Dance Beach" and dine on your perfectly packed snack next to the sparkling water and sunkissed rocks. If you're looking for something different, contact Alexandra and she'll set you up with a picnic and recommendations on where to go for a lovely afternoon.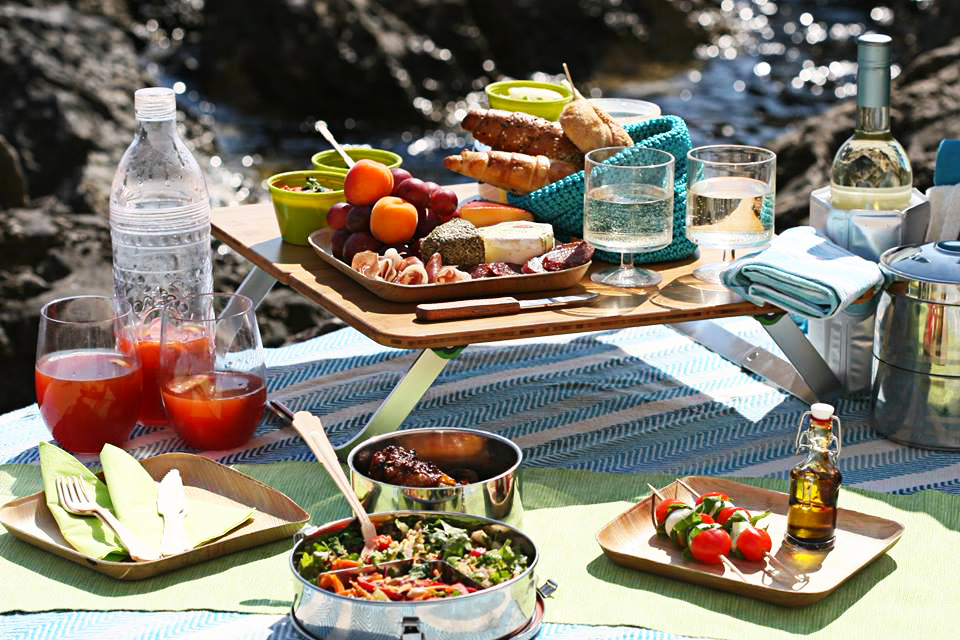 Image via Piknik Dubrovnik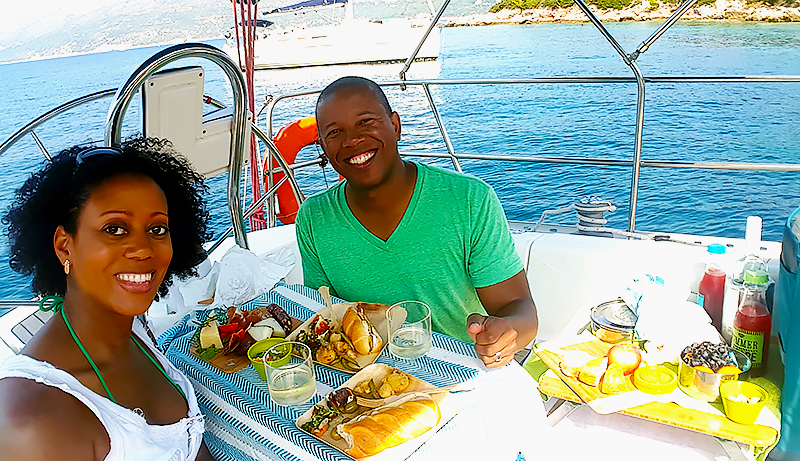 Evening:
After a full day, you'll want to take some time to rest and relax before going back out. Make dinner reservations for later in the evening so you don't feel rushed. For a stellar seafood meal, check out Dalmatino. It's a bit pricey but it's worth every bite. After dinner, stop for a drink at Cele on the Stradun, then walk around Old Town before heading off to bed. It's a wonderful time to admire your surroundings without the daytime crowds.
If you get to Lapad, check out Restaurant Orsan for one of the best seafood meals. When we booked our trip, we didn't realize we'd be in one of our favorite cities for our 8th wedding anniversary. So, we decided to treat ourselves with an incredible meal with a view. We started with their famous Black risotto and Prawn tempura then for the main course we shared the "catch of the day" fresh grilled fish. Every bite was delicious!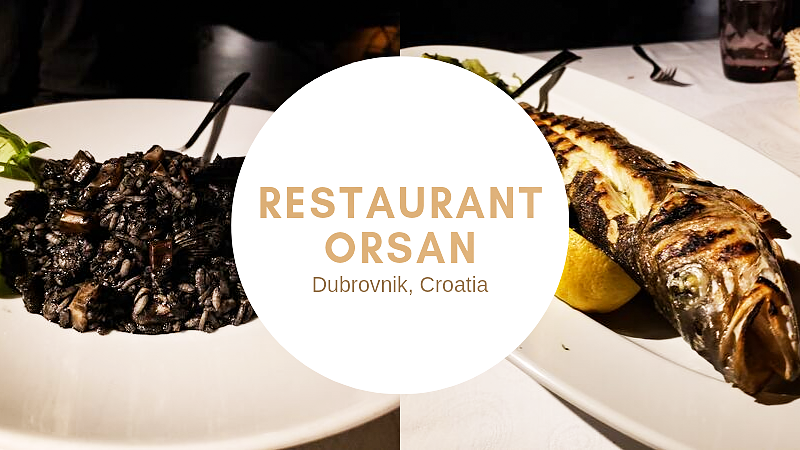 Optional Day Trip:
If you'd like venture out to a nearby country on day 2, plan a day trip to Montenegro or Bosnia and Herzegovina. You can't go wrong with either location but do a bit of research to make sure which one is best for you.
Our Experience 2016: We visited Mostar and Pocitelj in Bosnia & Herzegovina. We chose BiH because we heard that Montenegro was very similar to Croatia and we wanted to see something a little different. We really enjoyed walking around Mostar and climbing to the to of the hill in Pocitelj – the food was pretty good too!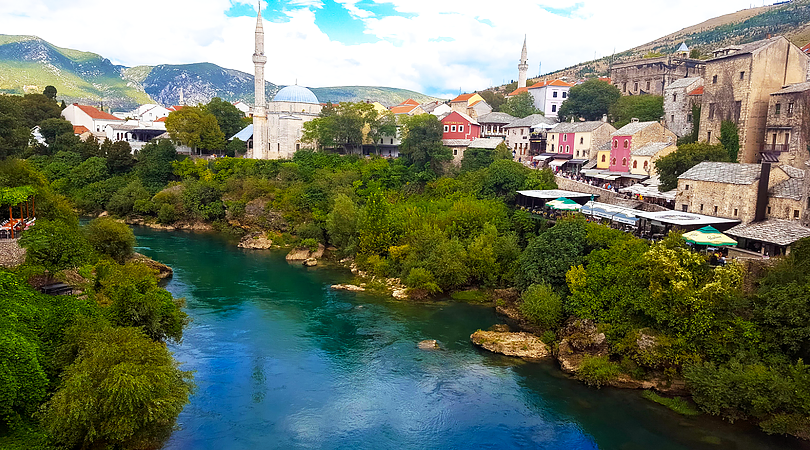 Our Experience 2019: This time we opted for Montenegro. We picked a local tour guide and set off on our adventure. We weren't disappointed because it was absolutely stunning. I wouldn't advise this particular tour because it was so jam-packed there was little time to explore one place properly but it was $38/pp so we didn't feel like we wasted any money.
We stopped in Perast, Kotor, and Budva. Honestly, I would have been happy with Perast and Kotor. Budva was so far away and the traffic coming back was just a nightmare. We spent about 2 hours sitting in one spot on the freeway. Either way, if you can, check out Montenegro – it's definitely worth a visit!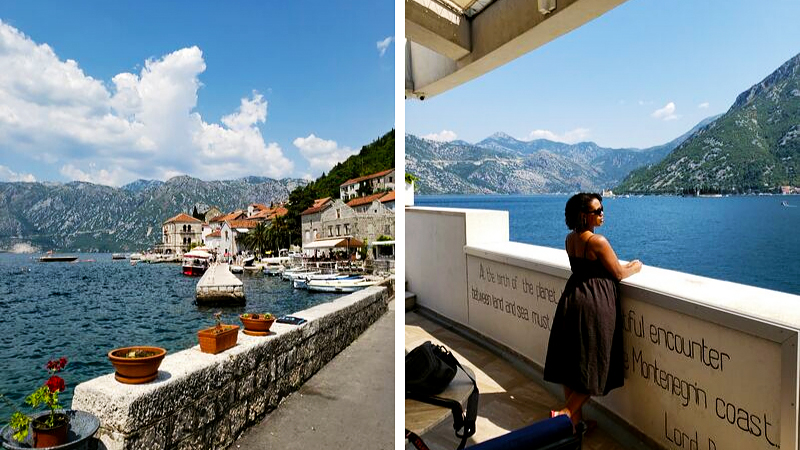 – DAY 3 –
Morning:
On the last full day in Dubrovnik, you'll want to stay close to the city to see any sights you missed. So, get an early start as this will be a busy day. Begin the day at the farmer's market in Gundulic Square. Pick up some fresh fruits and vegetables to carry with you as you make your way around the city. Also, grab a few local favorites like orange peels, candied almonds, and dried figs.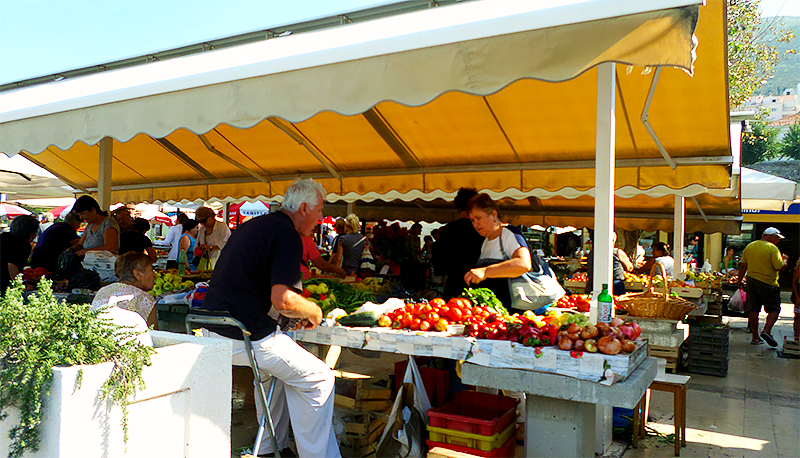 Afternoon:
Check out the many museums in Old Town like the Museum of Modern Art, Ethnographic Museum, Maritime Museum, Cultural History Museum, and the Archaeological Museum. Also, you should make time to see the War Photo Limited exhibit which was incredible. You'll get a quick lesson, through photos, on the history of the war in Dubrovnik. It's not to be missed. Be sure to check the website for opening dates/times.
If you'd like to do more than look at art, try a walking tour. There are several offered in, and around, town. There's no better way to learn about a city than through a guided walking tour.
After checking out the museums and tours, catch up on some of the places you may have missed. You can't leave Dubrovnik without seeing Sponza Palace, Rectors Palace, Fort Lovrijenac, St. Blaise Church, and the Monastery. Also, if you missed the Pile Gates on your way in, don't forget to see those up close and personal. They're quite majestic and the guards aren't bad either. After all of that, take a moment to relax at Onofrio's fountain and watch the world go by.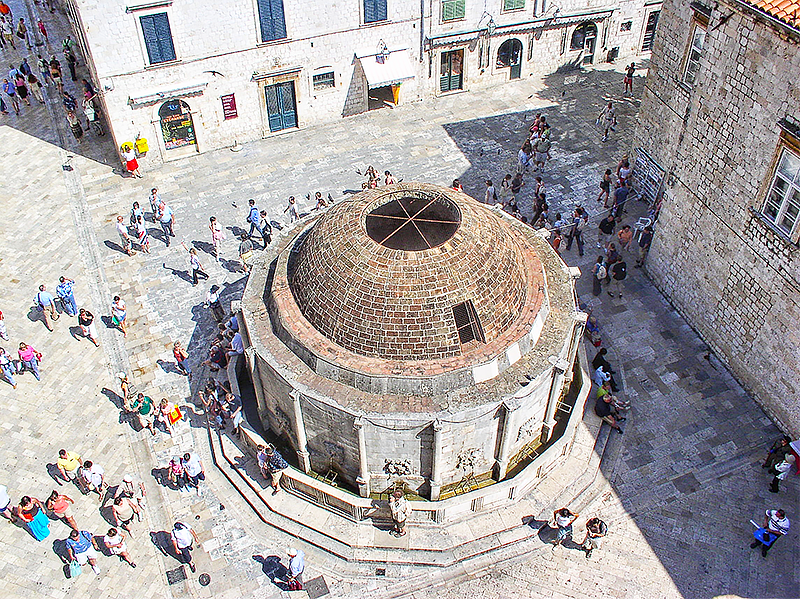 Late Afternoon/Early Evening:
If you're not the museum type and you're not quite ready to pack it all in, how about a little adventure? Grab a kayak or Stand Up Paddleboard and take it for a spin out on the crystal waters. Don't forget your waterproof camera because you don't want to miss those stunning views of Old Town from the sea.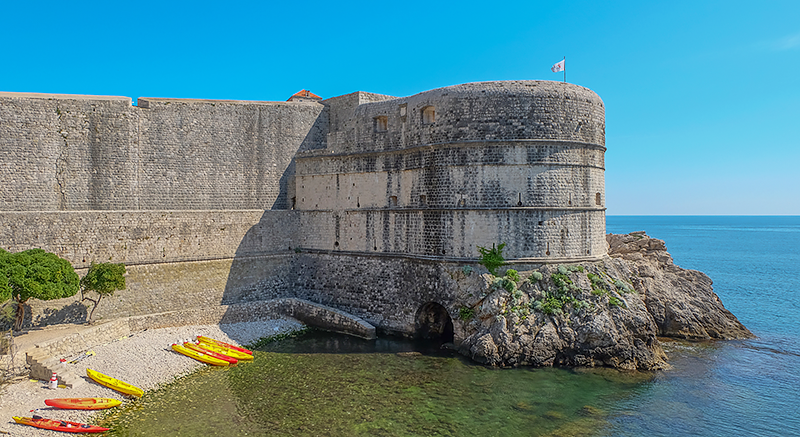 Evening:
On your last evening, I would suggest dining at a local favorite you heard about during your stay or someplace you went and wanted to visit again. There are so many places to dine in Dubrovnik, inside and outside the walls, you'll never run out of choices. As always, don't forget to take a walk around the city one last time before running off to bed. When the streets are empty, it's one of the best times to grab a great photo.
---
How to "See More and Spend Less":
Croatia is a wonderful country and Dubrovnik is the perfect city for your wallet. It has history, culture, beaches, and the most flavorsome food all for a reasonable price.
Know before you go: Everything in Old Town (inside the city walls) is more expensive than outside the city walls but things are still affordable. That includes accommodations, food, drinks, souvenirs, etc. However, if you budget wisely, I think you could spend anywhere from $75 (and up depending on your budget) per day. If you visit nearby Bosnia & Herzegovina, you'll flip at how affordable things are, so plan to do your shopping there if you can.
Accommodation Tip:
If you're looking for a great place to stay, check out the Airbnb we rented in Old Town. It's a two-bedroom apartment located in the center of Old Town. It has an incredible view of Gundulic Square from one of the two bedrooms and the living room. Right outside your door are two great restaurants and just a few feet away is the famous Stradun (which runs through the heart of the city). For reference, the apartment is located right behind the St. Blaise Church.
Our last Airbnb was located in the Babin Kuk area of Lapad. It was one-bedroom, totally updated and modern with everything we needed. It was walking distance to the main pedestrian street in Lapad where there are tons of great shops, restaurants like Chihuahua Cantina Mexican Dubrovnik, and beaches like Sunset Beach. This area is outside Old Town but very close by. You can take the bus, a taxi, or Uber to Old Town. So, if you want to save a bit (or just get away from the crowds) stay in Lapad or the Gruz area.
Wrap Up:
There's so much to see, do, and eat in this city but, of course, you can't see all of Dubrovnik in 3 days. However, there's nothing wrong with going and making the most of the time you have. We spent 7 days there and we just went back again and did some of the things we missed the first time. Don't ever let anyone tell you that a certain number of days (even 1) is too little to visit a place. If that's all you have, I say go!
---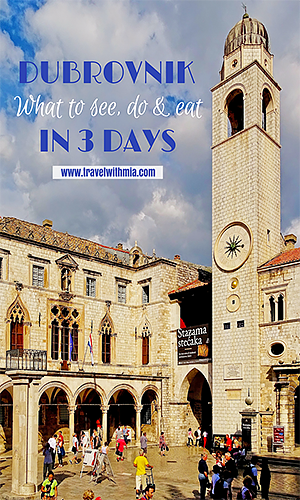 **In 2016, entrance tickets to museums and other sights were provided by the Dubrovnik Tourism Board. However, as always, all opinions are my own.