I'm always on the hunt for the most comfortable walking shoes because I refuse to go teetering around in stilettos on cobblestone streets. My top criteria for shoes are affordability, comfort, style, and they must be easy to clean. Is that too much to ask? Well, I don't think so and neither does a company called SAS Shoes. I've heard that these are the most comfortable walking shoes for women (and men) and I wanted to see for myself. Recently, I worked in conjunction with SAS Shoes to try out their AMAZING travel shoes.
The Most Comfortable Walking Shoes for Women
While running around frantically packing for a trip to Europe, I heard a knock at the door. To my surprise, it was a package for me containing my SAS Sunny shoes. I was so excited to take my shoes with me on this 10-day trip because I've heard nothing but great things about them. I even removed another pair of "walking shoes" from my bag in the hopes that this one shoe would fulfill my dreams (and, at the very least, not hurt my feet). So, here's my review of my SAS Sunny travel shoe. I've broken it down into the 4 categories I mentioned above.
Affordability
Honestly, "affordable" is subjective so I can only say that I find the price $141 USD to be affordable for what I'm getting. Of course, we all have different budgets so affordability will differ. However, I am a big fan of "you get what you pay for" so I would say these shoes are an excellent investment because they will last. Nonetheless, it necessarily doesn't mean that I see a cheaper women's shoes online, and I not picking it, LoL! How many times have you purchased something that was a little less expensive than the product you really wanted? Were you disappointed? Did you realize after the fact that saving $30-$40 (or whatever it was) wasn't as important as having a good product? I've done this many times and I've regretted it every time. So, I suggest spending a few extra bucks on the comfort of SAS Shoes.
Comfort
These shoes were immediately comfortable the moment I put them on but so many shoes are. So, I was still cautiously optimistic as I wore them on my 12-hour journey to Europe. During those 12 hours, I ran through the airport, propped my feet up in my business class seat, and walked around the city when I arrived at my destination. Overall, the first day was a huge success. I didn't feel any pinching, squeezing, or rubbing. So far so good. On day two, I thought for sure I would not be as lucky. Usually, new shoes have a way of hurting without you knowing it until you put them on the next day. Well, I'm happy to say that they were just as – if not more – comfortable than they were on day one. I wore them to an all-day conference where we trekked from building to building and classroom to classroom and I had no issues. These really are the most comfortable walking shoes.
Style
I chose the Turquoise Rainbow for my Sunny shoe and I received so many compliments on them. The style and color went with so many of my outfits. I was able to wear them with jeans, skirts, and dresses. That's the real test because I don't want to pack 4 different pairs of shoes when I travel. I pack light but that doesn't mean I want to sacrifice style. Luckily, with this shoe, you don't have to sacrifice anything!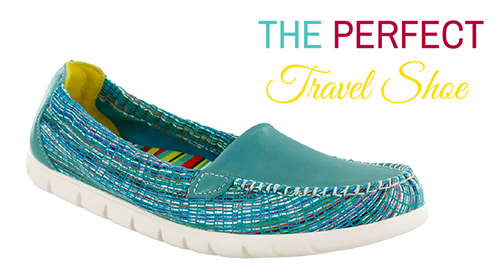 Care
SAS Shoes is known for their removable shoe cushions that can be washed to keep your shoes smelling nice and clean. I love this feature because I don't have to worry about sweaty feet (come on, you know it's a thing!) or dirty insoles. Keeping my shoes clean is a breeze and that's a huge deal to me.
Wrap Up
Would I recommend these for walking around town? Yes!! I'd recommend these shoes for walking all day, for working on your feet, and even for making an evening night out a bit more comfortable. I wore these shoes for hours on end and the fact that they didn't hurt – one bit – was a huge win, in my book. Go get yourself a cool pair today!
Check out some of my other Travel Tips before you go!
Disclosure: I received products in exchange for this post. However, as always, all opinions are my own and reflect my own personal thoughts and experiences.
---