The "Great American Road Trip" is in the midst of a full-fledged comeback. Rising ticket prices and baggage fees are someone else's problem now. Americans are replacing exotic vacations with familiar locations and we're loving every minute of it!
My husband and I usually travel outside of the United States but things have changed so we're exploring closer to home. We're lucky to live in the great State of California where you can surf in the morning and ski in the afternoon. Let me be clear, I can't do either of those things – I once sprained my ankle walking across the street. Luckily, California has so much more to offer!
Recently, we took a road trip to the Santa Ynez Valley which is about two and a half hours from Los Angeles. This region has over 120 wineries, a booming culinary scene, and the most charming European town you'll find outside of Europe! So, stick around and let me tell you why you should spend a weekend away in the Santa Ynez Valley.
---
A Weekend Away in the Santa Ynez Valley

How to Get There
The Santa Ynez Valley is located in Santa Barbara County about 40 minutes from the city of Santa Barbara. If you're driving from Los Angeles, you can take the scenic route along the Pacific Coast Highway (or Highway 1). It'll take you a bit longer but if you're not in a hurry, it's worth the time. If you just want to get there, the 405 to 101 will be your best bet. A good navigation system will get right where you need to be.
Where to Visit
There are six towns that make up the Santa Ynez Valley and each one has something unique to offer. I recommend visiting as many as you can since they're all pretty close together. Side Note: If you're traveling with your fur baby, you're in luck, the Santa Ynez Valley is VERY pet-friendly!
Ballard – This is the smallest town in the Santa Ynez Valley with a population of less than 500. This little gem is big on history with notable churches and the landmark Little Red Schoolhouse that dates back to the late 1800s.
Buellton – Known as the Gateway to the Santa Ynez Valley, this city has it all. A lively culinary scene, award-winning breweries, distilleries, an ostrich farm, and an RV Resort where you can get your "Glamp" on.
Los Alamos – Founded in 1876, this town still has a bit of an old west feel. The historic 1880 Union Hotel and Saloon is just one of the many fascinating sites on Bell Street (the main street through town). You'll, also, find modern boutique hotels, trendy restaurants, wineries, and an artisanal bakery.
Los Olivos – This town features Victorian architecture, a unique general store with a vintage feel, a shopping district, over 30 tasting rooms, and lavender fields. They also host an annual Jazz festival and an Old Fashioned Christmas & Holiday Market.
Santa Ynez – This place is often referred to as the "sophisticated cowboy town" with its feed shops, saloons, and the faux late 1800s style buildings. Along with the country-western festivals and events, they also have modern museums, restaurants, shops, a casino, and plenty of wineries and vineyards.
Solvang – Founded by a group of Danish immigrants in 1911, this enchanting little town feels like it was plucked right out of Europe and plopped down in the United States. This "little slice of Denmark" is officially one of my favorite places in Southern California. They host festivals and cultural events like Danish Days, there are over 150 boutique shops, and it's lit up like Christmas year-round. Solvang (or Sunny Field) is the perfect "European" getaway.
Where to Stay
If you're like me and you LOVE all things European, you'll probably want to stay in the charming city of Solvang. Here, you can walk to all the shops and restaurants and you can make your way around the Santa Ynez Valley with ease.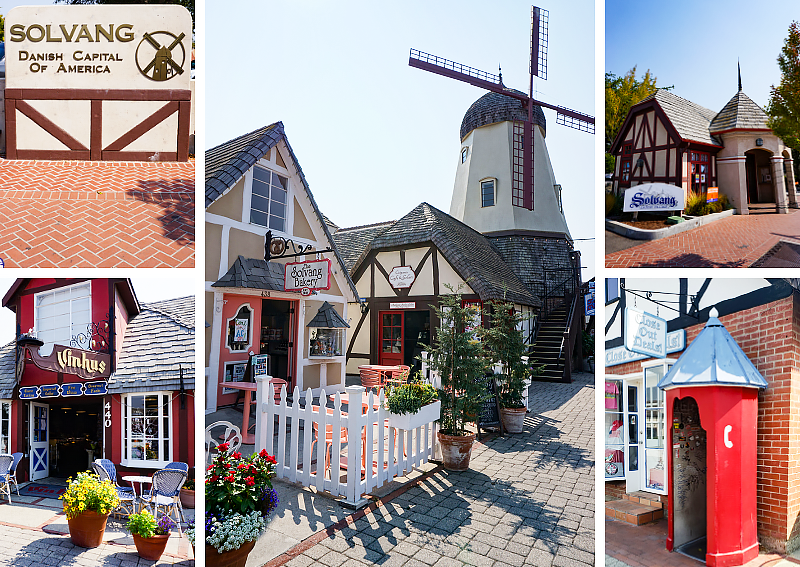 Where to Sleep
This Modern, European inspired hotel is one of the newest hotels in the area since opening in May 2020.  They have 82 rooms and all the amenities you could want including a restaurant and bar, a pool, city and valley views, and each room has a mini-fridge (perfect for all the wine you're going to buy)! It's also pet-friendly! Located at the end of Mission Drive, the main street in town, you'll be in the perfect location to do most things on foot. You can take long walks around the charming town of Solvang, grab some Danish pastries, pick up some souvenirs, and take in the city lights.


Where to Eat
While we all enjoy traveling for history, culture, and meeting new people – let's be honest, it's really about the food! If you've never been to the area, it can be difficult to know where to eat. So, here are a few places I guarantee will blow your taste buds away!
This lovely restaurant has a warm and inviting patio out front covered in wisteria, soft lighting, and heat lamps. They also have a seating area along the side of the building where you can have a few glasses of wine while you wait for a table. Once you're seated, you can go inside and order food at the counter. Be sure to check out their famous wall of wine that was featured in the Academy Award-winning movie Sideways! We opted for the Steak Frites, baked brie, Elote Corn on the Cob, and they even brought us a hamburger patty for our sweet little pup. I knew the food would be phenomenal because they locally source produce and meats from organic farms in the area. The staff was incredibly knowledgeable and offered some suggestions on wines that we ended up loving. Of course, we took home 3 bottles and I bought 2 shirts in the gift shop. I'm pretty sure my husband will leave either me or the wallet at home next time. He can't take me anywhere!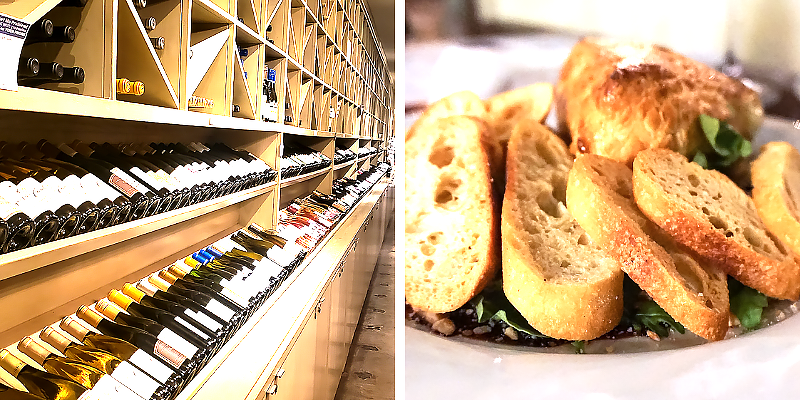 I'm still thinking about the food we had at (dim) SAMA. If my husband would let me, I would drive all the way back for the egg rolls, dumplings, and pork buns alone. Not only was the food incredible, but the wine and ciders were also refreshing and innovative. Our favorite wines were the Feminist Party GSM 2019 and the Clementine Carter Grenache Larner 2018. They have a great outdoor seating area where you can have a meal and taste some of the many, many cool things they have to offer. Check out my Instagram for more pics and more about my experience at Casa Dumetz Wines.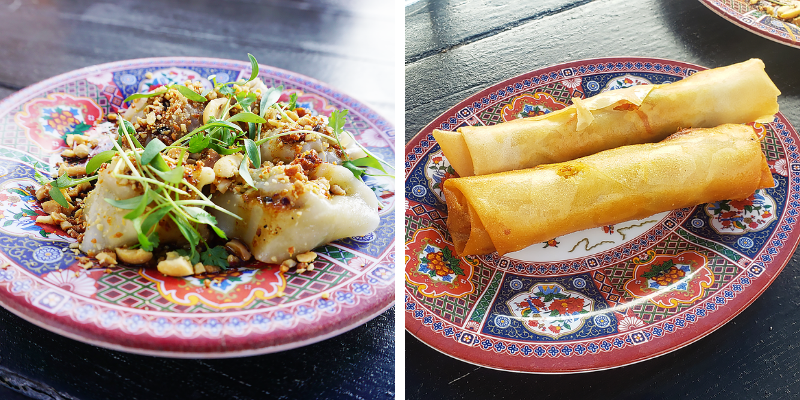 This Buellton newcomer is already making waves. Don't let the plasticware and patio tables fool you – the food is truly remarkable. We had the Caesar salad, Cuban sandwich with pork confit, smoked brisket sammie, and white shrimp with pancetta. Everything was so, so, so, good! After our trip, I recommended Industrial Eats to my neighbor who has VERY SPECIFIC tastes and he raved about the food. He said he'd take a restaurant recommendation from me anytime!

Okay, so this isn't a restaurant, per se, but it is like a petite farmer's market. Owner Theo Stephan founded Global Gardens® and made it into the "world's first mail-order Olive Oil & Vinegar" club. While you can order your favorites online, you should definitely stop by when you're in Los Olivos. The grounds are impeccable, the farm stand is charming, and Theo has plans to further expand her empire. So, go for a tasting and make sure you have room in your car for all the goodies you'll be taking home. We couldn't resist the Apricot Golden Balsamic Vinegar, Frantoio Best in the West California Extra Virgin Olive Oil, Kiss My Grass Estate CA Extra Virgin Olive Oil, and fresh Walnut Oil. Check out more photos here from the delightful Global Gardens.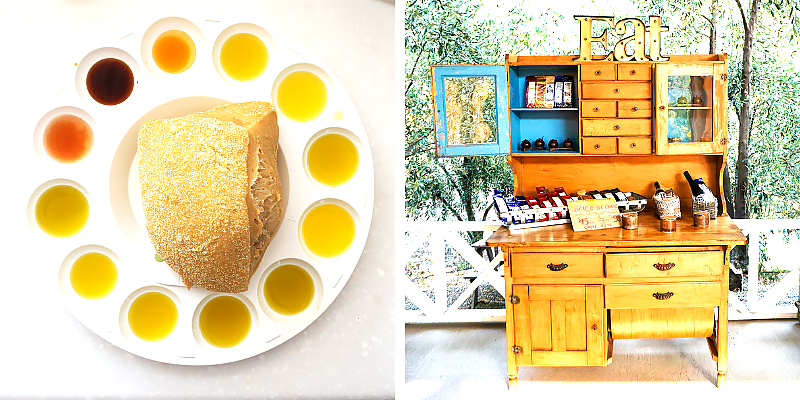 Where to Drink
There's no shortage of things to drink in the Santa Ynez Valley, trust me! From craft cocktails and beer to wine and cider – everything is EXCEPTIONAL! To be honest, the drinks were on par with some of the most cosmopolitan cities in the world like London, Paris, Los Angeles, and New York. So, whether you visit a winery, tasting room, bar, or restaurant, you'll find something special to imbibe.
While we didn't eat here, we did have cocktails and I highly recommend it. I had the Parker Spritz which was a mix of Prosecco, Aperol, passion fruit, hibiscus tea, and Amaro Nonino.  Anthony had the Desperados which was Olmeca Tequila, Grand Marnier, blood orange, lime, and black salt. Looking back, I wish we had tried a few more of the cocktails but the ones we had were so good we didn't want to switch!

This trendy restaurant/bar is located inside the Vinland Hotel and serves American food with a Danish twist and KILLER COCKTAILS! We started off with a few "Some Like it Hot" drinks – made with reposado tequila, blood orange, lime, agave, jalapeno, and a chili salt rim. After that, the super cool bartender made us her favorite drinks. The first was called "A Perfect Pear" which had Hendrick's Gin, chartreuse, rosemary, and pear juice. The last drink was one we drink quite often when we go out for a nice meal – an Old Fashioned! This wasn't a regular, run of the mill Old Fashioned. This one came covered in a cloche filled with smoke. We didn't get to try all the craft cocktails but I can only imagine they were just as good as these.

Where to Escape
When we travel we want to feel as though we've escaped our everyday lives, even for a few days. So, we went looking for places that felt like we had hopped on a plane and landed in the countryside. I'm talking about vineyards, rolling hills, spectacular views, entertaining activities, and all the wine we could drink. Here's what we found.
Spend a few hours under a canopy of trees looking out at the beautiful vineyards and you'll instantly feel your troubles melt away. Spread across 42-acres, Roblar Winery and Vineyards produces some of the best wine and farm-to-table food. So, once you settle in and start your wine tasting be sure to have some lite bites cooked by the incredible Chef Brooke Stockwell. The food is as fresh as you can get since they source it from the Roblar Farm right next door. We were blown away by Chef Brooke's food and her famous vegetable tattoos! More pics here. I can't even name all the wines we liked because it was pretty much every single one we tried! We brought home 4 bottles and we already have a list of wines to buy when we go back.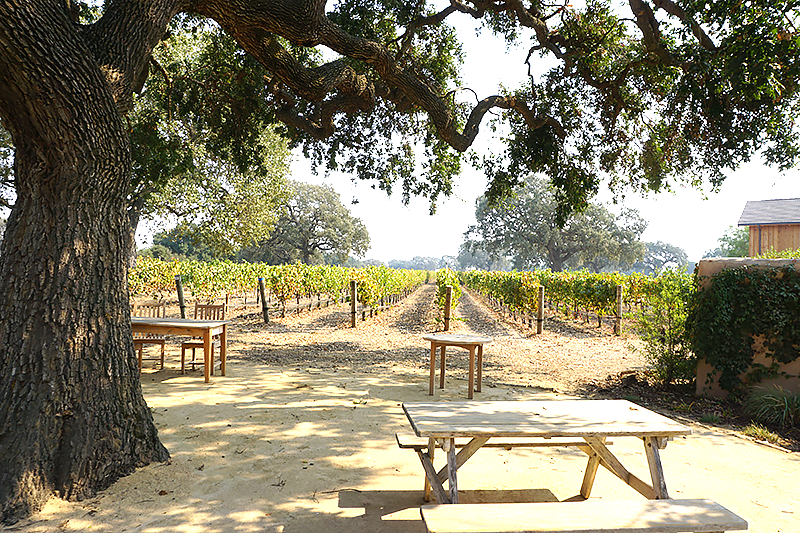 This self-proclaimed adult playground is just as it describes! They have lots of events planned throughout the year and it seems like everyone knows each other. While this particular winery and tasting lounge is new to Buellton, McClain Cellars isn't new. They have another location in Laguna Beach, California. We were lucky to visit the Buellton location on the day of the first annual McClain Cellars Grape Stomp! I won't lie, I had no plans to hop into that vat of grapes but I did it anyway. It was probably one of the coolest things I've done in a long time. The owner, Jason McClain, said they're going to make wine from the grapes we stomped and they'll reach out to everyone who participated when it's ready. I would just like to say that I'm willing to pay double for any OTHER bottle of wine! I love the thought but I don't know if I could drink that one. Go grab a seat on their patio, having a flight of popcorn, and taking advantage of any one of the many wine tasting options. We loved their sparkling white called Lovely Day and their exceptional limited edition sparkling rosé called Dream Keeper!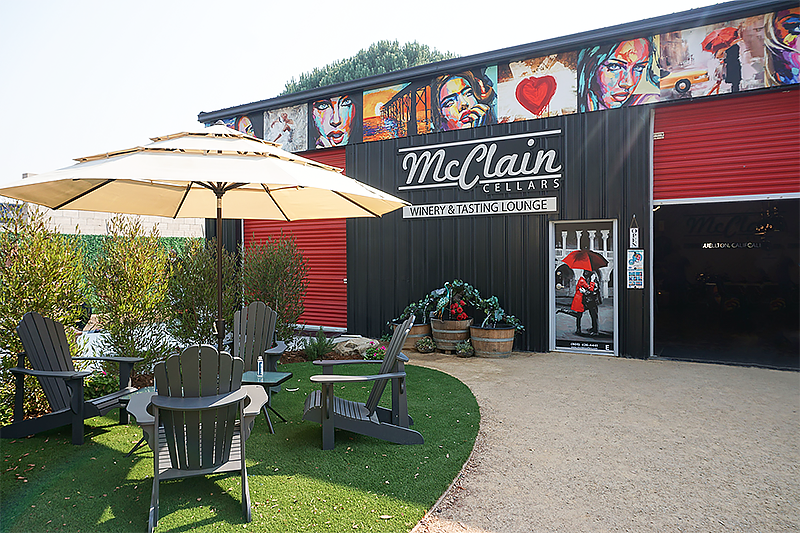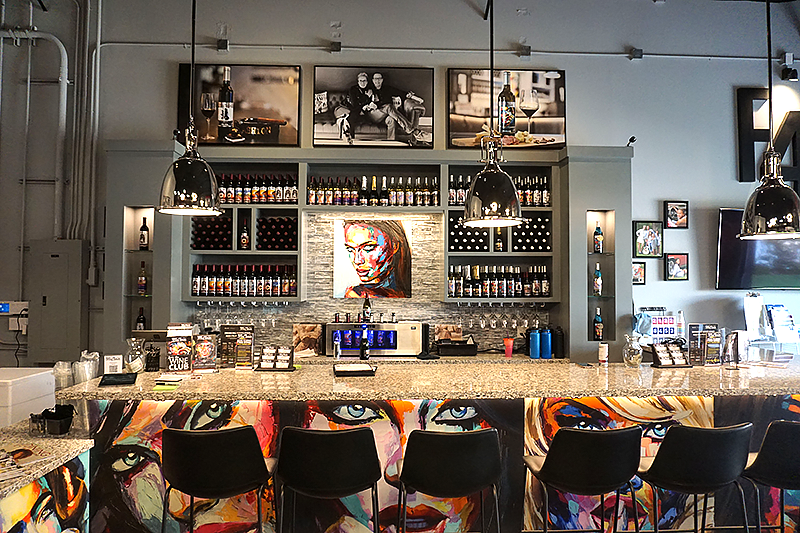 Do NOT leave the city of Santa Ynez without visiting this gem. The directions were a bit confusing but it was worth it. Our GPS told us we had arrived but we were still in the middle of nowhere. We decided to keep driving then we saw a sign that pointed us in the right direction. Turns out, it's another 2.5 miles away down a windy dirt road. Use an abundance of caution as you make your way to the winery but definitely take in the views as they are breathtaking! When you reach the end of the road, you'll see a beautiful villa that looks like someone's home. Congratulations, you made it!
Walking onto the patio was like walking into a painting. The rolling hills, lush green space, and towering trees were really quite stunning. During our tasting, we chatted with a couple who live just a few miles from us in Los Angeles. 15 minutes later, we're chatting with 2 other tables. This was such a lively spot with some of the nicest people. Although the tables were spread out due to state guidelines, it still felt like you were there with a group of friends! We snagged a bottle of their 2018 Breton Blanc – a refreshing white that was "fermented and aged in a concrete egg" instead of the regular barrel. Plus, I got a candle modeled after their 2017 Pantheon Red wine. This was exactly the type of escape we were looking for.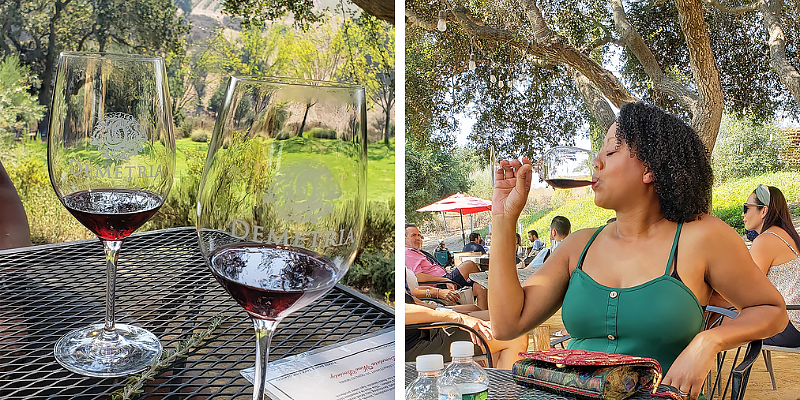 Are you ready to start planning your weekend away in the Santa Ynez Valley?
This trip was a much-needed getaway. Like everyone else, we had been staring at our own four walls for way too many months. We loved spending time in the Santa Ynez Valley and we only have two regrets: (1) We wish we could have stayed longer and (2) We wish we would have brought home more than 14 bottles of wine! Other than that, our trip was absolutely perfect and we're already planning a trip back for the holidays!
While we did travel during the pandemic, we did so safely and followed all Covid guidelines set forth by the State of California, Santa Barbara County, and each individual establishment. So, if you're wondering if it's safe to travel, I'm here to tell you it can be done with a little extra prep work, a lot of flexibility, and a modicum of caution!
---
Disclosure: During my trip to the Santa Ynez Valley, I was a guest of Visit Santa Ynez Valley Tourism Board. However, as always, all opinions are my own and reflect my own personal experience. I would like to thank Visit Santa Ynez Valley Tourism, DVA Advertising & Public Relations, and all of the wonderful local merchants for hosting our trip.