What do I know about Tokyo's best little ramen house? Back in 2003, I lived in Tokyo for the summer and one thing I did all the time was eating ramen. This ramen was unlike any I'd had in the states. Often, I found myself dreaming about it ever since I left the country.
Fast forward 10+ years, I was contemplating how I should celebrate my 40th birthday. We finally decided to go to Hong Kong for 5 days but we thought it would be fun to fly into Tokyo and spend 24 hours in the city. I know what you're thinking, 24 hours isn't enough time to see any city. Well, since I lived there and Anthony's been there multiple times for work, we were fine with the short stay. To be honest, I just wanted to eat my weight in ramen and I knew exactly where I wanted to do it, the Tsukiji Fish Market! [UPDATE 2018: Unfortunately, Chuka Soba Inoue was destroyed in a fire in August 2017.]
Tokyo's Best Little Ramen House
THE LOCATION: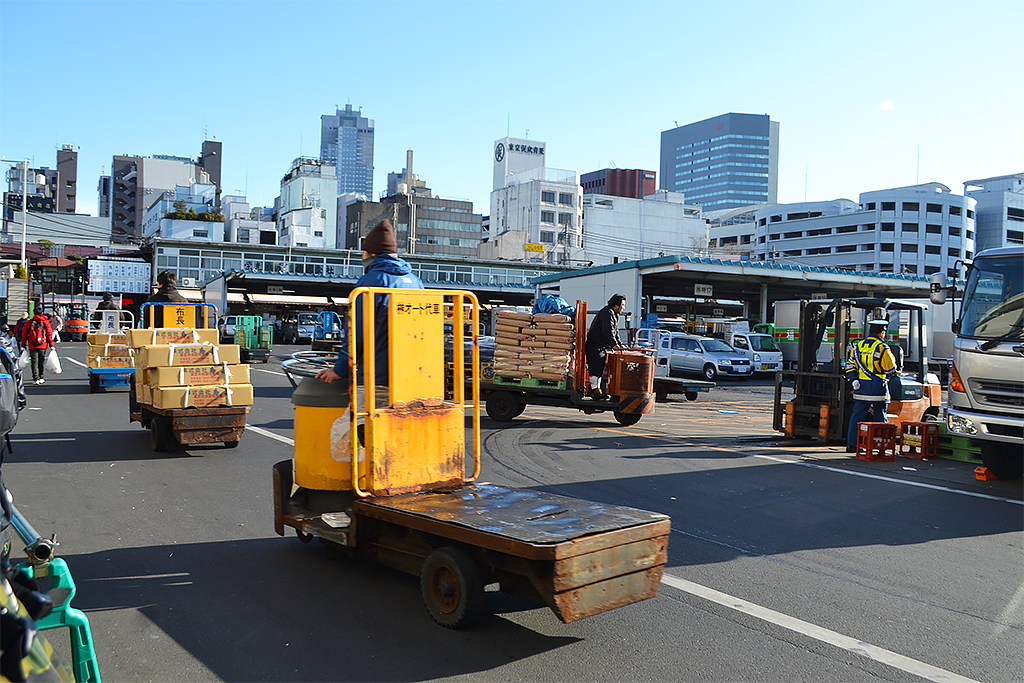 For those who know, the Tsukiji Fish Market is a popular tourist attraction in Tokyo but it's also a real, working fish market. One of the main attractions is the tuna auction! While it is a real auction, tourists are allowed to watch but if you're not there before the sun comes up it's too late.
Since I never attended an auction when I lived in Tokyo, I thought it would be a fun thing to do… until the concierge at our hotel told us we had to be in line by 3 am! Apparently, crazy tourists line up that early to get a ticket which allows them to witness the famous tuna auction. However, most don't know that they have to wait several more hours in a cold, damp room with no seating before the auction even begins. I'm all for trying new things but it was freezing and there was still snow on the ground. So, we decided to skip the auction, stay in bed, and show up in time for breakfast.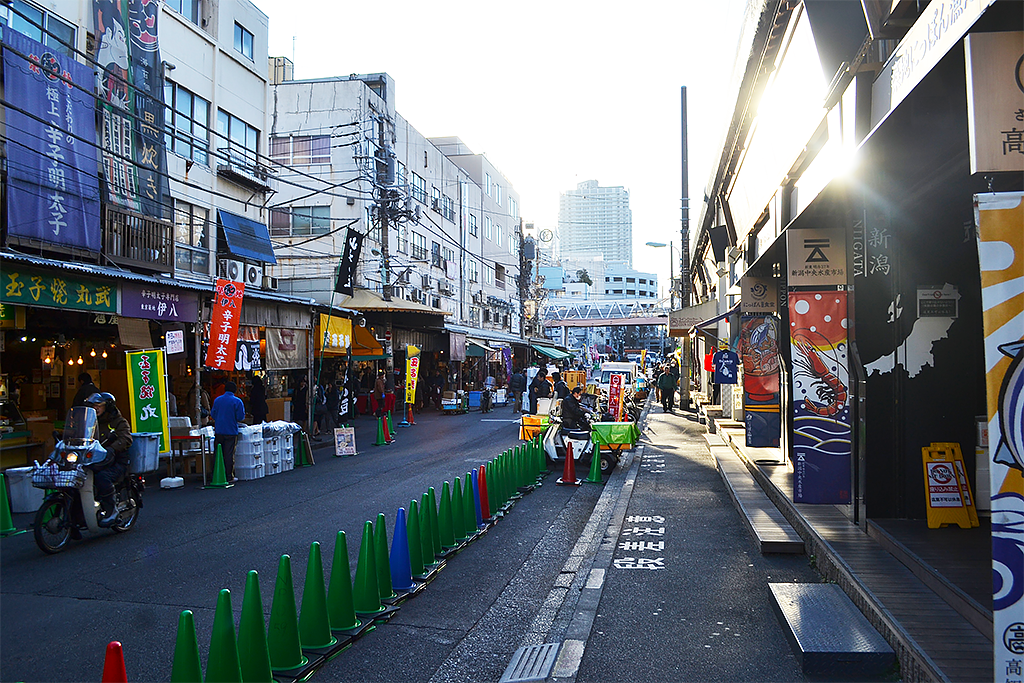 As we made our way through the market, I remembered how difficult it was to navigate through the narrow alleyways. In one small space, you have tourists gawking and snapping pictures of everything, shop workers setting up and selling their goods, and delivery men whizzing by on scooters every few minutes. You can probably guess which one I was. I'm not calling myself a tourist but there I was snapping away with the best of them. I mean, what would this post be without all the pictures?! Anyway, there are plenty of places to eat in the market but we were there for one in particular.
THE RAMEN: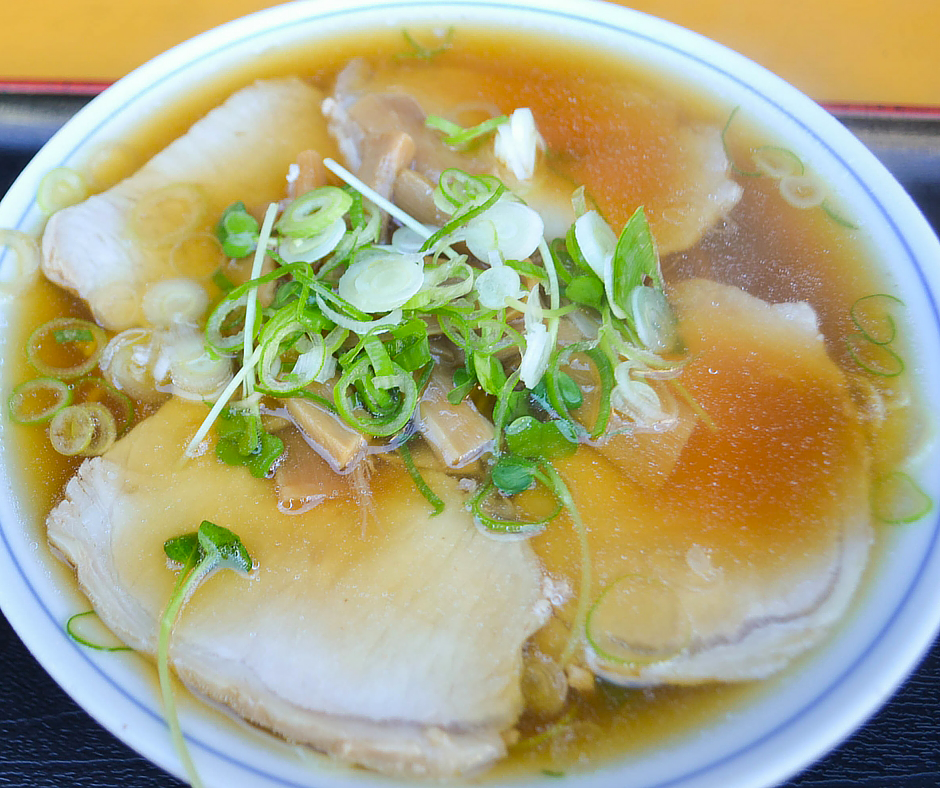 Chuka Soba Inoue is about as big as a postage stamp and if you blink as you pass by, you'll miss it. I was on a mission to get reacquainted with this place and get my ramen slurp on. As you can see from the photo below, this place was packed and the line was filled with locals (with the exception of Anthony up front). This is EVERYTHING I look for when eating in a foreign country. Never dismiss a place because the line is too long, I guarantee it's long for a reason.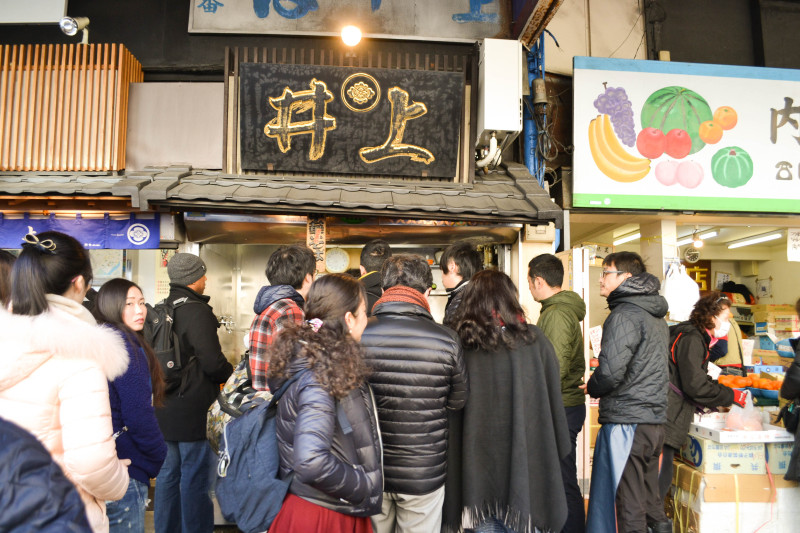 In the "kitchen" one master chef (and his sous chef, I presume) were dishing up bowl after bowl of delicious ramen. As we stood in line waiting for our breakfast, we got a first-hand look at the master at work.  Check out the video below to see his process.
(Can't see the video? Click HERE to watch it on my YouTube channel)
THE EXPERIENCE:
Once we got our food, we took a spot at one of the three, stand-up tables. At this point, I would have sat down on the curb just to get this food in my mouth. As you can see, the ramen did not disappoint! I loved every bite of the noodles with the pork (so tender it fell apart as I picked it up), shaved leeks and pickled bamboo shoots. After adding the Japanese dry chili flakes, I was in heaven. This massive bowl of "broth-y" goodness was exactly what I was missing. Plus, it was perfect on this particularly cold day.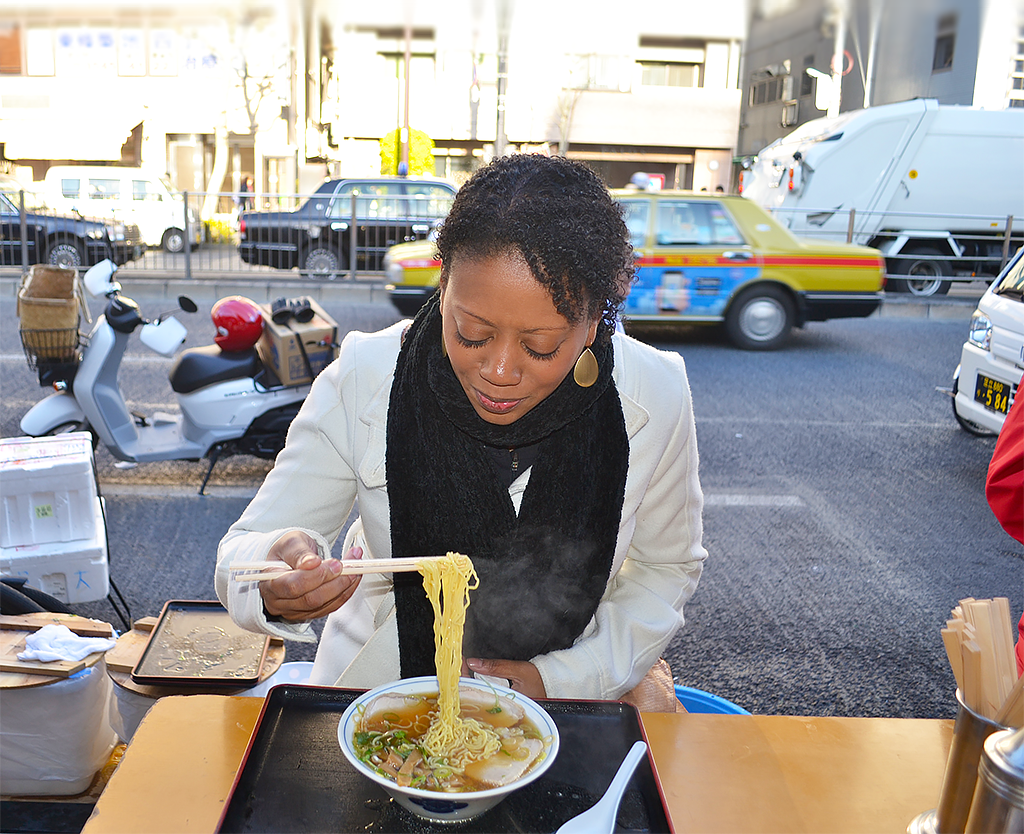 I wasn't the only one falling in love with my food. Anthony was right there with me slurping like a pro and we both finished like champs!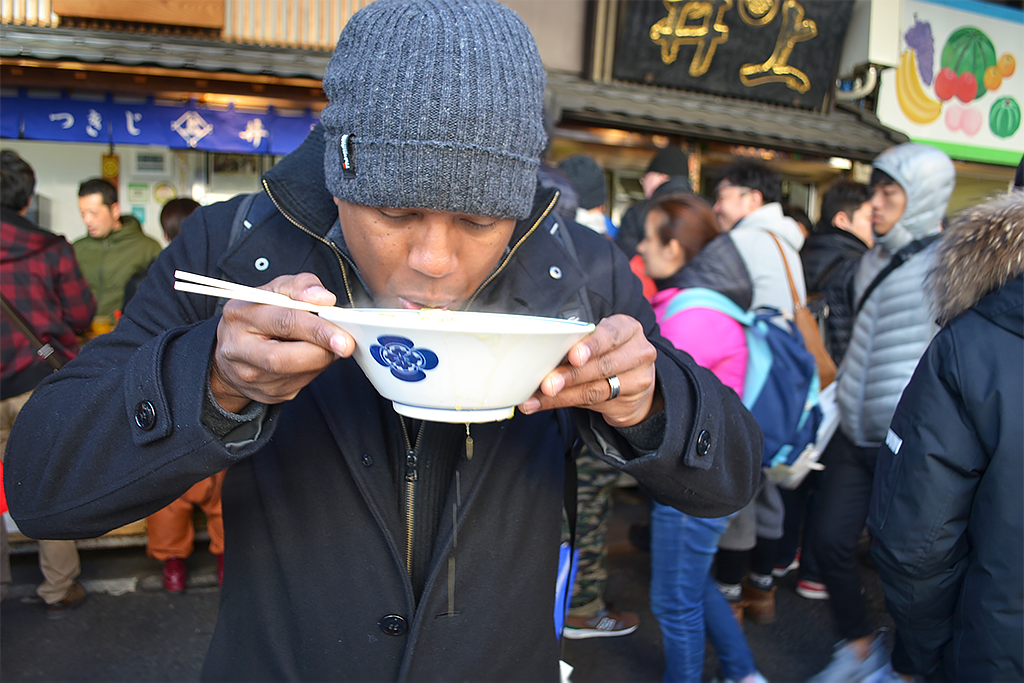 After we finished eating, we were told to give our trays to this lady on the curb. Incredibly, she had set up a "makeshift" dishwashing station and was washing the used trays. Since the kitchen is so small, it's no wonder they utilized the outside area. Space is at a premium in Japan and I guess you have to figure out a way to make it work.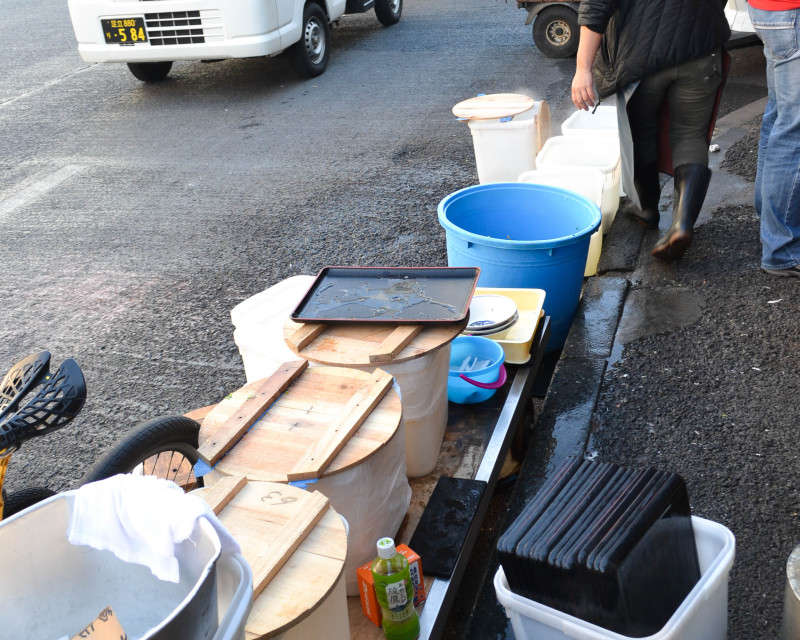 I hadn't been to Tokyo in over a decade so I was thrilled to be there, even for 24 hours! We're already planning another trip to see my old apartment, check out Mount Fuji and, obviously, eat ramen! If you visit, try to grab some sushi at this Michelin star sushi restaurant in the Tsukiji Fish Market.
---
Have you been to Tokyo's Tsukiji Fish Market? Have you eaten at Chuka Soba Inoue? Tell me about your experience in the comments! [Note: This post was originally posted Feb 2016 but it was updated Oct 2017]