If you're looking for a tropical getaway, look no further than the Philippines. With over 7,000 islands spanning 115,000 square miles, the Philippines is truly paradise on earth. Unfortunately, with all those islands it can be difficult to choose a destination. Luckily, there are tons of Vacation packages for the Philippines to get you started on your journey. To give you an idea of where to go, check out my top 5 beaches and Islands in the Philippines.
Top 5 Beaches and Islands in the Philippines
---
Coron, Palawan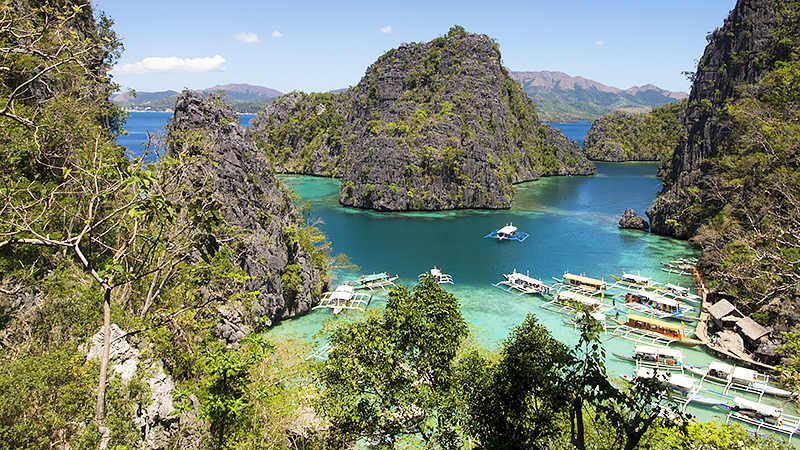 Coron, Palawan, is a vibrant, stunning island. It happens to be one of the most popular islands and one of the easiest to get to. You can reach Palawan by Air from Manila, Cebu, and Boracay (Caticlan) and there are 4 airports on the island to choose from. Princesa City Airport (international), El Nido Airport (known as Lio Airport), Francisco Reyes Airport (formerly Busuanga Airport), and Cesar Lim Rodriguez Airport (known as Taytay Airport or Taytay–Sandoval Airport). Keep in mind that some airports are not accessible from certain destinations.
Things to do in the area: Catch the best views on the island from Mt. Tapyas and viewpoint at Kayangan Lake, visit the Hot Springs, and dive to see the Shipwrecks. If you have more time, try getting out to one of the surrounding towns to explore.
El Nido, Palawan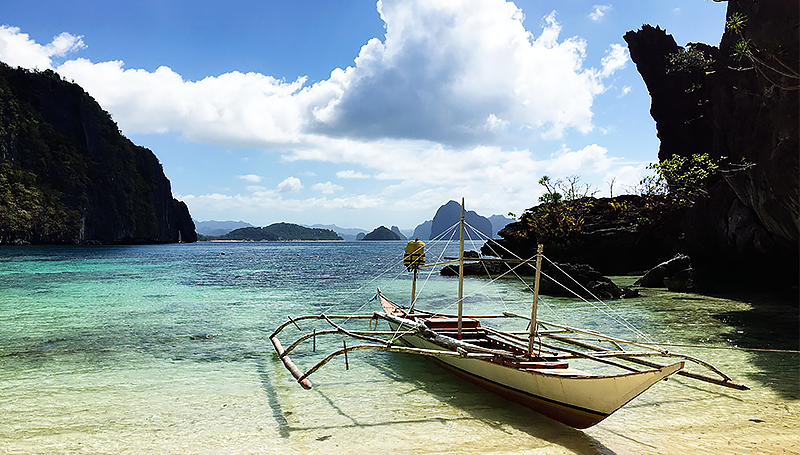 El Nido is the starting point for those who want to visit the Bacuit Archipelago. Also, the beaches are some of the most beautiful in the Philippines but there's more to El Nido than sandy toes. In recent years, El Nido's foodie scene has been gaining some traction. With bars and restaurants popping up all over the island, it's a great place for tourists to visit. As with most costal town in the Phillipines, there are also plenty of Philippines diving courses nearby. In addition to the incredible restaurants, there's also a bustling nightlife on the island.
Things to do in the area: Visit the lagoons (Secret, Large, and Small), Check out Secret & Hidden Beach, Brave Snake Island, and hike to Taraw Peak. Also, don't miss Balay Cuyonon, Duli Beach, Lio Beach, Maremegmeg Beach, Nacpan Beach, Nagkalit-kalit Waterfalls, and Town Hall.
Panglao Island, Bohol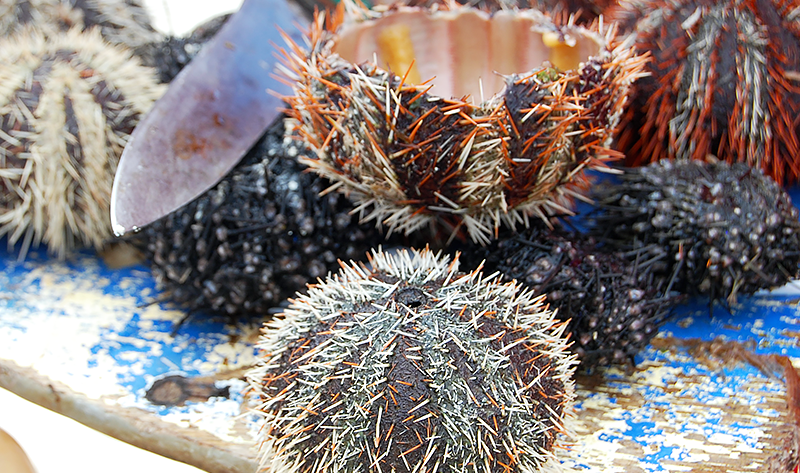 Panglao is a small island on the southwest side of, Bohol. There are beautiful beaches on the southern tip but Alona Beach is the most famous. With sparkling water, great scuba diving, and fresh seafood, it's no wonder Bohol is at the top of everyone's list. A perfect day would be exploring the city in the morning, getting a massage on the beach in the afternoon, and dinner on the beach at sunset. When the sun starts to set, the restaurants start setting up for dinner on the beach. You can choose from the freshest catches of the day and they'll cook it up for you.
Things to do in the area: Visit the countryside to see the famous Chocolate Hills, Loboc River, Tarsier Sanctuary, Hinagdanan Cave, Dumaluan beach, Bohol Bee Farm, Island hopping with Snorkeling and/or Diving.
Bantayan, Cebu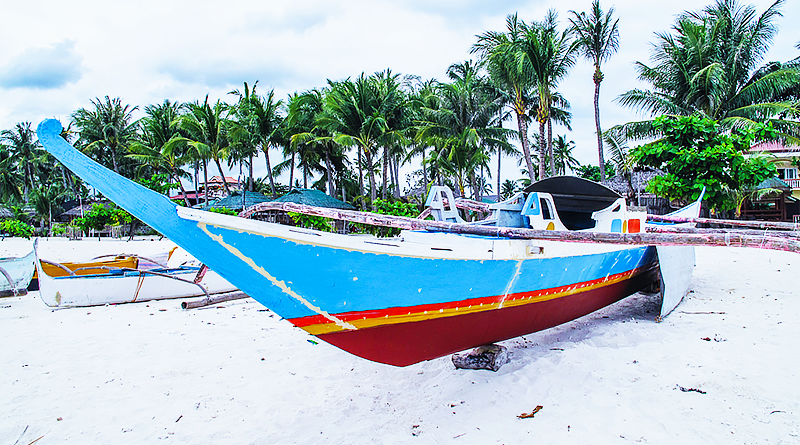 Off the coast of northern Cebu lies Bantayan Island. This is a peaceful and tranquil island where you can go offline and recharge your personal batteries (so to speak). The island is divided into three municipalities: Bantayan, Madridejos, and Santa Fe. Tourists find Santa Fe appealing for its pristine white sand beaches and affordable accommodations.
Things to do in the area: scuba diving, snorkeling, Island hopping to Hilantagaan/Cabulauan Island and/or Virgin Island/Silion Island, the Dalton Pass Shrine, the ruins at Kota Park, swimming in the Ogtong Cave Pool, and visiting Saint Peter and Paul Church of Bantayan. Popular beaches in the area are Alice Beach, Maricaban Beach, Paradise Beach, and Sugar Beach.
Calaguas, Camarines Norte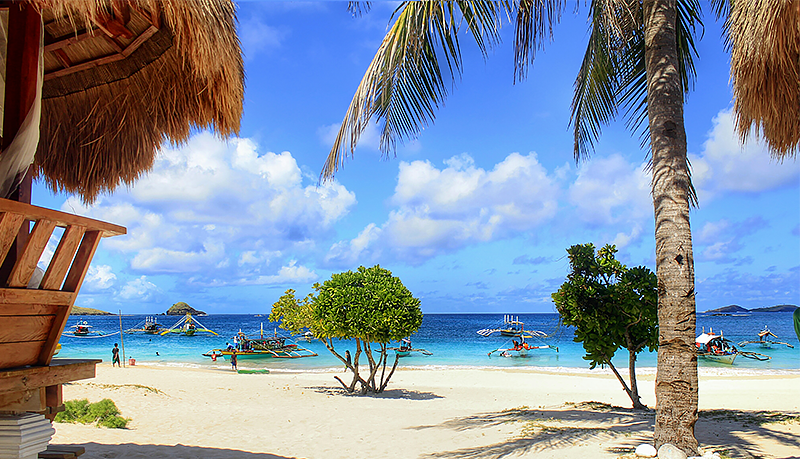 If you're looking for an Instagram-worthy location, Calaguas is the place to for you. The crystal-clear water makes taking underwater photos and videos a breeze. Plus, the white sand and colorful coastline are perfect for eye-popping pics. The best part of this island is that it isn't overrun with tourists so your pictures won't be filled with other people like some other islands. Of course, Calaguas is more than an Instagram destination. It has something for every traveler, budget to luxury. Luckily, Calaguas is pretty affordable so that luxury won't cost you an arm and a leg.
Things to do in the area: hike up the cove for a great view, go island and beach hopping, scuba diving/snorkeling, surfing in Daet's Bagasbas Beach, visit the Mercedes Group of Islands, go surfing in Bagasbas, visit the old churches St. Peter the Apostle Parish of Vinzons, St. John the Baptist Parish of Paracale, and check out the Falls: Binuan Falls, Burok-Busok Falls, Malatap Falls, Palanas Falls, and Saltahan Falls.
FINAL THOUGHTS:
Those are my picks for the top 5 beaches and islands in the Philippines. If you believe their marketing campaign, "It's more fun in the Philippines", go book your vacation package and head for paradise!
Image Attributes & Special Thanks:
Feature Image – via Pixabay
Coron, Palawan – via Flickr by dánielpataki
El Nido, Palawan – via Suitcase and Heels
Panglao Island, Bohol – via Flickr by gen cart
Bantayan, Cebu – via Red Around the World
Calaguas, Camarines Norte – via Flickr by Charizsa Timkang
---
I know there are other beautiful places in the Philippines that I should visit. So, if you have a favorite, leave it in the comments and I'll check it out!