*Updated – 3/2021
The Lufthansa Business Class lounge Frankfurt in Terminal 1, departing area B, near gates B24 – B28 is where I spent my layover. I booked my business class ticket using miles accrued from my Miles & More Mastercard and from past ticket purchases. I found this lounge by looking on Lufthansa's website and I learned there are 14 Lufthansa lounges in the Frankfurt airport. However, they all have restrictions so you need to find out which one you can enter with your ticket. Keep reading to learn more about this particular lounge.
LUFTHANSA BUSINESS CLASS LOUNGE FRANKFURT
ACCESS
You must have one of these qualifying tickets/cards to enter the Lufthansa Business Lounge (3):
First Class boarding pass for an arriving/departing LH/LX flight on the same day
First Class Star Alliance boarding pass for a same-day departing flight
HON Circle Member Card and boarding pass for a same-day arriving/departing Lufthansa / Star Alliance / Codeshare partner* flight
Senator Card and Lufthansa / Star Alliance / Codeshare partner* boarding pass for a same-day arriving/departing flight
Star Alliance Gold Card and Lufthansa / Star Alliance boarding pass for a same-day departing flight
Business Class boarding pass for same-day Lufthansa / Star Alliance departing flight
Valid voucher and Premium Economy boarding pass of a departing Lufthansa flight on the same day (5)
Valid Frequent Traveller Card and Lufthansa / Star Alliance / Codeshare partner* boarding pass for a same-day departing flight
For more detailed information on access to the lounge and Covid updates, check out Lufthansa's website.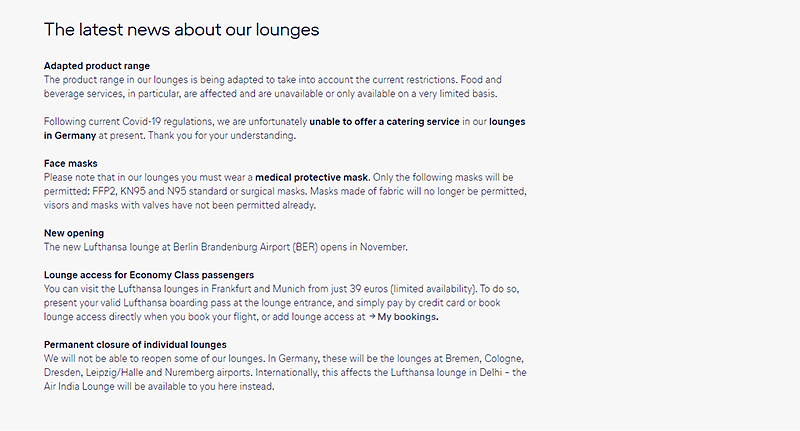 THE LOCATION
Terminal 1 Business Lounge in departure area B, near B24 – B28. As I mentioned above, there are 14 Lufthansa lounges in the Frankfurt airport so make sure you know which one you can visit. I would recommend using the lounge closest to your departure gate, not your arrival gate. It's easy to lose track of time and you don't want to be too far away. My layover in Frankfurt was just over 2 hours and I was lucky enough to leave out of gate B25 so I stayed in the lounge right up until boarding.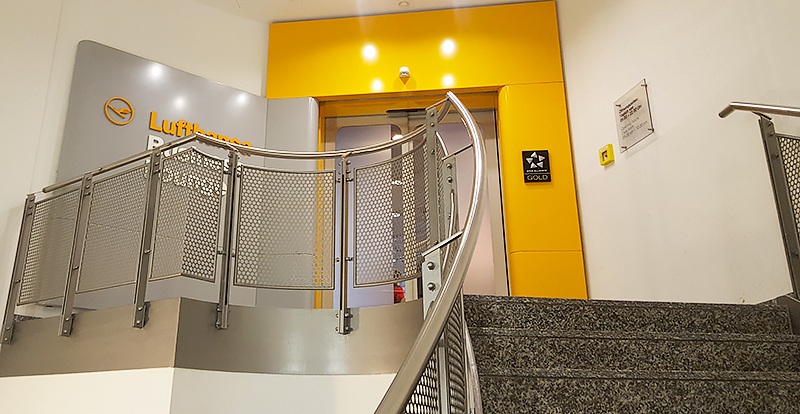 THE LOUNGE
The lounge is laid out in a circular pattern and it's quite large. This photo only represents one section. If you look at the featured photo, when you walk past the Lufthansa sign that points to the toilets and showers, you'll find the rest of the lounge. I was impressed with the size as there was plenty of room to spread out and not be on top of the other passengers. There are different sections such as the business center with computers and charging stations, several areas with comfy chairs and TVs, and the dining room with tables and chairs.  You have plenty of options in this spacious lounge.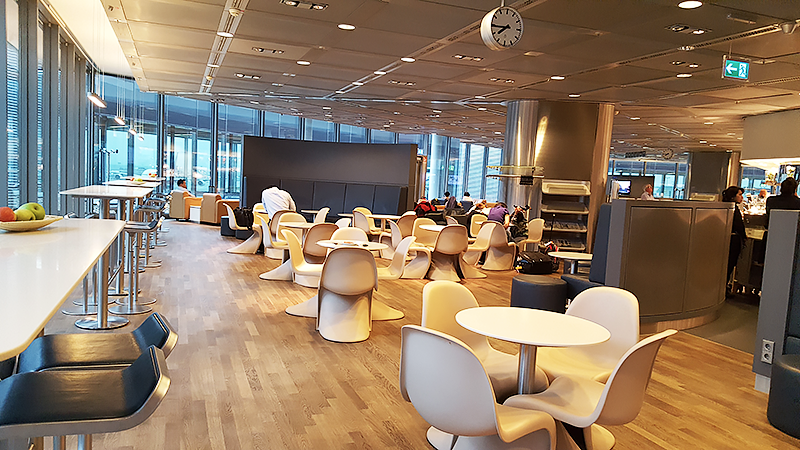 THE AMENITIES
Non-smoking Lounge
Restrooms & Showers
Relaxing Room
Office Units & Copy Machine
Wireless Network & TV
International/German Magazines and Newspapers
THE FOOD
[At this time, the lounge is only serving a limited menu or no food at all. I will keep updating as policies change due to Covid]
While the lounge offers hot and cold food options, I didn't find the selection to be very big. However, I wasn't that hungry because I had breakfast on my flight from Prague to Frankfurt. It's possible that I didn't pay enough attention to the food that was available. Either way, I was satisfied with what I had and I was impressed by the selection of drinks. They had everything from top-shelf spirits for cocktails and beer on tap to craft lemonade and fancy coffees. Below is my sad attempt at trying out the food. Honestly, I was too stuffed to even eat any of it. I did drink loads of coffee, a glass of OJ, and a glass of lavender pear lemonade.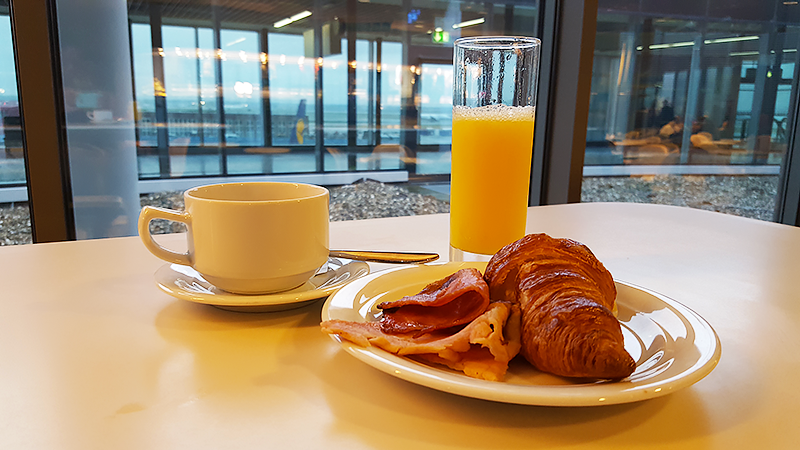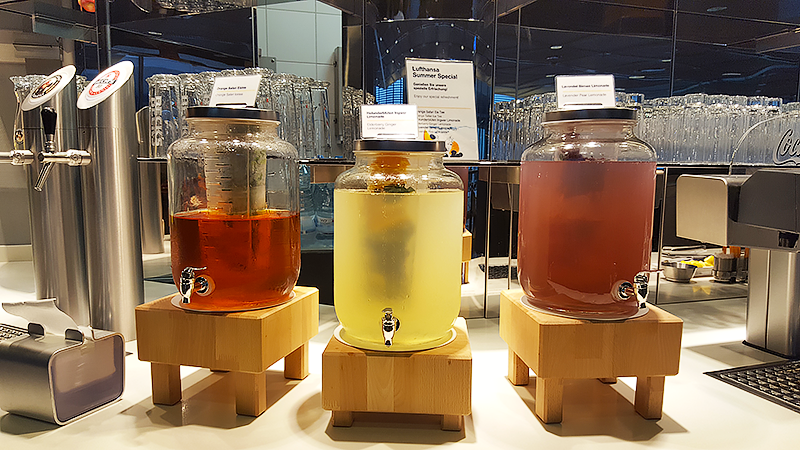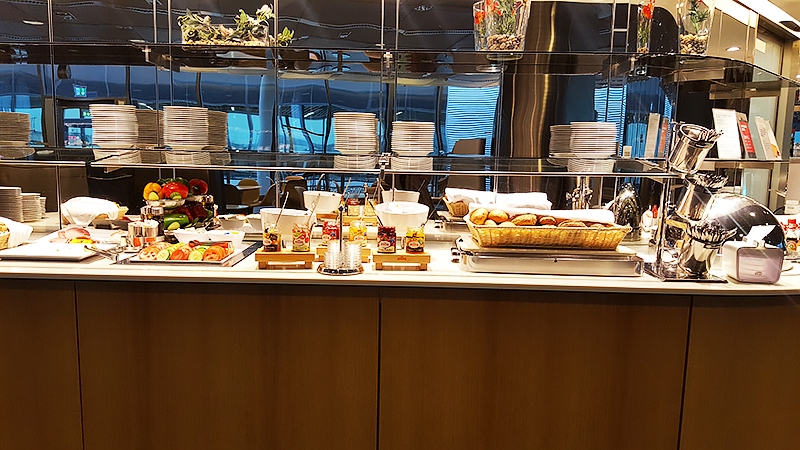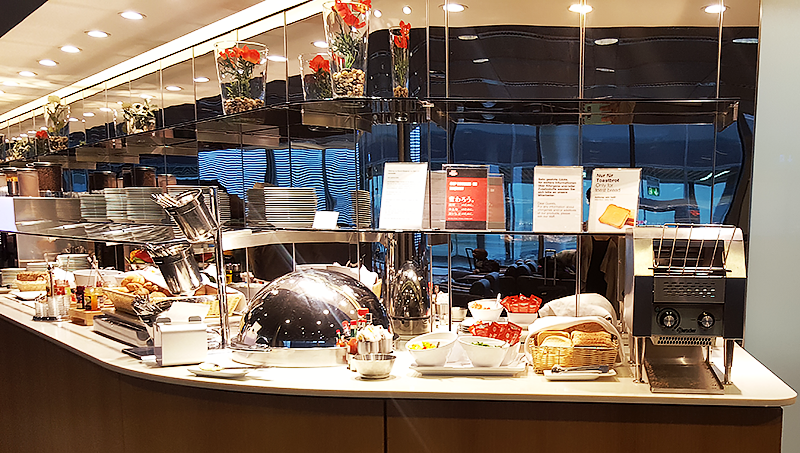 THE GOOD
Getting away from the crowds of people in the terminal is worth the ticket price, alone. It was nice to have access to showers, TV's, food, and drink.  Sitting at the gate and waiting for your flight can get expensive if you're there for a long time.
THE BAD
There really wasn't anything bad, I just wish there had been more hot food (even though I wasn't hungry). There was plenty of food but I've seen a few other lounges and they had more of a buffet with tons of options.
THE CONCLUSION
Overall, I enjoyed the lounge and I would go back in a heartbeat. I usually recommend for people to try to have a 24 hour + layover, as it allows you to visit another place during your travels. Nevertheless, for a short layover, this lounge was perfect. No matter what they offer, it's a nice place to relax and freshen up. It's worth the money!
TWM TIPS: 
Download the Lufthansa App so you can get updates about your flight like gate changes and when boarding starts.
If you're going to shower, sign up and do that first so you can settle in and you don't have to worry about running out of time if the sign-up sheet is long.
Take advantage of the food and drinks. Yes, you'll get a meal on your flight even if it's short-haul but there's nothing better than sitting at a table and enjoying a hot meal. So, eat!
Charge your phone. There are U.S. 110 volt plugs next to the EU plugs so charge it up.
If you need to get some work done, use the business center computers. They have printers too.
Enjoy yourself. Don't be afraid to use all of the amenities – you paid for it!
---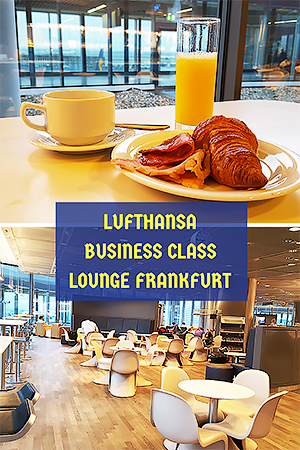 Have you been to the Lufthansa Business Class Lounge Frankfurt? How was your experience? Have you used other lounges? Which ones? How was your experience? Tell me about it in the comments!