A while back, I was in Greece, one of the most stunning, sun-kissed countries on the planet! My husband and I had the pleasure of spending 2 days in Athens and 5 relaxing days on the island of Santorini. Now, I'm sitting at my desk writing this post and wishing I was still there. It's times like these, I'm glad I keep a travel diary so I can reminisce.
Santorini
After one night in Athens, we took the Blue Star Ferry to Santorini. The trip took about 8 hours but we were excited to slow down after a week of hustle and bustle in Italy. We even booked a cabin so we could grab a few hours of sleep. Once we arrived, we took a taxi from the port into Fira where we met, Yiannis, the owner of the house we rented from VRBO. (Side note: This one was amazing!) He drove us from Fira to Oia where we stayed in a pretty awesome two bedroom Cave House at Villa Ariadni.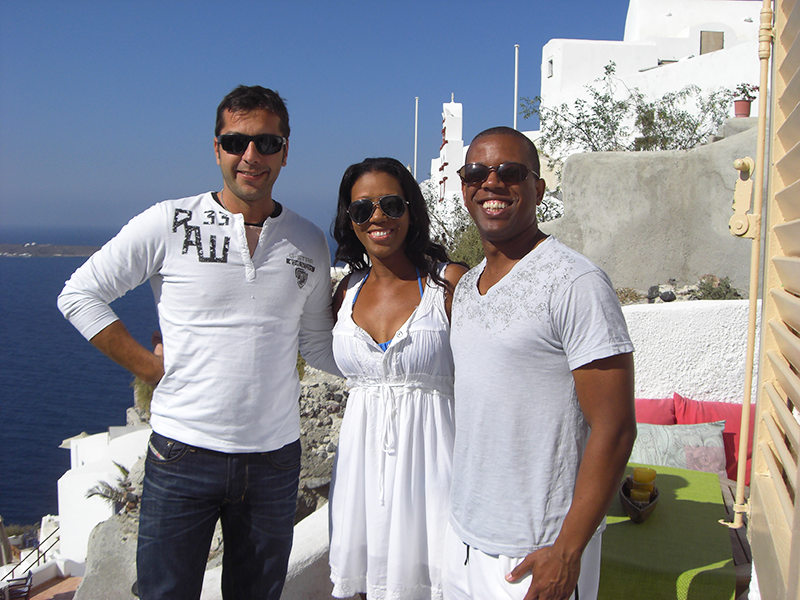 Oia
As we checked in and got the scoop on our rental, I couldn't help but look at the ridiculous view just outside our door. I was sure this was the most beautiful place I had ever been. Our plan for the 5-day trip was to relax as much as possible and disconnect from work, social media, and America. I admit, at first, it was difficult but by the end of the 2nd day I had it down. Most of our mornings were spent lying on one of our 3 patios reading and soaking up the Mediterranean sun.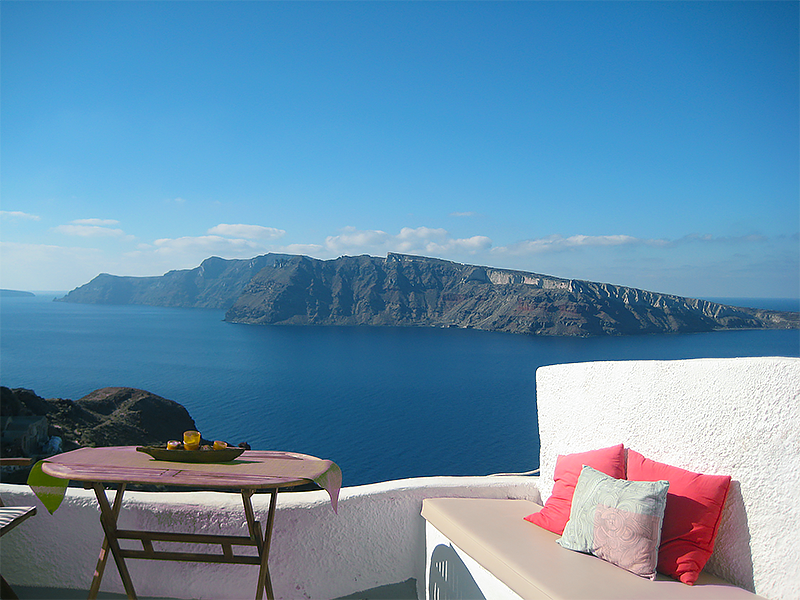 In the afternoons, we ventured out into the main area of Oia to shop and drink with the locals. Some of the most charming parts of Oia where the marble streets, the white-washed buildings, and the colorful rooftops.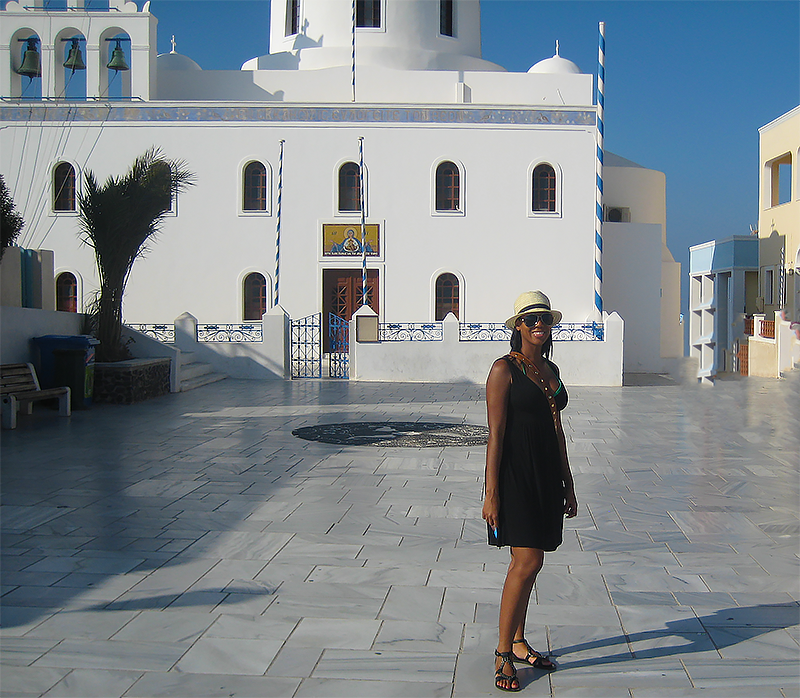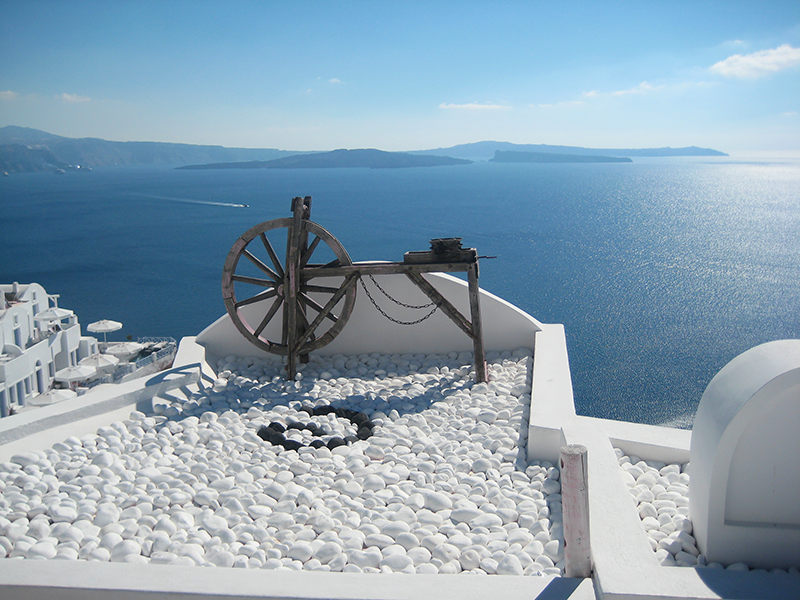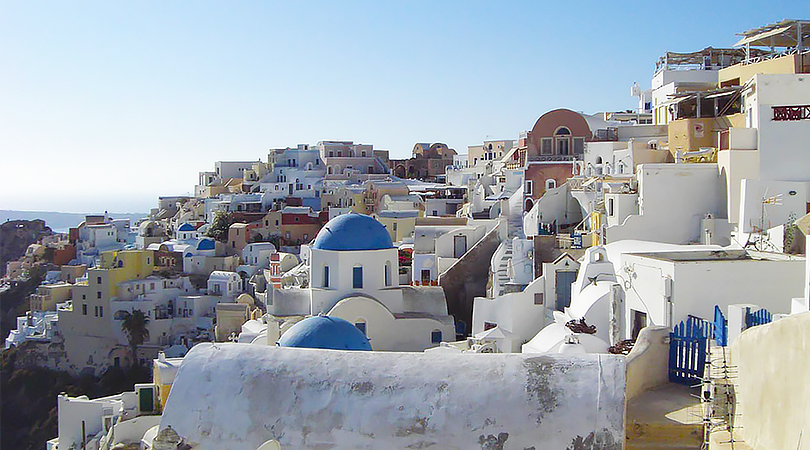 The rest of our days were spent eating fresh fish, crisp Greek salads (I assume they're just called salads in Greece), and delectable desserts, most involving Greek honey! One of my favorite meals was in Amoudi Bay where we stopped for a lovely seaside lunch. I even got my hubby, who loves sashimi but is super picky when it comes to shell fish, to try a few new things.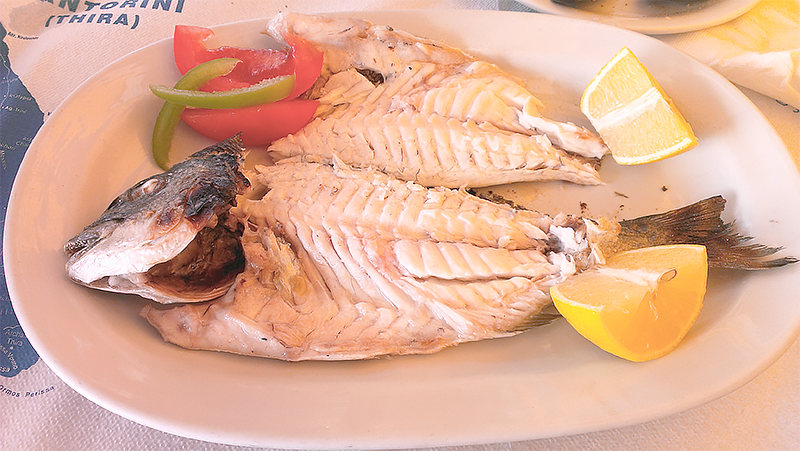 Each night, we witnessed phenomenal sunsets where the sun seemed to melt into the Aegean Sea. It was during our very first sunset that my husband and I deemed Santorini our spot. We decided to go back whenever we needed to recharge our batteries. (Side note: in the upper left-hand corner of the photo below – just above the white building – is the famous spot.) "The Fortress Ruins" is where people gather in Oia to watch the sunsets. Luckily, we were able to relax on our patio with lots of wine and cheese!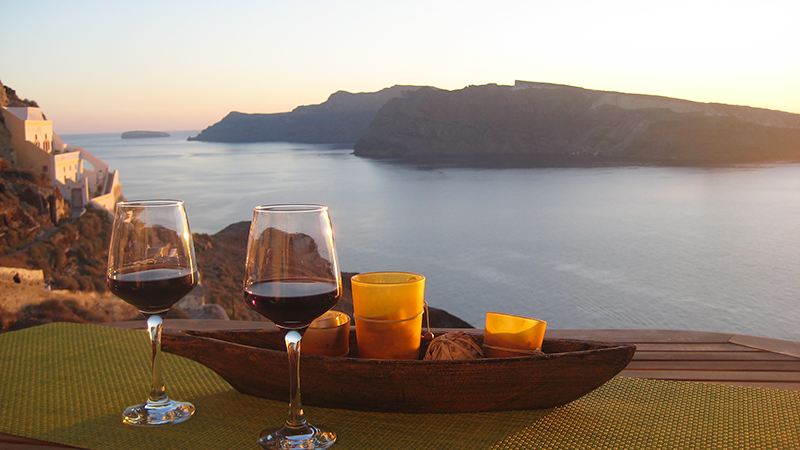 Fira
On our last night in Santorini, Yiannis, made dinner reservations for us in Fira. The atmosphere on the patio dining area was sweet and serene and the food was to die for. This was definitely the best meal we had during our two weeks in Europe. This was a great way to end our trip to this charming island.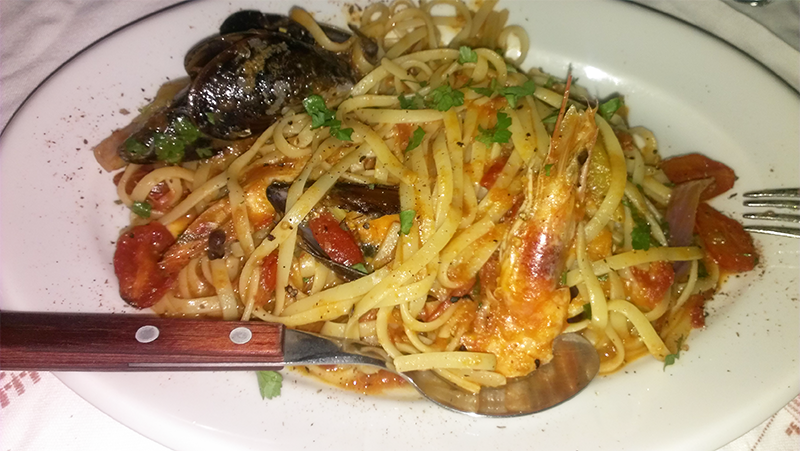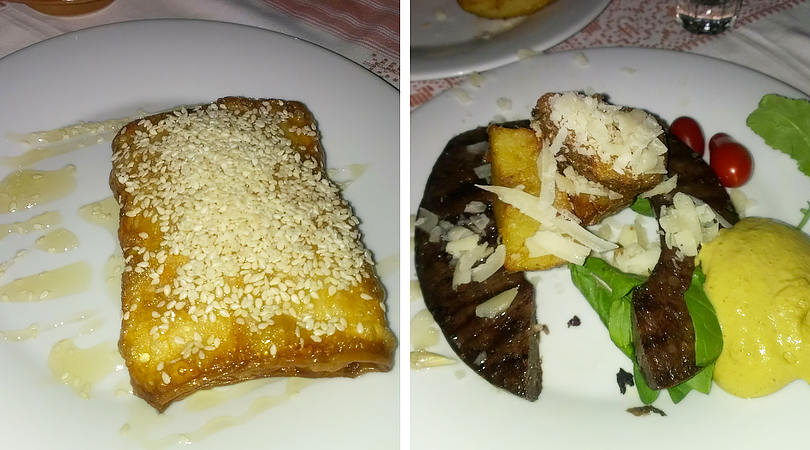 This time next year, we plan to go back to Greece to relax, disconnect and eat! I'd love to hear about your favorite places to get away from it all. Leave your comments below.