Brno is the second largest city in the Czech Republic (Prague is the largest) and home to nearly 400,000 people. Known for its history, museums, and architecture, Brno has some pretty impressive sights. The second-largest and second-oldest museum in the Czech Republic, Moravské zemské, resides in Brno. In addition, the restored Villa Tugendhat is a UNESCO World Heritage Site located just a few minutes from the city center. Whether you're visiting Brno for the sights, the food, or the people – the Courtyard Marriott Brno is your best bet. Opened in late 2016, this four-star, modern, centrally located hotel is one of the newest and nicest in town. During a 3 week trip to the Czech Republic, we visited Brno and found the Marriott to be the perfect location for our stay.
Courtyard Marriott Brno, Czech Republic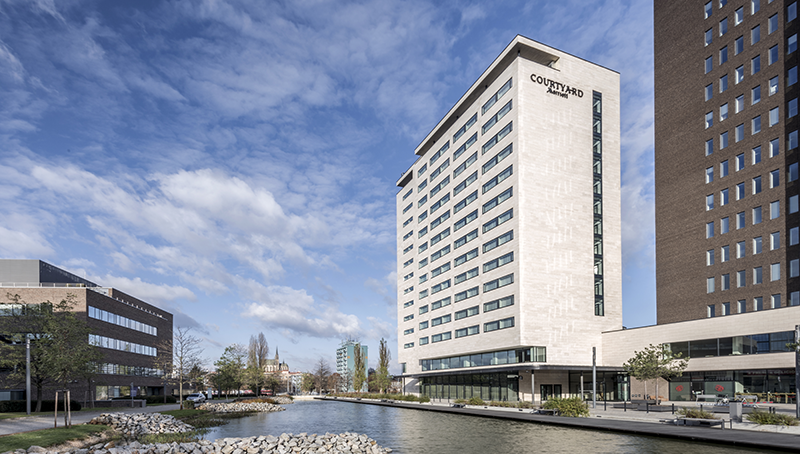 The hotel is conveniently located near the main train station and the charming town center. Plus, there are many attractions in close proximity and within walking distance like Spilberk Castle and Svoboda Square. If you'd like to explore the city at night, the Courtyard Marriott Brno offers a free evening shuttle to the city center and back for all hotel guests.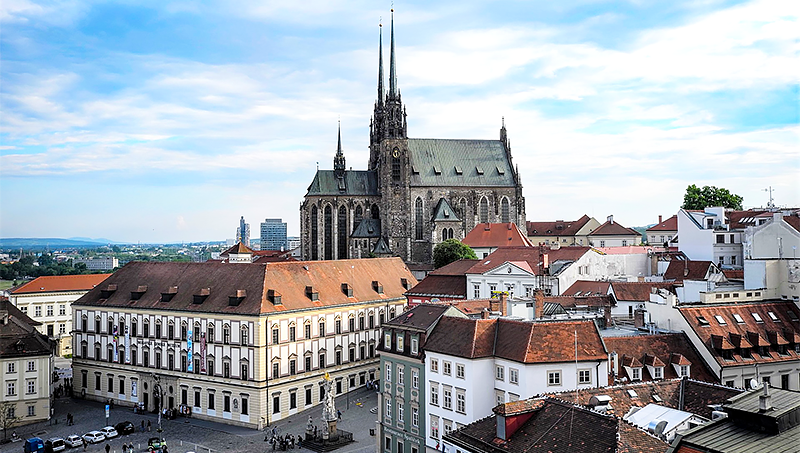 Other sights to see near the hotel include:
Spilberk Castle
Svoboda Square
Botanic Garden
Zoo Brno
Market Zelny
Zelný Trh
Janacek's Theatre
St. Peter's and Paul's Cathedral
Old Municipal House
Villa Tugendhat
Chateau Lednice
Brno is filled with things to do but it's also a place where you can relax and unwind. For more information on this charming city, visit Go To Brno.
THE HOTEL
This spacious hotel has 196 rooms and 5 suites on 15 floors including a top floor "penthouse" complete with balcony and a spectacular view of Spilberk Castle. They also have over 14,000 sq ft of total meeting space with 10 meeting rooms available to choose from. They offer free WI-FI, on-site parking, a fitness center, and they're pet-friendly (for a small fee). We were quite impressed with the location and the overall look and feel of the Courtyard Marriott Brno.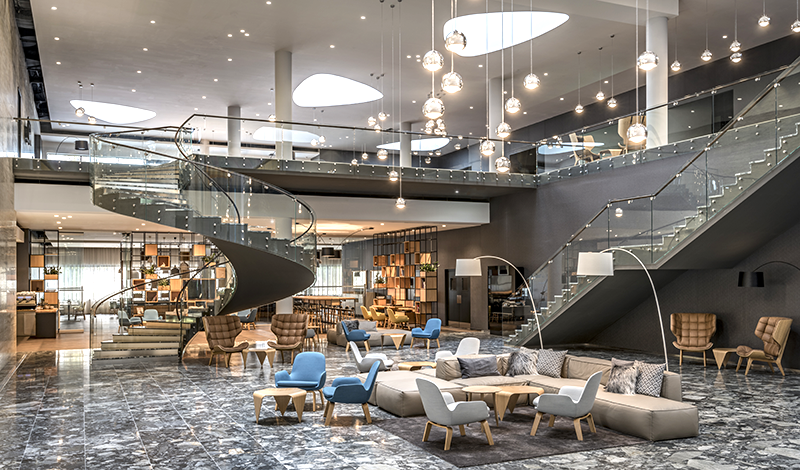 THE ROOM
Each room is sleek and modern with a minimalist design. Our room was incredibly clean (very important to me) and the bed was perfectly comfortable. My husband made good use of the desk as he had to work during our stay. There was plenty of desk space and a good number of outlets and USB ports for his devices.
One of MY favorite room features was the mini fridge. We were able to keep snacks on hand like fruit and cheese to go with our wine from the bar. We, also, had a coffee maker and an electric kettle to boil water for hot tea.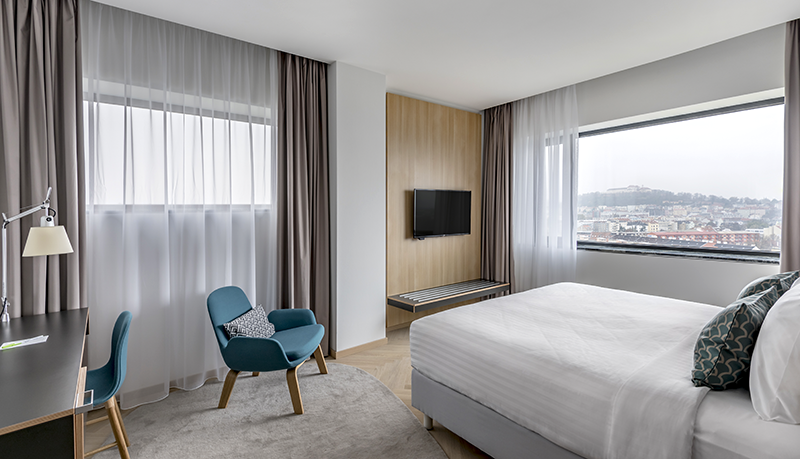 Our room had an incredible view of the city and on a clear day, you can see for miles. Be sure to book a city view room (if available) so you can check out the colorful buildings, rolling hills, and lovely winding river.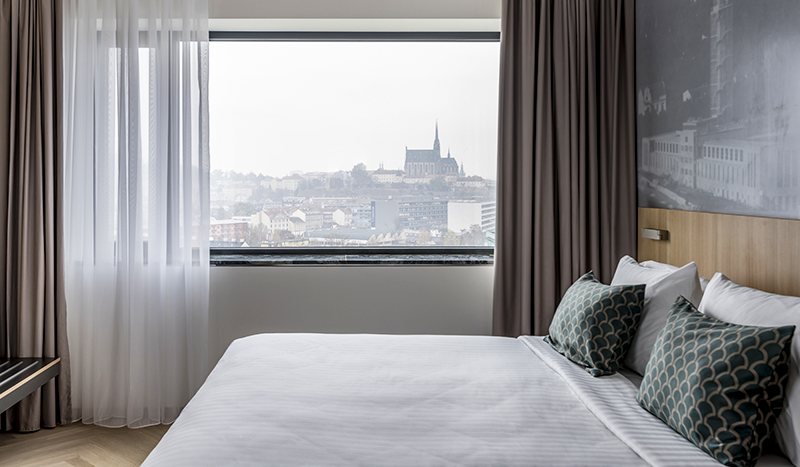 The bathroom was just as sleek and modern as the room – decked out in marble with heated floors and rain showers. If you're lucky enough to upgrade your room, you could spend some time relaxing in this big, beautiful tub. If that's not Instagram worthy, I don't know what is!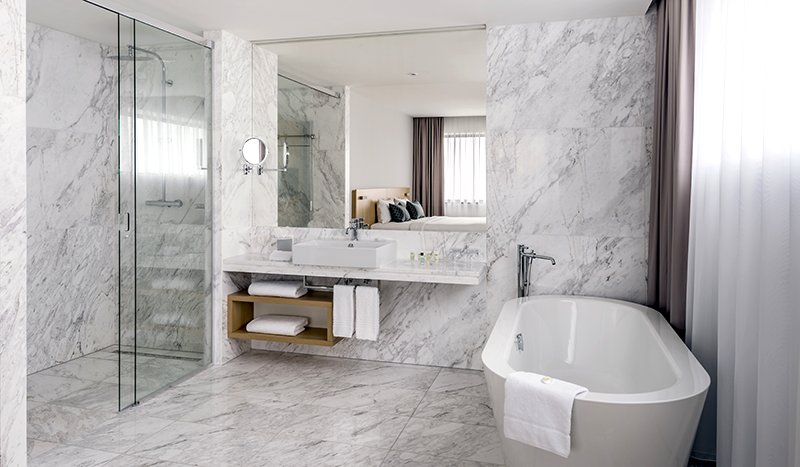 THE FOOD
A good hotel has everything you need, on-site, including food and beverages. During our two separate stays, we ate at the hotel a couple of times. So, here's a quick rundown of all the available dining options on premise.
Breakfast:
The dining room, located right off the lobby, is spacious and bright. If you purchased breakfast with your room, you can give the wait staff your room number and go dig in! The hot food included bacon, sausage, scrambled eggs and fried eggs, potatoes, and mushrooms. You can also have a made-to-order omelet with all the "fixin's".
In addition to the hot breakfast, they also had cold cereal, pastries, bread with several types of jam, deli meats, salad, and tons of fruit. For drinks, there were 4 types of juice, a selection of teas, and a coffee/cappuccino maker. I was expecting a small continental breakfast but I left fully satisfied and maybe even a tad stuffed.
Snacks:
If you're feeling a bit peckish, you can purchase snacks at the "market" located next to the front desk. They have things like chips, candy, salads, and drinks. The market is perfect for those days when you don't want to put on "outside clothes" (please wear something though!) or when you're trying to save a few bucks.
Dinner:
The Yard Lounge & Dining – just off the lobby – is open for breakfast, lunch, and dinner. This laid-back restaurant offers delicious international fare and it's a hit with tourists and locals. The interior design is quite nice with a spacious dining room offering several seating options. You can sit at the bar, a regular table, or a booth with a private television. We chose the booth and it was nice to watch what we wanted but the channels were limited and we could hear the TV in the next booth. However, it was still a nice touch!

Everything thing we ordered (on two different occasions) was delicious. Above is the Bruschetta shareable board with olive tapenade, bell peppers, tomato and basil, salmon Gravlax, and roasted mushrooms. On another occasion, my husband had The Yard Ribeye Steak with baked potato and I had the Spaghetti Aglio Olio with prawns. We also had warm bread with olive oil and a deliciously salty (in a good way) balsamic vinegar. We really enjoyed The Yard Lounge & Dining because the service was attentive but not overbearing and the food was creatively presented and perfectly executed.
FINAL THOUGHTS:
Would I stay at the Courtyard Marriott Brno again? Yes, we enjoyed the location, the rooms, and the restaurant. Would I recommend this hotel to others? Absolutely. While we usually choose vacation rentals, it's nice to stay in a hotel every now and then for shorter trips. If you're visiting Prague, Brno is just a short train or bus ride away so don't miss out.
---
*As always, all opinions are my own and reflect my own personal experience. I was NOT given any type of discount or compensation for staying at this hotel. [Feature photo provided by Courtyard Marriott Brno]
Be sure to pin for later!