Everyone knows Paris is the city of love and sometimes it's referred to as the city of lights! What you may not know is that it's also the "city most likely to pick your pocket." Now, let me clarify, I don't mean the seedy criminals who prey on unsuspecting tourists at every popular location. I mean the city will, literally, pick your pocket. Expensive meals, transportation, and sightseeing will drain your budget faster than you can down a bottle of French wine and if you're anything like me, that's pretty fast. I would definitely recommend taking some cash, but not too much in case you lose your wallet or whatnot, so maybe just enough for tips and a little extra to buy souvenirs or some food from a food cart. Here's how to keep your budget in check with 3 simple steps so you can enjoy your vacation and not feel like you're pinching pennies.
Keep Your Budget in Check with 3 Simple Steps
TRANSPORTATION
Most people think taking a taxi is the quickest way to get around Paris and that's absolutely not true. The Metro (subway) is the best way to get from one end of the city to the other and it's quick and cheap. However, you have to be careful how you purchase Metro tickets because they can add up.
Tip: Buy a day pass/2 day pass/weekly pass for the Metro depending on the length of your stay. Not only is the cost less expensive per ride but you'll save yourself some frustration when you enter a station that doesn't have a ticket machine or booth. I found out the hard way and had to walk around looking for another entrance where I could purchase a ticket. Save time and money, buy a Metro pass (and don't forget the Hop-on, hop-off bus!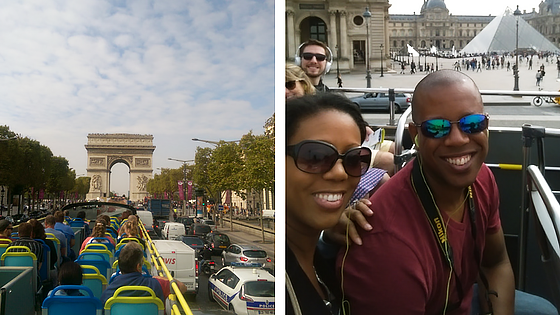 SIGHTSEEING
So, you're in Paris and you want to do all the cool things you see people doing on Facebook and Instagram. That's cool but be warned that $h!t isn't cheap. Visiting the Louvre will set you back 12 euro, Eiffel Tower (summit access) 15 euro, the catacombs 10 euro, and a boat tour/dinner cruise along the Seine River anywhere from 40-100 euro. I think you get the picture.
Don't get me wrong, I'm not saying you should skip the cool sights and experiences. I'm just saying you should be prepared by knowing how much things cost and how to minimize those costs.
Tip: Purchase a Museum pass (2-day 48 euro; 4-day 62 euro; etc…) and it will give you access to many of the sights on your list. For example, the 2-day pass allows you to visit the following (click to enlarge):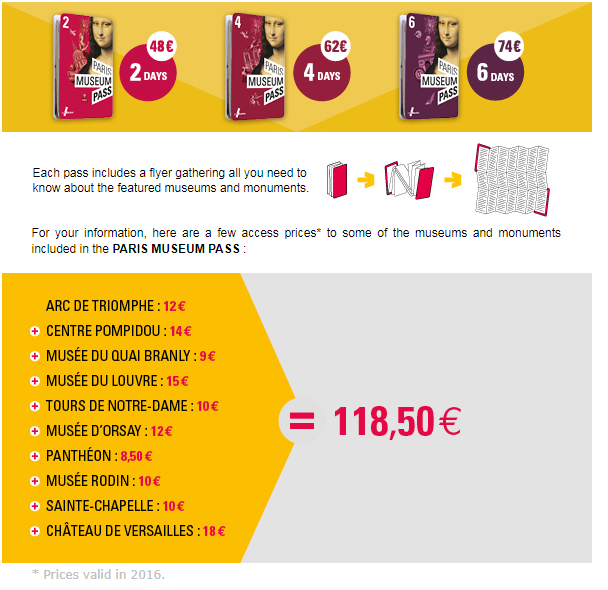 (Disclaimer: This photo was borrowed from the website below. Prices have been updated for 2016/2017)
As you can see, if you were to purchase each ticket separately it would run you ~ 118 euro instead of 48 euro! Check out this website for more information on museum passes and the most recent prices.
FOOD, GLORIOUS FOOD
Let's be honest, we all want to go to Paris and drink fabulous wine and champagne, eat fresh baguettes, sumptuous cheeses and macarons by the truckload.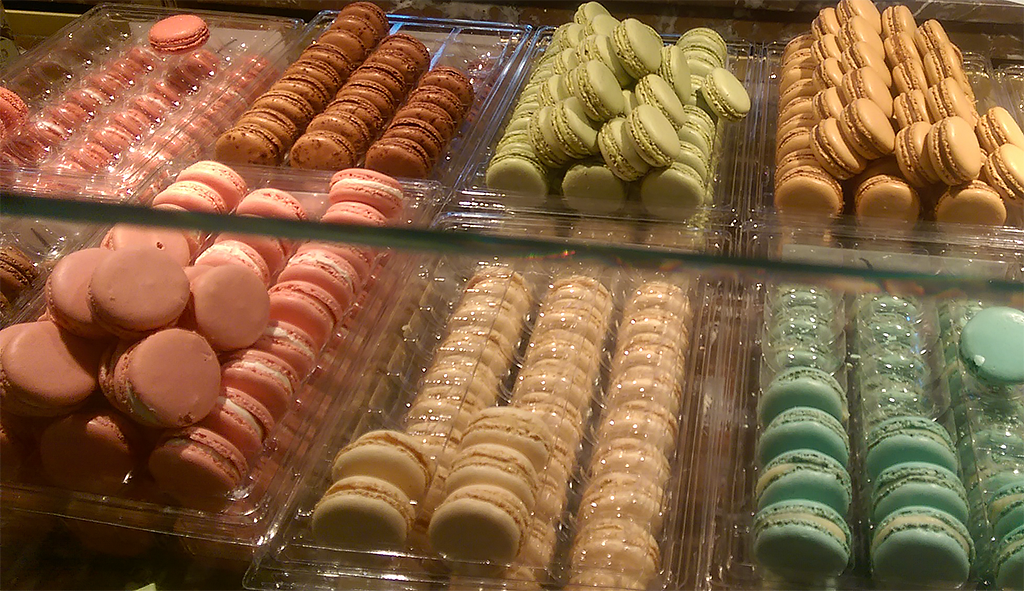 Well, let me be the bearer of bad news, that costs money too. Luckily, there are a few ways to save money on certain meals so you can splurge on the good stuff at least once or twice a day.
Food Tip #1:
If you're renting an apartment or staying in a hotel, hit the market and buy fresh croissants, baguettes, meats ( if you have a fridge) and delicious jams for your morning snack.
It's much less expensive to people watch from a sidewalk cafe if you just order coffee. Breakfast, like every other meal, can add up quickly so have a bite at your place then head out for a coffee or two. (Side note: at some cafes, a can of coca-cola costs 5 euro, that's close to $6.50) Also, grab a few bottles of wine at the market because they're good and super cheap… don't forget the corkscrew!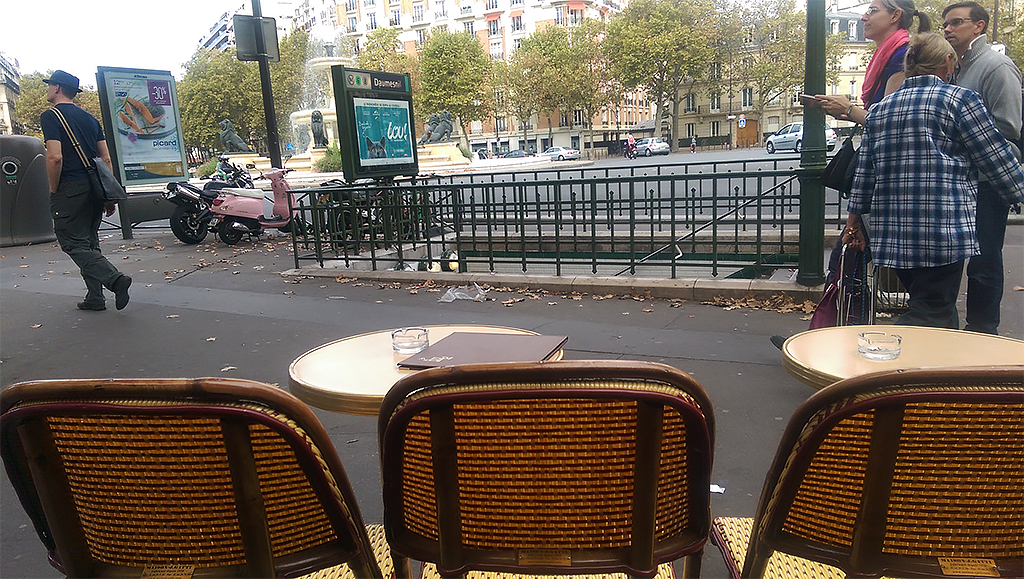 Food Tip #2:
For lunch, skip the sit-down, fancy restaurant. Grab a panini or a savory/sweet crepe from of the many street stands. To be honest, my favorite meal was a Caprese (tomato, basil, and mozzarella) panini for 3 euro! Or, find a small cafe off the main street as these are usually less expensive. Order yourself a Croque Monsieur or Croque Madame. These are super yummy grilled cheese sammiches – the Madame come with an egg. These sandwiches tend to be more affordable as they're considered snacks.
Food Tip #3:
Happy Hour! Yes, happy hour is always a good idea! In Paris, happy hour tends to have more drink specials and less food. (Side note: one happy hour we ordered two divine cocktails and a 6 piece order of microscopic samosas. The total cost was 15 euro – no joke, but damn good.) So, stop for a drink before you splurge on dinner since you saved all that money on breakfast and lunch!
If you're smart with your money and you have an idea of what you want to do during your stay it's easy to stay on budget. I hope you learned how to keep your budget in check with 3 simple steps! Hopefully, these tips will help you enjoy your next trip to Paris, or anywhere for that matter. Check out one of my favorite trips to Paris.
Happy travels!
Mia