On my last trip to Hong Kong, the weather wasn't ideal but that didn't stop me from eating my way through the city! If you find yourself in HK and you need recommendations on places to eat, look no further. When Here are my favorite foodie spots in Kowloon.
My Favorite Foodie Spots in Kowloon
---
The "eat like a local" spot: Yeun Kee
We found this spot while looking for a place recommended by our hotel but I'm glad we did because the food was incredible. This is a place where the locals hang out and we were the ONLY tourists. The waitress offered us forks and laughed, out loud, when we asked for chopsticks. While we ate, people stared at us and a couple of people took pictures but that didn't stop us from enjoying our food! Address: G/F 18B Granville Rd, Tsim Sha Tsui, Hong Kong.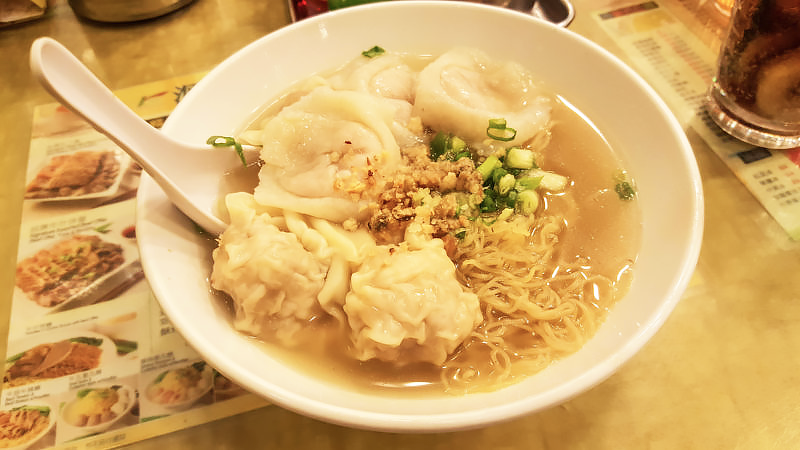 The "sugary sweet" spot:

Hello Kitty Le Petite Cafe
This was the cutest little cafe with the most delicious treats! I stopped here on multiple occasions on the way back to our hotel. Address: 2A Hart Ave, Tsim Sha Tsui, Hong Kong.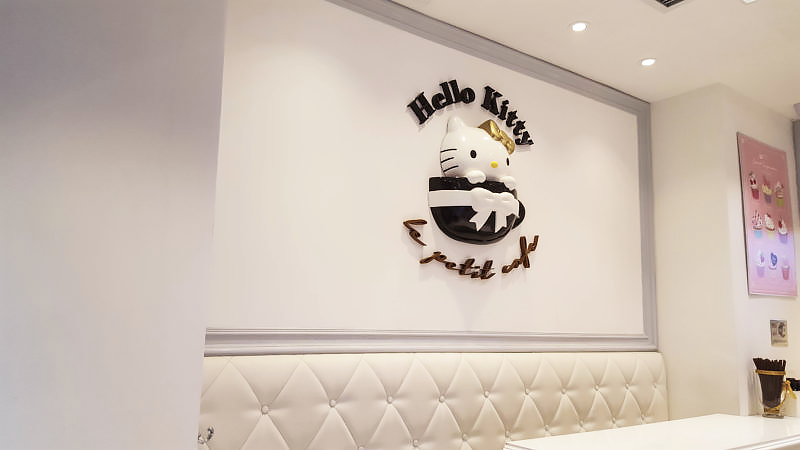 The "delicious dinner" spot:

Nanhai NO. 1
This was a recommendation from our hotel and our Uber driver who told us lots of locals like this spot as well. However, he didn't go there because it's in Kowloon and, according to him, "Hong Kong side better"! At Nanhai No.1, do yourself a favor and order the "fried noodles with crispy rice and shrimp paste (pictured on the right). This is the one dish I would fly back to Hong Kong just to eat! Address: 30/F, Isquare, 63 Nathan Road, Tsim Sha Tsui, Hong Kong.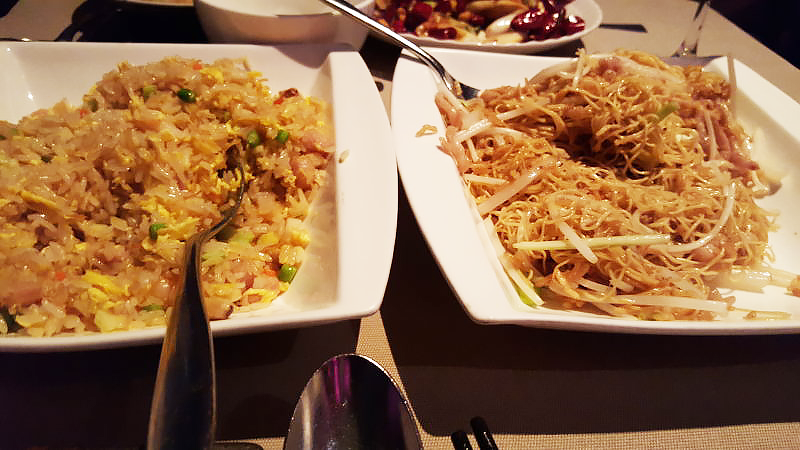 The "taste it all" spot:

Eating Adventures Food Tour
We went on this walking food tour even though it was freezing outside. Luckily, we were able to warm up with some snake soup and by the time we ended the tour we were so stuffed that we didn't even notice the cold! Read all about our Eating Adventures Food Tour! Address: Various locations.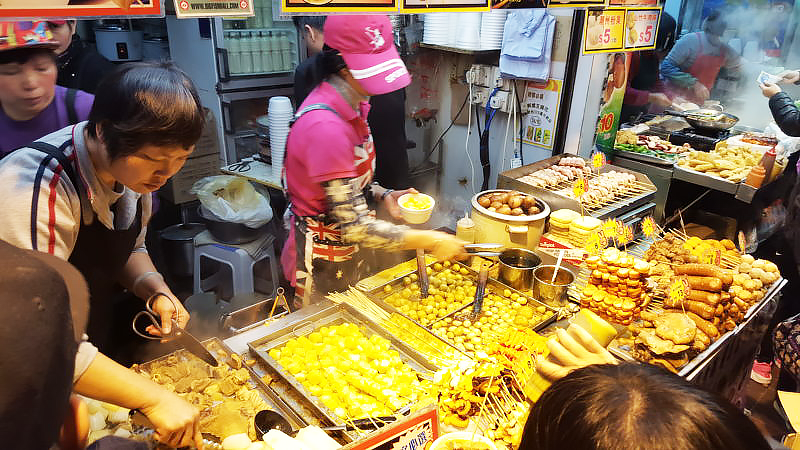 The "top of the world" spot:

Ozone Bar @ The Ritz-Carlton Hotel
We went to this bar/restaurant on my 40th birthday and it was the perfect spot for drinks, dinner and the best views around Hong Kong. The prices are astronomical but that's to be expected from The Ritz-Carlton. Prices aside, we had an incredible evening of drinking and dancing so if you're counting pennies just stop by for a drink AFTER you have dinner elsewhere. Address: International Commerce Ctr. 1 Austin Road West. Hong Kong.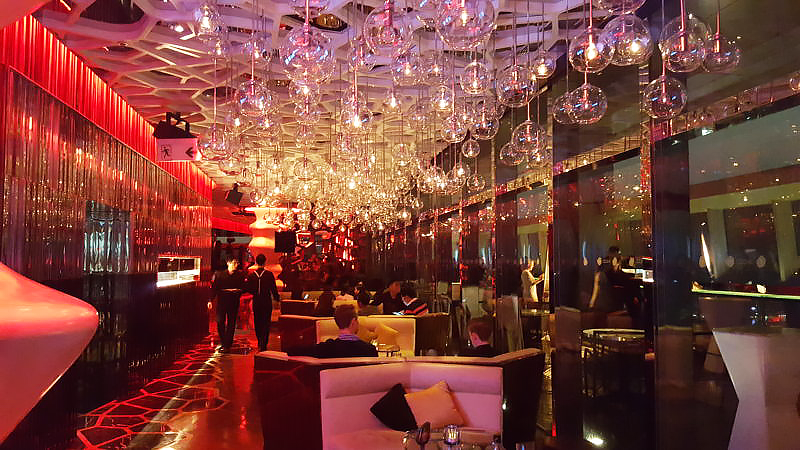 ---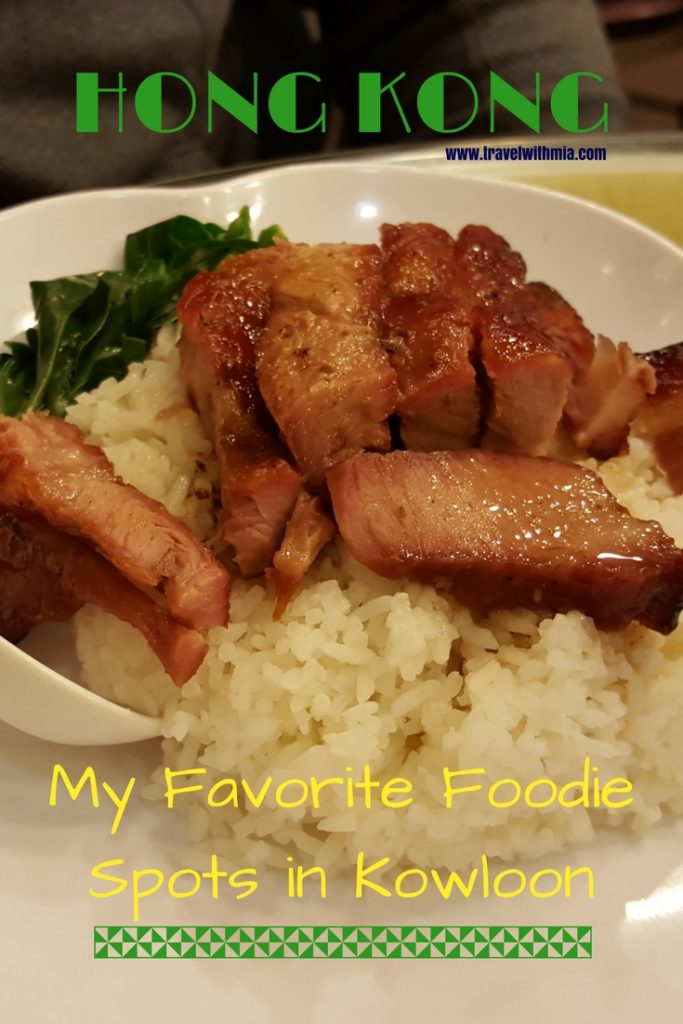 Have you been to any of my favorite foodie spots in Kowloon? What are your favorite spots in Hong Kong – Kowloon or Hong Kong Island? Tell me about it in the comments!