Food tours are one of my favorite things to do when visiting a new city. Not only do I love trying new foods, I'm very interested in the history of places, people, and things. I like to think of myself as a history buff. Okay, that's grossly overstating my knowledge of history but I like to learn the story of a city and if I can eat while I'm doing it, I'm sold!
So, when we decided to go to Hong Kong, we started looking for food tours. After weighing the available options, we chose Eating Adventures. Ranked in the top 10 on Tripadvisor for food and drink, they offer two different Hong Kong Food Tours (Kowloon and Hong Kong Island) as well as tours in Shanghai, and Guangzhou. Since our hotel was located in Kowloon, we opted for that tour!
THE LOCATION
The city of Mong Kok is bustling with crowds from near and far. Yan, our guide, explained the meaning of Mong Kok. She said "Mong" means busy and "Kok" means corner so the literal translation is "busy corner." As we made our way to the first stop, we saw how densely populated the city was as we maneuvered the lively markets.
THE FOOD
On our first stop, we tried one of the most famous dishes in Hong Kong, roast goose. The tender, juicy roast goose was excellent and filled with flavor. At one point, Anthony and I were fighting over the last piece. Honestly, I could have eaten it by the barrel! At Yan's insistence, we added the fruit marmalade (apricot, I believe) and it brought a little sweet to the savory!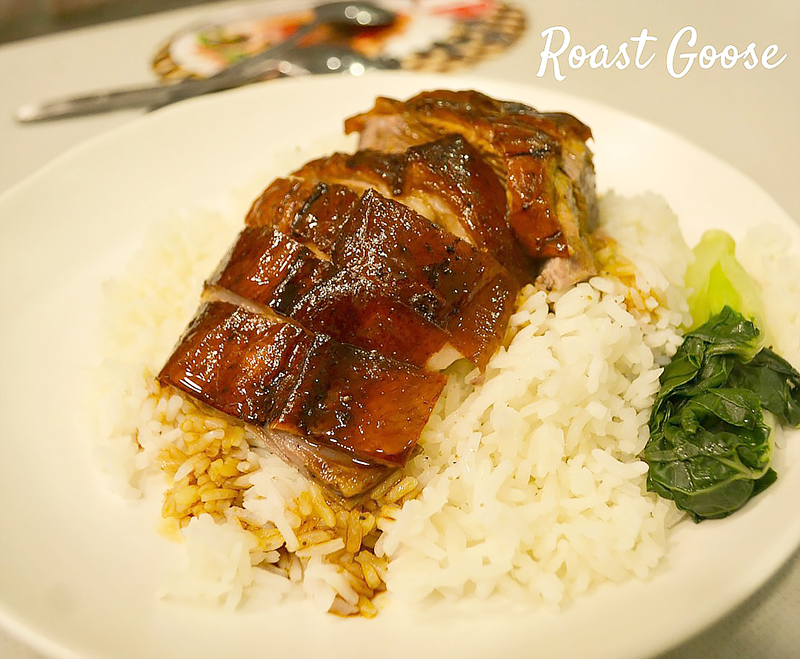 Next up was a shop serving several different types of tofu. I'm not a fan of tofu in any way, shape or form so I recruited the hubs to taste it for me. After making him eat a deep fried cricket in Thailand, this was no big deal! He said the texture of the bean curd pudding was interesting but it was quite good! I can't remember if he tried the fried bean curd but the other group members enjoyed it, especially with the hot sauce.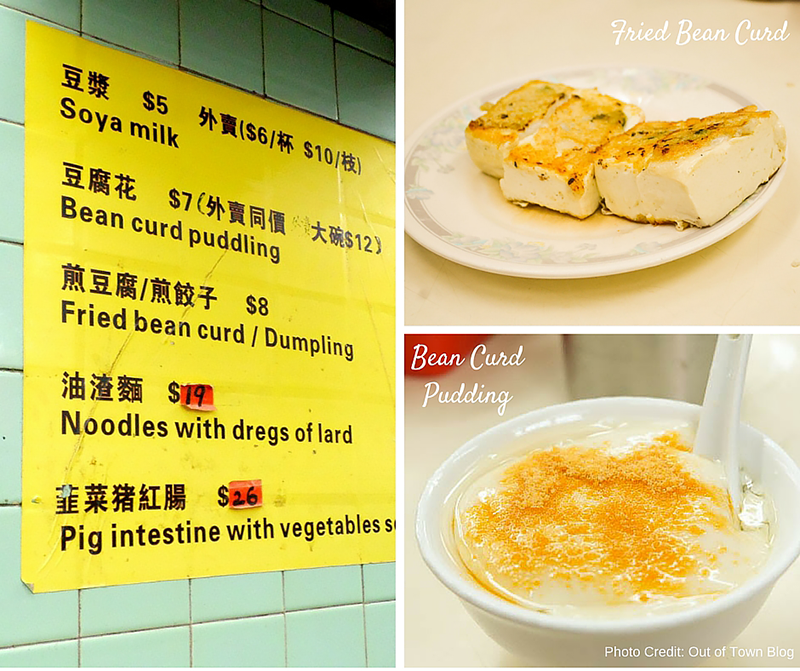 Unfortunately, the weather wasn't cooperating and it was pretty cold outside. So, what do you eat in Hong Kong when temps are near freezing? Snake soup! This popular Cantonese dish is believed to have healing and warming powers which Is perfect on a cold, windy afternoon.
When I heard about this dish, I was nervous due to my incredible fear. I thought the restaurant would have a live display that would send me running for the hills even before I walked in the door. Luckily, there was no such display just a table filled with snake meat. I decided to ignore the table, sit down with my group and try the traditional soup. To my surprise, it was delicious! I figured I wouldn't like it because… Ya know, snake. But, once I got past it, I was able to enjoy the deep, earthy flavors and the tender meat with a little lemongrass and crunchy won tons chips!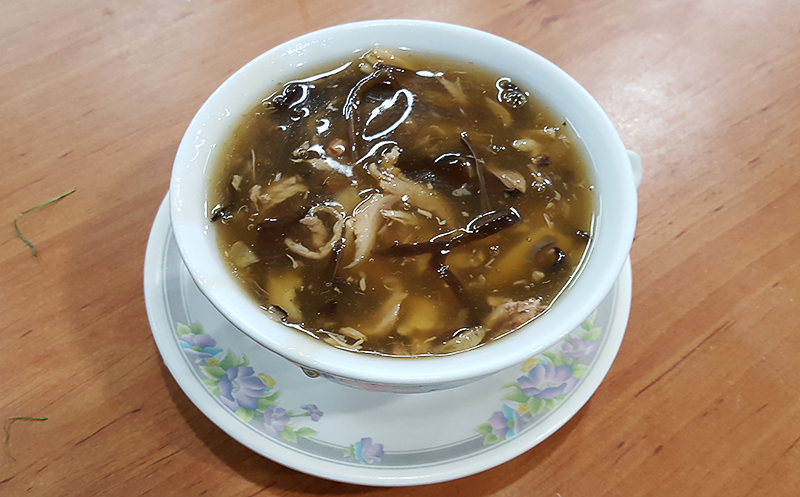 As we stopped in front of the next restaurant, I knew what was coming. I had been waiting for this since we started the tour! I mean, you can't go to Hong Kong and not eat dim sum. Some of the items on the menu are pictured below like chicken feet steamed with soya sauce, crispy rice flour roll, pan-fried stuffed eggplant with teriyaki sauce, mushroom bun, pan-fried seafood stuffed peppers and for dessert, poached pear with mandarin peel and honey!
There were quite a few other dishes on the table but I was too busy eating to photograph them (I know, bad blogger!). Some times you have to put down the camera and dig in!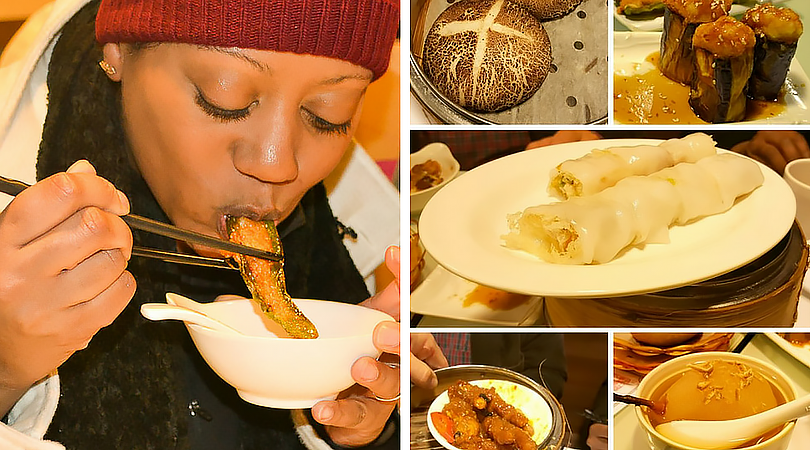 With full bellies and tight pants, we plugged on in search of street food. Just when I thought I couldn't eat anymore, I found myself snacking on fish ball skewers with a mob of locals. The line for this place was at least 4 deep from all sides and more people kept showing up. I guess this is what you do on Saturday night in Mong Kok!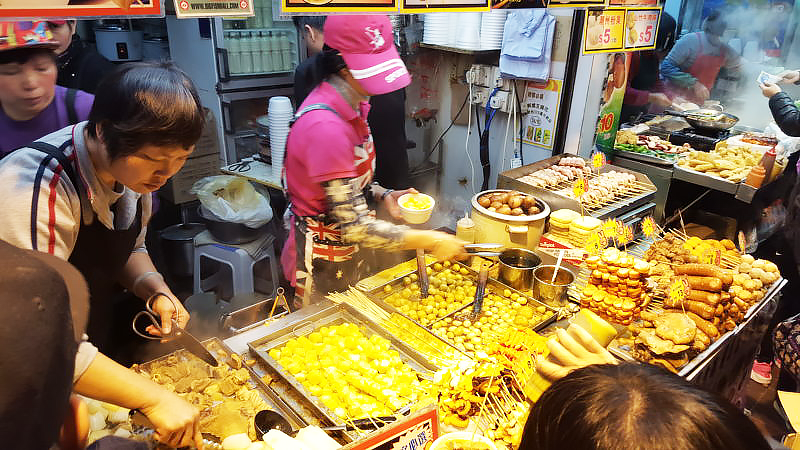 The final stop on our foodie exploration through the city was dessert! The group consensus was, "Oh, just a taste because it's cold out" but we all ended up finishing our pandan ice cream. Though not on our tour menu, our guide purchased an egg waffle for us. I hadn't tried one yet so I was excited to get my hands on it. Just as I suspected, it was crispy on the outside, soft on the inside and every bit as delicious as I had heard.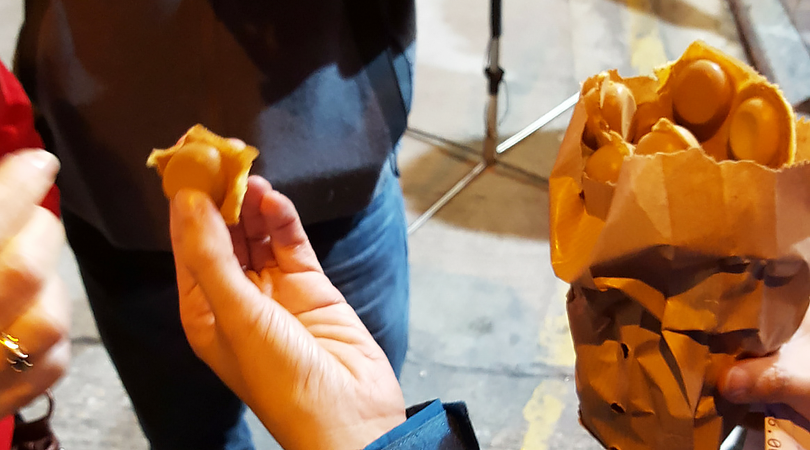 FINAL THOUGHTS
So, what were my favorite dishes on the tour? It's hard to answer that because there were too many to count! I think that's a sign of a successful food tour. Would I recommend it to my friends and family? Absolutely, 100%! If you're looking for Hong Kong Food Tours, you can't go wrong with Eating Adventures for your next foodie experience! Don't forget, if you're in Shanghai or Guangzhou, you can book tours there as well.
Tip: When booking a food tour, be aware of the country you're in and know that the local, popular foods from that region may or not be your cup of tea. However, if you step outside of your comfort zone, you might find something you like that you never thought you would. There's a popular saying in China that I found interesting.
"We eat everything with four legs except tables and everything that flies except airplanes."
I used to think I was adventurous but this food tour showed me that I haven't been adventurous enough! Maybe I should take note from the Chinese and add more four-legged, flying foods to my list!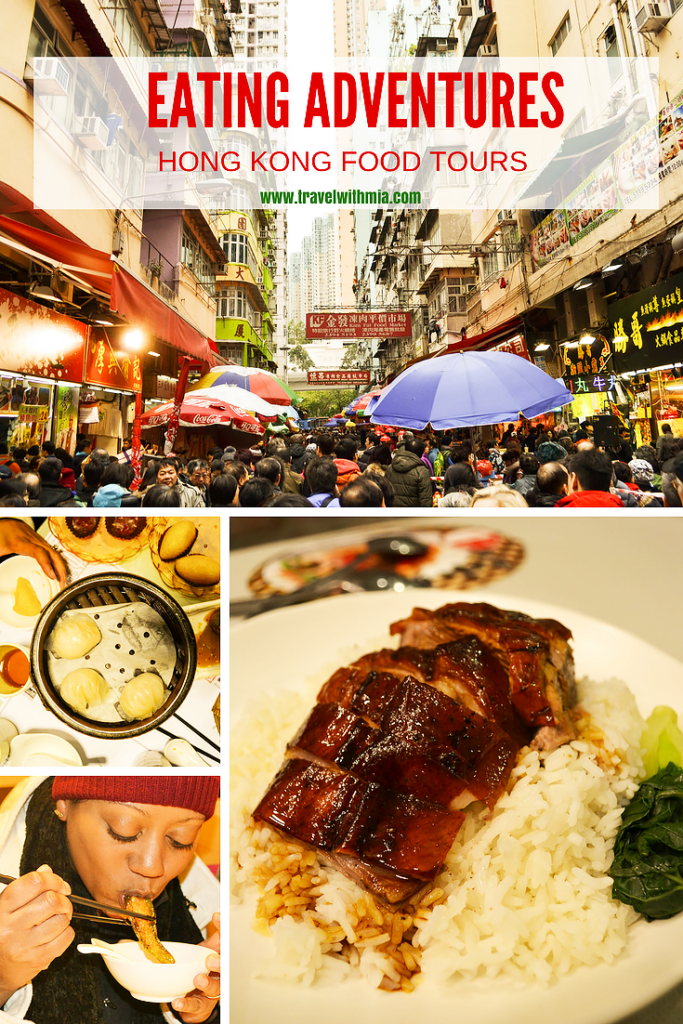 ---
Have you taken any Hong Kong Food Tours with Eating Adventures? Have you been on any other food tours? If so, were you adventurous? Tell me about it in the comments!
---
Note: While my tour was complimentary, all opinions are my own and reflect my personal experience. Special thanks to Eating Adventures. Also, thank you to Out of Town Blog for the bean curd pudding photos.