Let's talk about food tours! If you know me, you know that my favorite thing to do is EAT!! However, choosing a restaurant in a new city or country can be overwhelming. I want authentic, local food in a place that isn't too touristy but combing through pages of reviews (that may or may not be real) is time-consuming and annoying.
For me, the solution to that problem is ALWAYS food tours. Walking through the city, tasting authentic dishes while learning about history and culture is the perfect mix. Added bonus, after the tour, I have an idea of where & what to eat for the rest of my stay!
My favorite food tours have been with Eating Europe Food Tours. Operating multiple tours in Rome, Florence, London, Amsterdam, and Prague, Eating Europe Food Tours has an incredible reputation. Their upbeat & knowledgeable guides will steer you through the rich food culture of each unique city. When I booked my trip to Prague, I knew this food tour was going to be number one on my list of things to do.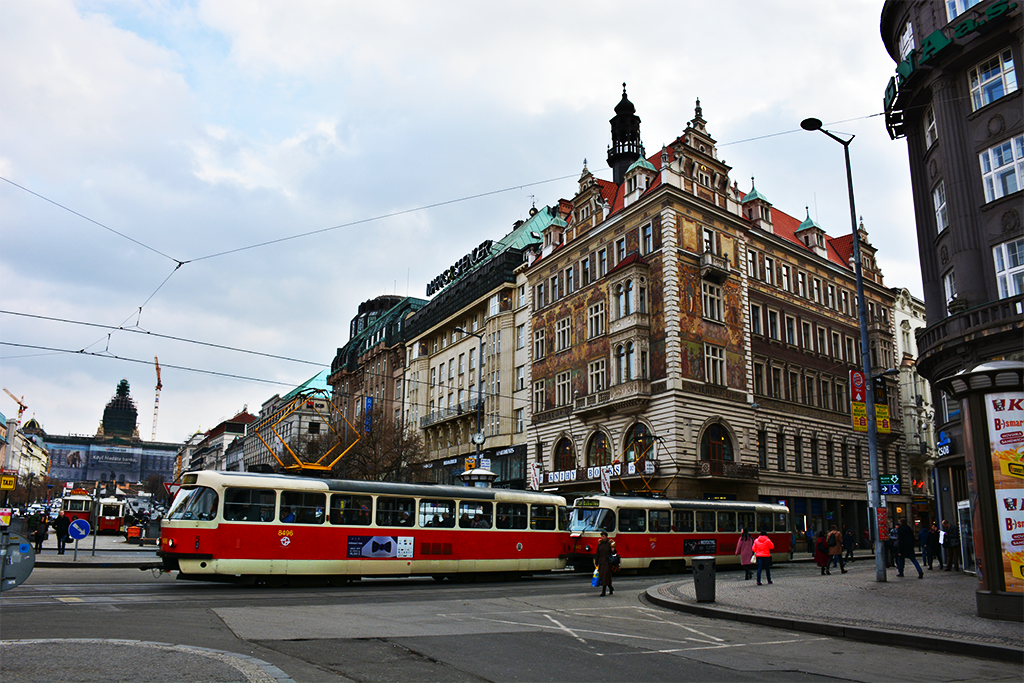 Eating Europe Food Tours: Prague
On the day of the tour, we met up with our guide and for 4-hours, we ate, we drank, and we covered the city from Old Town to New Town.
Perníčkův sen
Our first stop was the little gingerbread shop you could smell from down the street. If you ever wondered why Hansel and Gretel wandered into that Gingerbread house, just stand outside Perníčkův sen and you'll know! Luckily, there was no big bad witch here – just one delicious treat after another.
We were given an assortment of cookies to try but my favorites were the poppy seed kolache and their famous gingerbread! My grandpa always told me to eat dessert first in case I'm too full after dinner! So, I was thrilled that we started our tour with some heavenly sweets.

Sisters
After a short walk through the city, we arrived at Sisters. Here, you can enjoy an assortment of unique and colorful chlebíčky (or open-faced sandwiches). We tried three of the many sandwiches available. Our 3 were the celery remoulade, beets with goat cheese, and the ham potato salad. I enjoyed each sandwich for different reasons whether it was the flavor, the ingredients, or the whole package.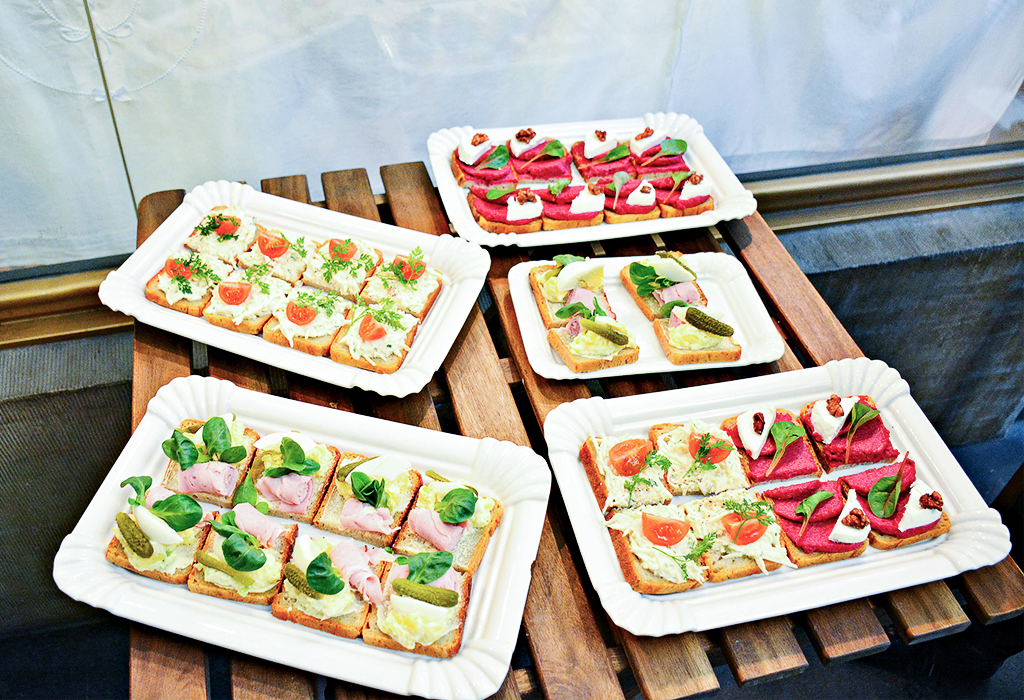 While I enjoyed each chlebíčky, I couldn't get enough of the ham with potato salad because I love potato salad and gherkins.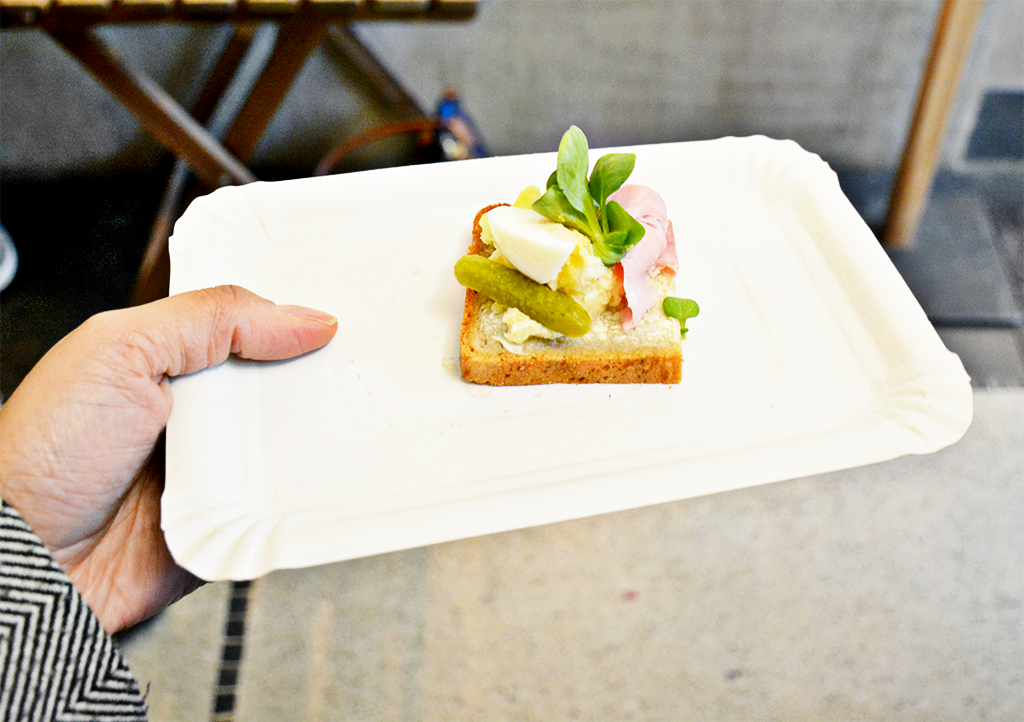 Naše Maso
Right across the corridor is Naše Maso. This butcher shop is so popular there's almost always a line at the door like a famous nightclub in New York. Luckily, you don't have to tip the bouncer to get into this hot spot but you may have to wait for a while. Serving up the freshest ingredients, Naše Maso offers everything from sausages and steaks to homemade mustard and baked bread. Check out their MENU for the full list of mouth-watering "maso" (or meat).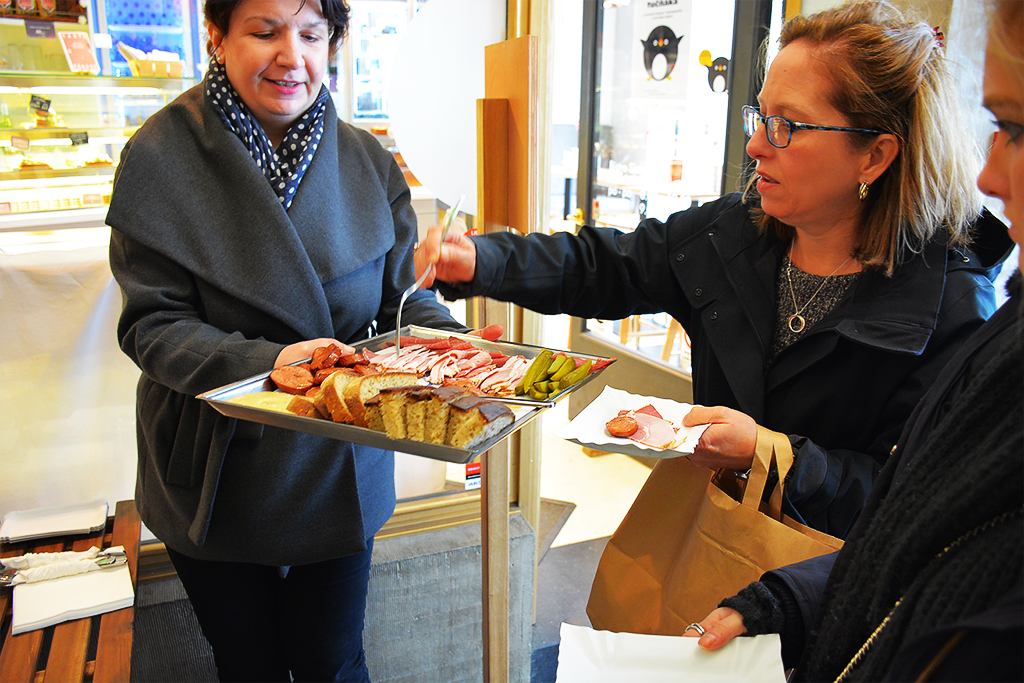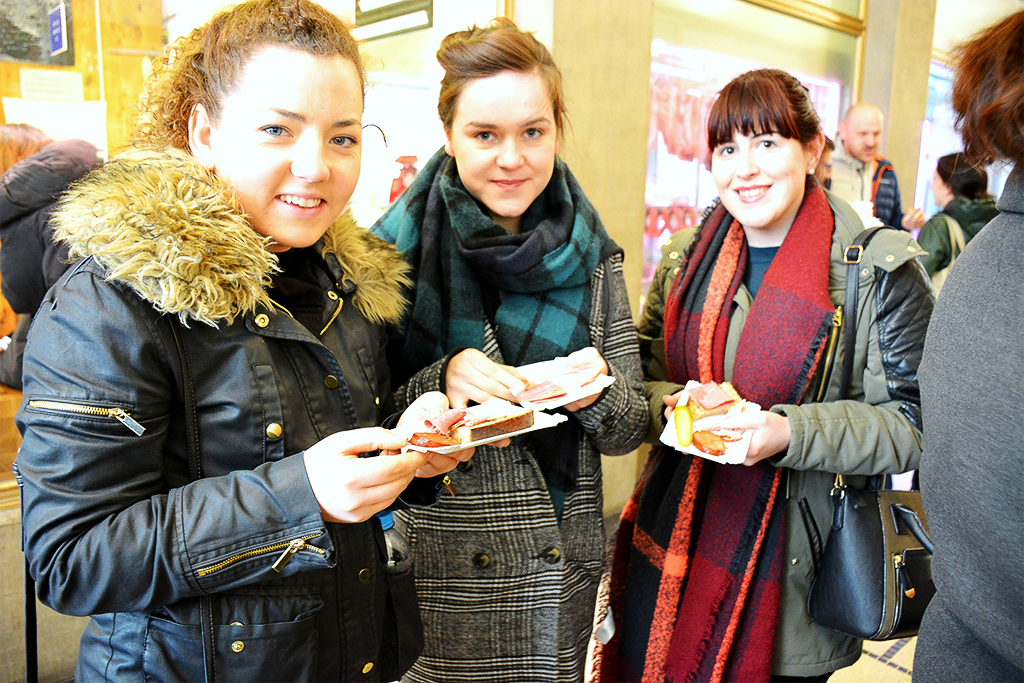 Zvonice
Located on the Jindřišská Tower, Zvonice boasts an incredible view of the bustling streets of Prague. The interior is just as impressive as the view with its Gothic windows, large wooden beams, and the Bell of St. Maria – cast in 1518. Not only will you find a restaurant in the tower, there's also a museum and a gallery. It's really a one-stop shop full of history, charm, and killer cuisine.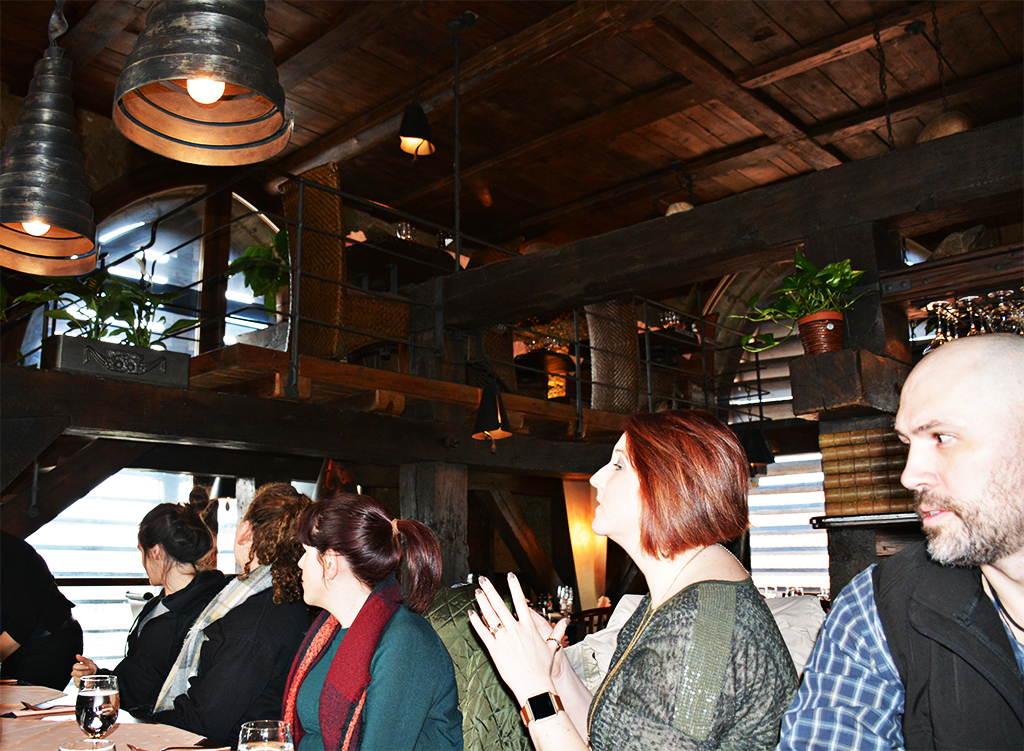 What do you know about Bohemian Soup? Personally, I had never heard of it but it was an unexpected treat on a cold and windy day. Sauerkraut, mushrooms, baked mashed potatoes, and sour cream give this soup a unique flavor. I wasn't sure I'd like it but I dug in and finished the entire bowl!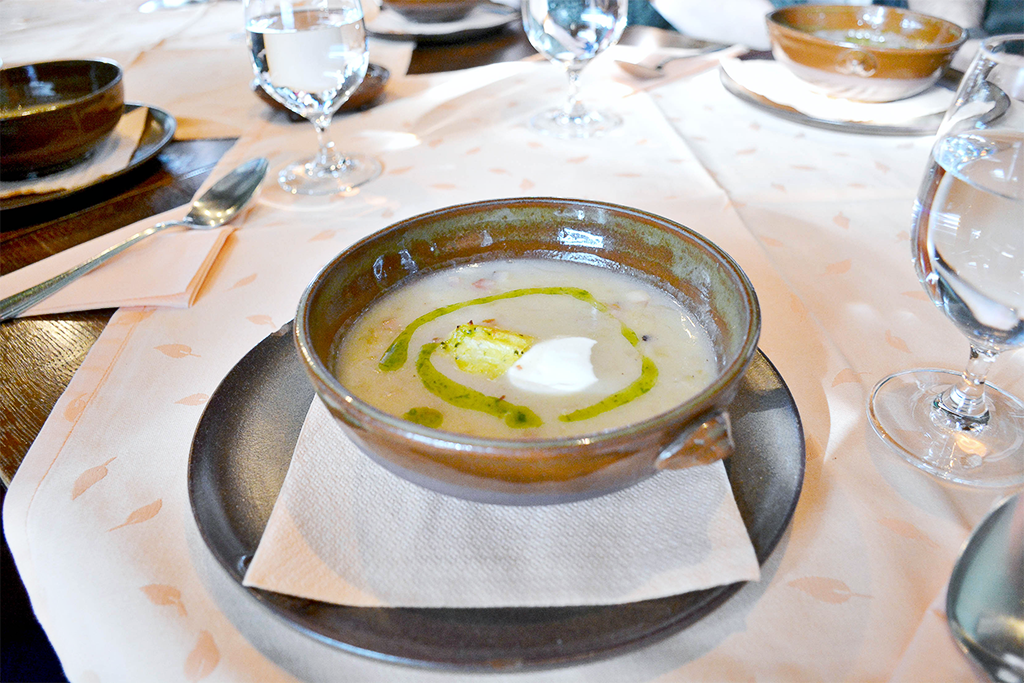 Styl & Interier
Our first stop in New Town was Styl & Interier. This was, by far, my favorite stop on the tour. I'm a sucker for a little shabby chic decor. Wait, do they still call it that? Anyway, this adorable cafe is located in New Town – just a 10-minute walk from Old Town. On the tour, we sat on the patio in the covered gazebo complete with heat lamps and blankets.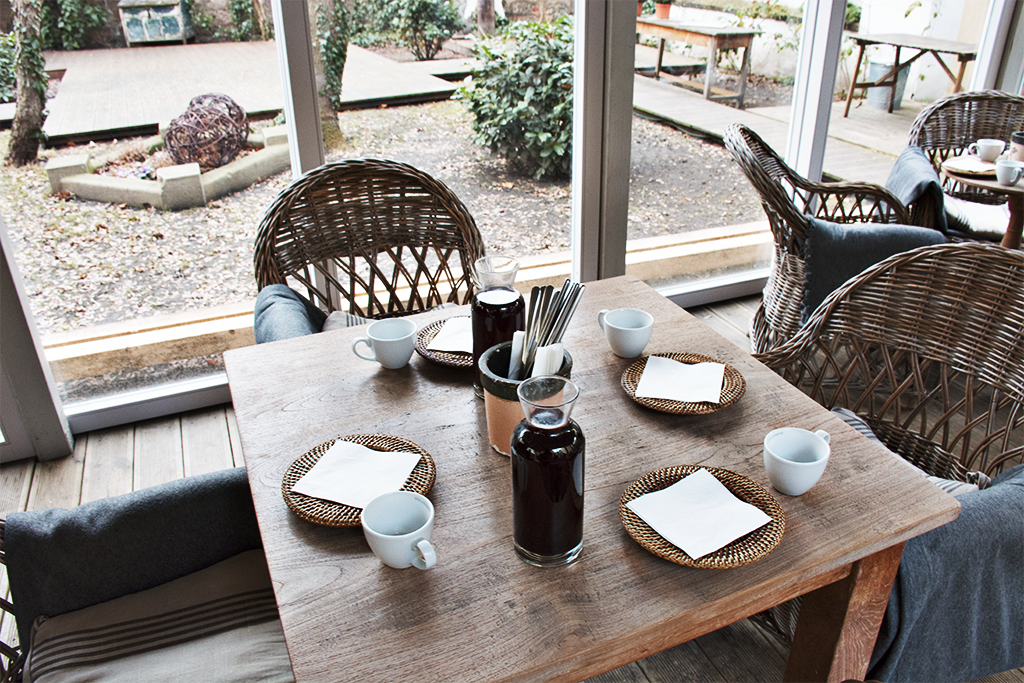 The offering here was a tender, braised lamb with crispy onions and a balsamic reduction with a side of creamy mashed potatoes. To warm up our tummies before we moved on to the next spot, we indulged in a "tipple" (or alcoholic drink) which was the house-made mulled wine. We even bought their proprietary spice mix to make our own at home.
I'm not going to lie, I loved Styl & Interier so much that I took my husband – who missed the tour due to work- to this restaurant and we ordered the full lamb entree. The manager was nice enough to make if for us even though they were still serving breakfast. We're going back to Prague in a few months and we'll be back here again no matter what they serve.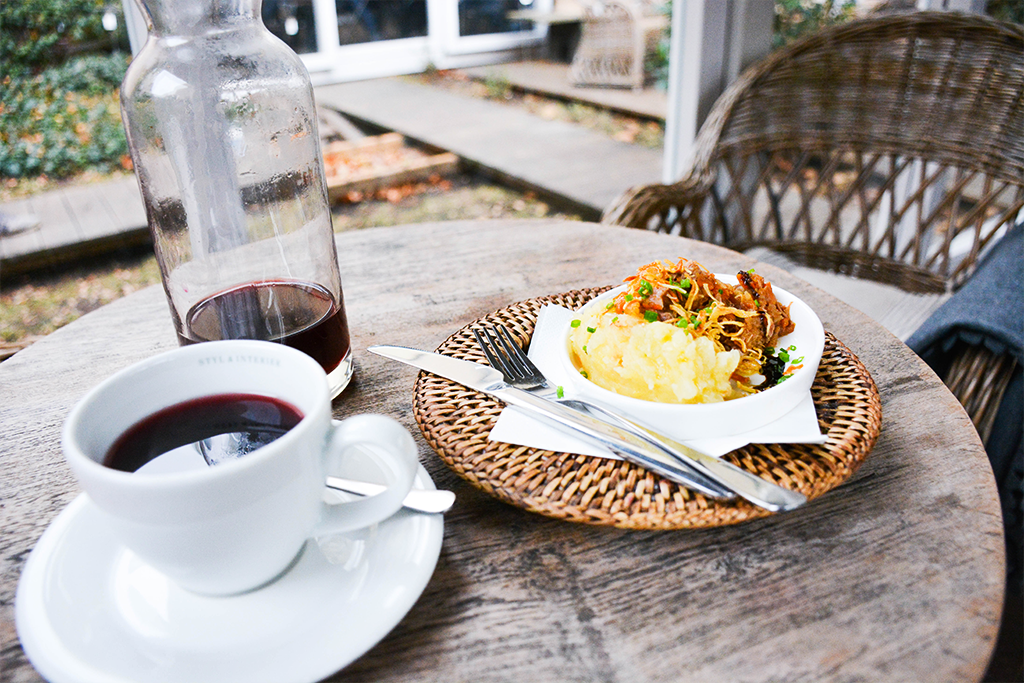 Café Louvre
The last stop of the day was Cafe Louvre. At one time, this was a restaurant where great scholars, lecturers, authors, and scientists convened. Einstein, Kafka, and Capek are just a few of the most notable patrons but men weren't the only ones to frequent this establishment. Cafe Louvre was ground zero for a brilliant women's movement around the turn of the 19th century. I was fascinated by the stories of this historic location and couldn't wait to taste the food.
For our final meal, we had Svíčková (Czech dumplings with braised beef and cranberry compote) a very traditional Czech meal. For dessert, Jablečný štrúdl (or apple strudel). This was my first taste of Czech dumplings and they were GOOD!!! I'm pretty sure I had dumplings at least 4 more times before we left Prague.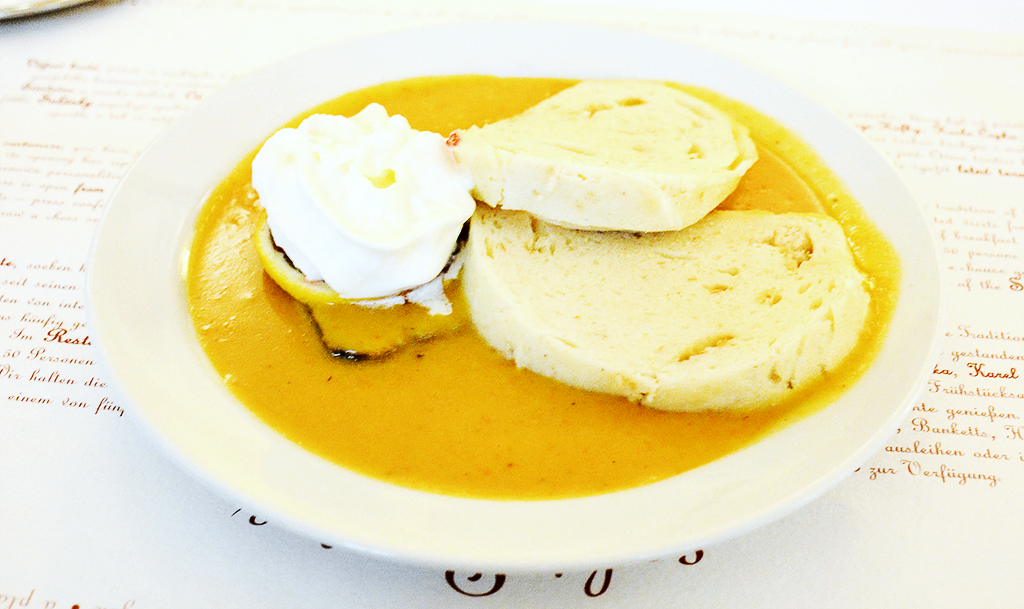 As for the apple strudel, I don't need to tell you that it was divine – I mean, look at it. They even included a small cup of vanilla sauce and a side of whipped cream. This dessert was light, delicate, and not too sweet. Just the way I like it!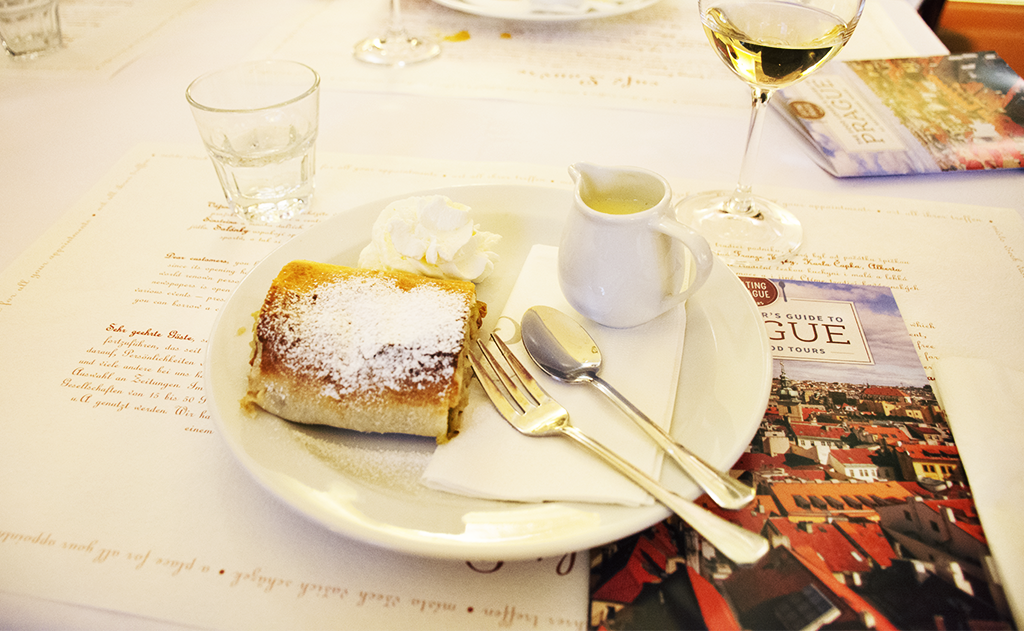 Final Thoughts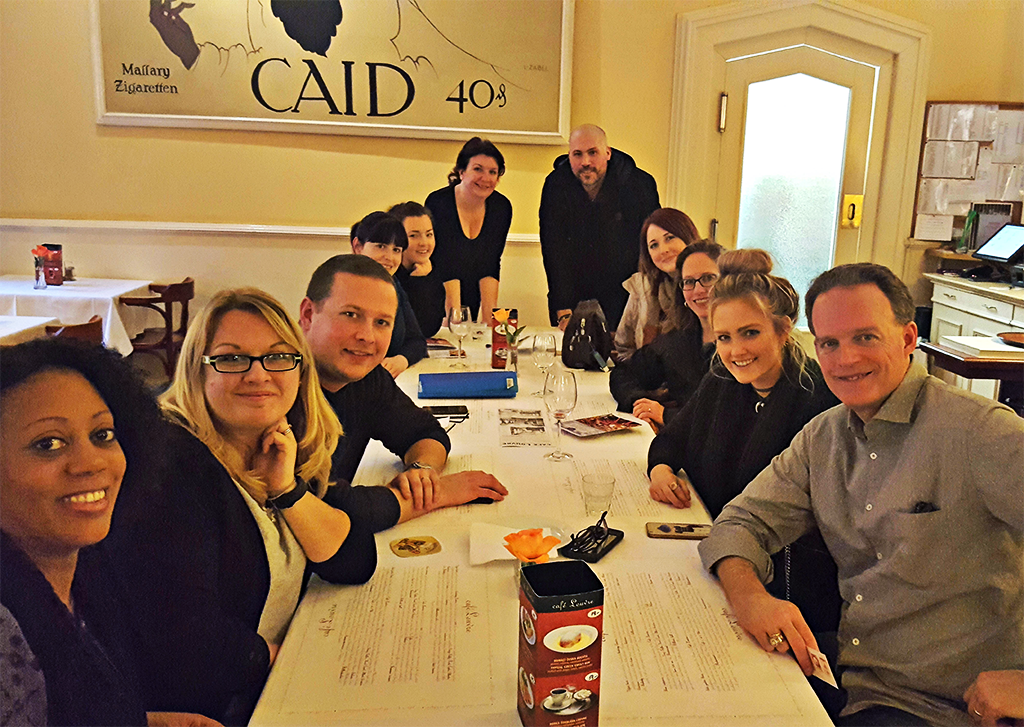 You can't go wrong with a food tour! In my experience, I've NEVER been disappointed and I've NEVER left hungry! This is my second tour with Eating Europe Food Tours and I can't wait to book another! Check out their website for more information!
Note: While my tour was complimentary, all opinions are my own and reflect my personal experience. Special thanks to Eating Europe Food Tours.
---
Pin for later!