I've wanted to visit the Christmas markets in Europe ever since I lived in Paris in 2003. Back then, I went home for Christmas so I didn't get a chance to enjoy the holidays in town or visit any of the Christmas markets. I've been to Geneva in the run-up to the festive season, but unfortunately, the stalls weren't up yet. My stay in Geneva was wonderful though, and it was so easy to get to the airport with prix parking aeroport genève (I picked up a little French whilst in Paris), so I would definitely love to visit again! This year, however, I bit the bullet, grabbed a friend, booked a hotel, and made my way to Zurich instead. Just in time for Christmas! Maybe Geneva will be next year…
To my surprise, Zurich has at least 5 Christmas Markets so we had plenty to do once we arrived. We didn't plan too much outside of the markets but we did catch some of the main sights in Zurich and we even managed a day trip to Lucerne (they have their own Christmas market – more on that later)!
Here's a rundown of Zurich's Christmas Markets we visited: (Listed in order of preference)
"WIENACHTSDORF" (CHRISTMAS VILLAGE)  
Located at Sechseläutenplatz, just outside the Opera House, this market has 100 stalls featuring food, gifts, and decorations. There's also an ice rink for adults and children! This was by far my favorite market and, for a while, I couldn't figure out why. After our second visit, it finally hit me – the market is 80% food and 20% shops. Now, it's obvious why I loved it so much. I could have eaten every meal there then gone ice skating to work off my meals.
WHAT TO DO HERE: This market is near Lake Zurich and you can watch a beautiful sunset while enjoying the Christmas spirit at the market! If you're hungry, grab a burger from HIN & WEG and have a seat to people watch. Then, put on some skates and take a few laps around the ice rink with your friends & family before you leave. (Closing December 23) WEBSITE
CHRISTKINDLIMARKT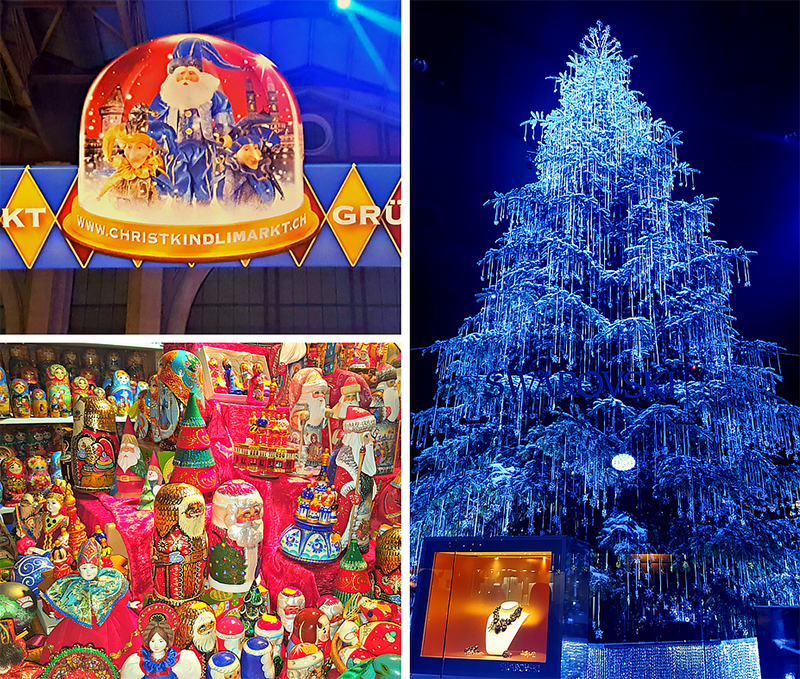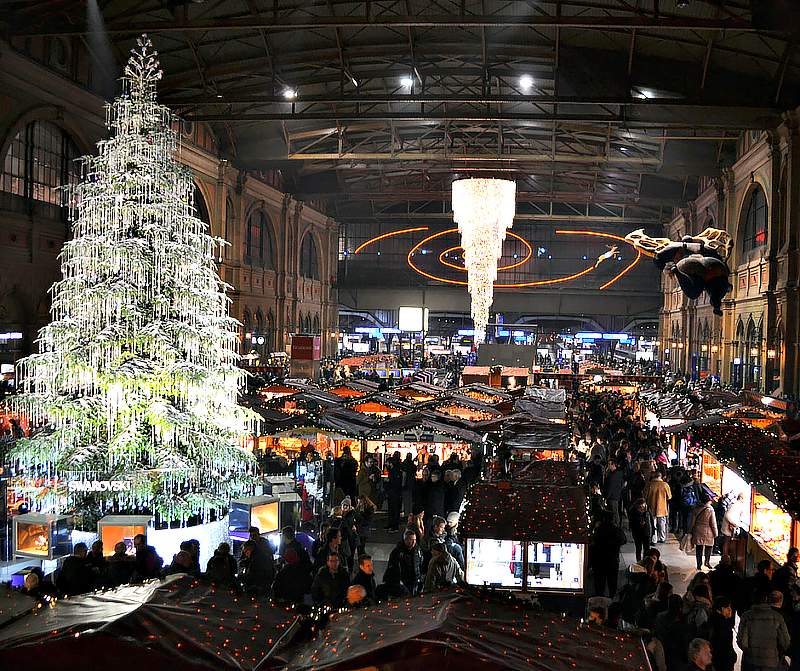 This market is located in the main train station so it's incredibly easy to find. It has 150 stalls, an elevated bar where you can take photos of the market from above (image above), and the most elegantly-garish tree decorated with thousands of Swarovski crystals. Don't get any ideas about those crystals – they don't let you anywhere near that tree! There's a massive glass barrier between us and it.
WHAT TO DO HERE: This market is inside so when it's crazy cold outside you can stay warm while you shop and drink. Have Glühwein (mulled wine) at Glühwein-Hütte then head upstairs near the Swarovski tree to drink and people watch. (Closing December 24) WEBSITE
SINGING CHRISTMAS TREE & CHRISTMAS MARKET
Choirs, young and old, perform on this Christmas tree stage while singing carols in many different languages. We heard "Feliz Navidad", "We are the World", and several songs in German and Italian. On the night we attended we saw the children's choir and they were just the cutest things on the planet! Check out the video.
WHAT TO DO HERE: While this market isn't very big, the attraction here is the Singing Christmas Tree. After you've danced along to some Christmas classics, you can grab a bite to eat, some mulled wine (Glühwein) and walk over to Bahnhofstrasse to see the 12,000 twinkling lights that hang above the street. (Closing December 24) WEBSITE
There are at least 2-3 other Christmas Markets around Zurich but they were outside the center of town. We didn't make to those but I'm sure they were just as magical!
---
Have you been to Zurich's Chrismas Markets? What was your favorite? Tell me about it in the comments!
(pin for later)