If you're planning a trip to Belize (San Pedro on Ambergris Caye to be exact) and you're not sure where to start, let me help you! Belize 101 is a handy guide for first timers. On my first trip to Belize, I had no idea what to do or how to get there but I figured it out and now I'm sharing that information with all of you!
Belize 101:
CURRENCY:
Belize is pretty affordable as 1 USD = 2 BZD! However, don't expect to find a decent bottle of wine at the corner store for less than 30 USD. Also, some restaurants overcharge for drinks but those are usually the tourist traps. Keep an eye on your costs by choosing the drink special or a Belikin Beer with is the tasty, local beer. Also, check out my post on saving money while traveling to help keep your budget in line.
SAFETY:
Overall, Belize has safe areas and not so safe areas like any big city. You should alway be mindful of your surroundings as always and do more detailed research on the best areas. Don't walk around alone at night, keep an eye on your belongings at all times, lock your hotel room doors and patio, and utilize the safe in your room. Most importantly, don't get sloppy "schnockered" and don't put yourself in a situation you might not be able to get out of.
GETTING TO THE ISLANDS:
There are two ways to get to Ambergris Caye/San Pedro or Caye Caulker from Belize City's Philip S.W. Goldson International airport. Whichever way you choose to get to the island, please factor in the time it takes to get back to the international airport (airplane/ferry and taxi) so you don't miss the cut off to check in for your international flight home.
By Airplane:
To get to Ambergris Caye/San Pedro or Caye Caulker you can fly from Philip S.W. Goldson International airport but it will cost you. The average price for 2 round-trip tickets from BZE to San Pedro was about $400. However, there is another airport in the city. Take a short $25 taxi ride from the international airport to Belize City Municipal Airport and purchase a ticket on Tropic Air or Maya Island Air and it will save you $200 or more.
We flew on Tropic Air and 2 RT tickets to San Pedro cost $180. Most flights take off from Municipal and stop in Caye Caulker on the way to San Pedro but a few that circle back to the international airport to pick up passengers. Either way, the flight lasts about 20 minutes and you should be on the island sipping cocktails in no time.
If you know your travel dates/times, you can book your ticket ahead of time online. This is the best option because we booked at the airport upon arrival and had to wait an hour for an open flight. The plane only holds 12 people!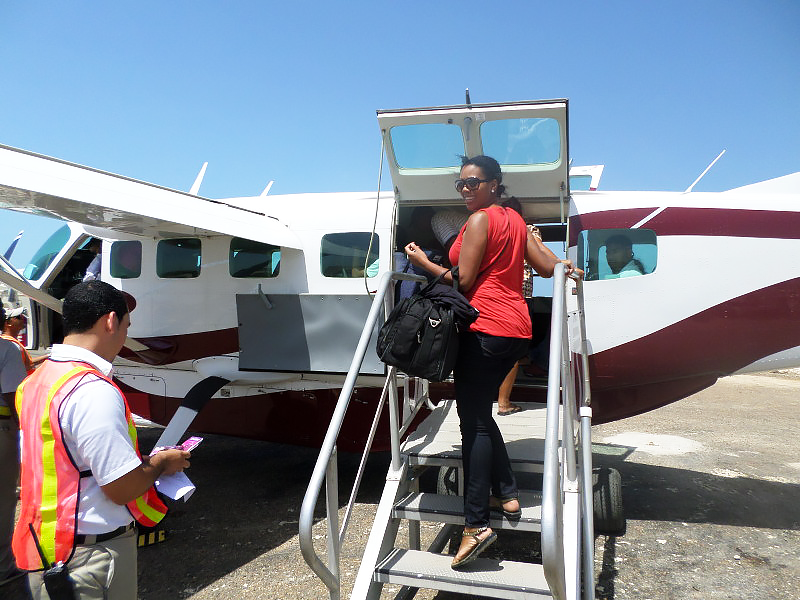 By Ferry:
Taking the ferry is a much cheaper option, I'm talking $35usd round-trip per person! When you arrive at the international airport, take a taxi to the ferry terminal and purchase your ticket. Unfortunately, there are a few drawbacks when it comes to taking the ferry and saving all that money.
The ferry ride takes 90 minutes from Belize City to San Pedro and if you miss it you'll have to wait at least an hour for the next one. On a busy day, it could take you hours to get to the island. If you're on a time crunch, this is NOT the way to go. Another factor you need to consider when choosing the ferry is bad weather. If you get sea sick, don't opt for the ferry! Also, boats can be delayed or canceled if the water is too rough. Just something to consider. If you have time and good weather, the ferry would be a great way to ease into the island life!
WHAT TO DO:
Hol Chan Marine Reserve & Shark Ray Alley:
I, highly, recommend booking this tour if you're not a diver. We spent a little more than an hour snorkeling in Hol Chan Marine Reserve as our guide pointed out vibrant fish and impressive coral. The next stop was Shark Ray Alley where we snorkeled and swam next to massive, 4-7 feet nurse sharks, sting rays, sea turtles and other big fish.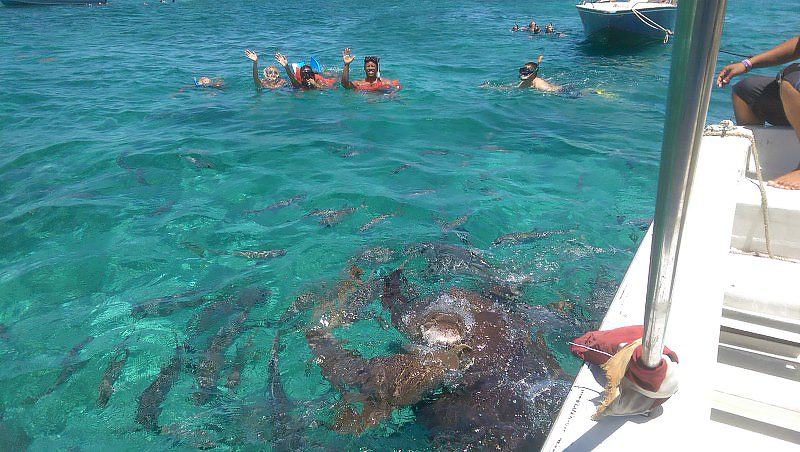 The Blue Hole:
While we didn't visit this site, I hear it's beautiful to fly over during a tour. This is a huge attraction so you'll have to decide how much you want to spend on a tour. Snorkeling at Hol Chan & Shark Ray Alley costs $45 USD/pp for a half-day and The Blue Hole is over $100/pp.
Other Things to Do:
Caye Caulker, Cayo District, Placencia Penninsula, Lamanai, Toledo District, Belize Zoo, Wildlife Sanctuary, Cacao Farms, Altun Ha, and Belize City. Also, depending on the time of year you can take a bioluminescence tour to witness this natural phenomenon.
WHERE TO STAY:
Mayan Princess:
We stayed at this hotel right on the beach. I'm going to be completely honest here, this hotel was not nearly as clean as I would have liked but the location made up for the lack of cleanliness in the common areas. Our room was fine, a bit old and tired, but it was clean. A few coats of paint wouldn't have hurt but the whole point is we had 2 days in town and we wanted to be centrally located and right on the beach. This hotel offered both of those things.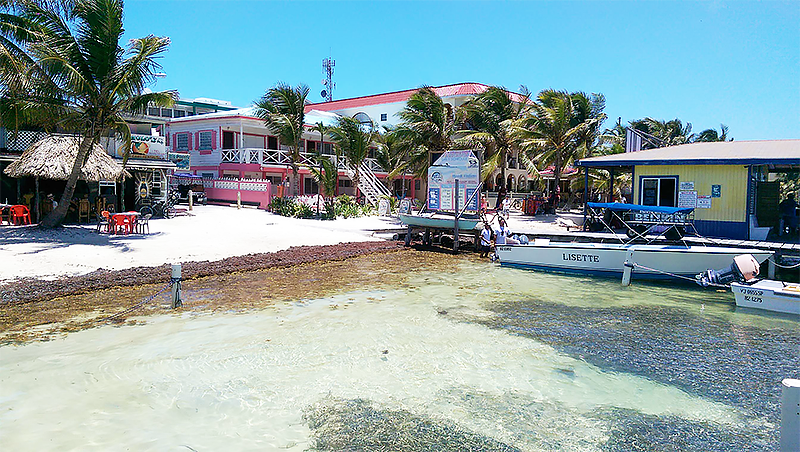 Best Advice:
If you're only in town a few days, the best thing you can do is pick a hotel/vacation rental that's centrally located so you can maximize your time. You don't want to spend your days trekking back and forth across town. If you're traveling alone, stay in a hostel where you'll meet other solo travelers. If you're traveling as a couple or group, try a low-cost hotel or moderate priced vacation rental as you won't spend much time inside on a short trip.
WHERE TO EAT:
There are dozens of places to eat in San Pedro but these are just a few of the places that were recommended to us by some local residents and returning tourists.
Lily's Treasure Chest
We ate here for lunch on two occasions and the grilled fish with rice and beans was incredible! The drinks were strong and the service was good but the prices were a bit on the high side for lunch. We were told they have a great breakfast but we didn't have a chance to check it out.
My Secret Deli
A local bartender told us about this spot which serves up local Belizian food and it seemed like a popular spot.
Fido's Courtyard & Pier
While this is more of a tourist spot, it has a great location right on the beach with an open air dining room. On the weekends, they have a live band that plays from 9pm-12am. The prices were very good here so don't miss the grilled shrimp bruschetta appetizer and the shrimp or conch ceviche.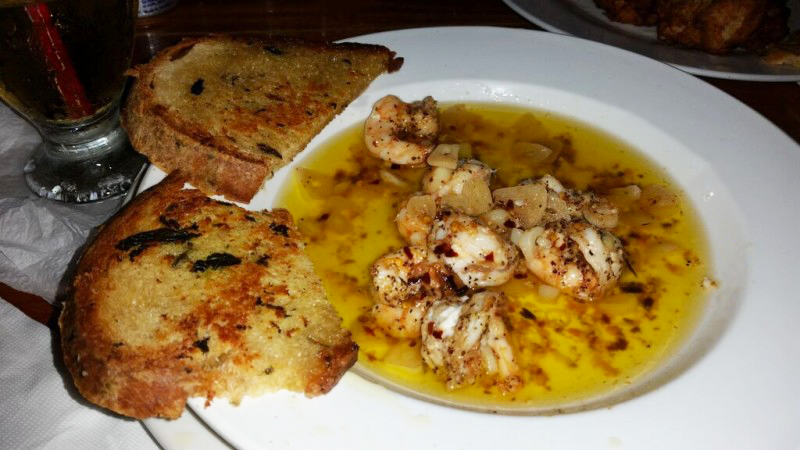 Other popular spots:
Blue Water Grill, Belize Chocolate Company, El Patio, Casa Picasso, Estel's, Elvi's Kitchen, Waruguma. Ask your tour guides or other locals for recommendations for authentic restaurants serving local food.
MY EXPERIENCE:
Belize is a beautiful country and I'm so glad I had the opportunity to visit, even for 36 hours! I hope my Belize 101 – For First Timers overview helps you plan your getaway. Please come back and tell me about your experience!
[Note: This post was originally published in 2015 but it has been updated as of 2017.]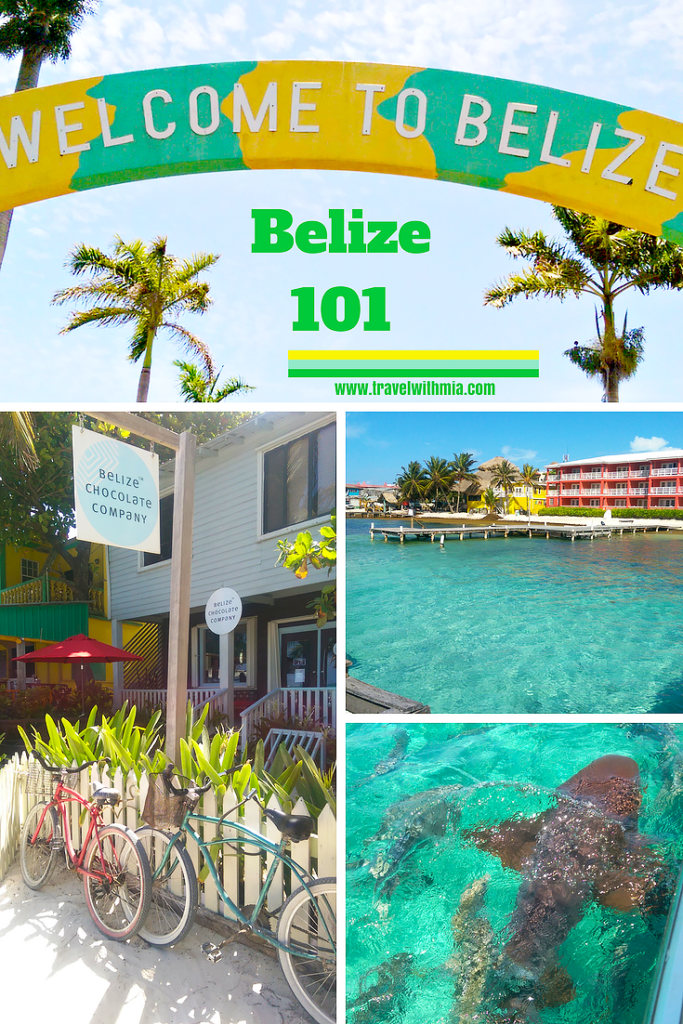 ---
Have you been to Belize? Are you planning a trip? Tell me about in the comments!