*Updated June  7, 2021.
Ambergris Caye is the largest island in Belize. It's about 25-miles long and a mile wide. It has a 190-mile long barrier reef which makes it's the second-largest "living" reef in the world. If you're traveling to Belize (San Pedro on Ambergris Caye to be exact) and you're not sure where to start, let me help you!  Belize 101 is a handy guide for first-timers. On my first trip to Belize, I had no idea what to do or how to get there but I figured it out and now I'm sharing that information with all of you!
A Quick Guide to Ambergris Caye & San Pedro 
---
WHERE IS BELIZE?:  Belize is located in Central America on the western edge of the Caribbean Sea. It's south of Mexico, east of Guatemala, and north of Honduras. Ambergris Caye is one of the hundreds of islands, or Cayes, off the coast of Belize.
WHEN TO GO: Traveling to Belize in the high season from April through May is the most popular. It may be a bit hot and humid during the early part of the season but it's still pleasant. The wet season, from June to November, is also the hottest period so not as popular.
WHO CAN VISIT: Any traveler is permitted to visit Belize at this time but all travelers must:
(1) You are no longer required to download the Belize Health App within 72 hours of landing in Belize.
(2) Bring along an Official Vaccine Card reflecting the receipt of the dual or single-dose vaccine at least two weeks prior to arrival.
(3) "Or, if you cannot provide proof of immunization bring along a negative Real-time Polymerase Chain Reaction (RT-PCR) COVID-19 test taken within 96 hours of travel, OR Rapid Antigen, Sofia, SD Biosensor, ABBOTT (Panbio) test taken no more than 48 hours prior to travel. If neither is presented, you can take a COVID-19 test upon arrival. * Children under the age of 5 are not required to present a negative COVID test; Children 5 years and older must present a negative COVID test. Official information provided by Travel Belize." –Belize Tourism Board
CURRENCY: Belize is pretty affordable as 1 USD = 2 BZD! However, USD is widely accepted. You can utilize the numerous ATMs on the island to withdraw local currency. Budget Tip: Some restaurants overcharge for drinks but those places are usually tourist traps anyway. Keep an eye on your costs by choosing the drink special or a Belikin Beer with is a tasty, local beer. Also, check out my post on saving money while traveling to help keep your budget in line.
SAFETY: Overall, San Pedro in Ambergris Caye has safe areas and not so safe areas like any city. You should always be mindful of your surroundings as always and do more detailed research on the best areas. Don't walk around alone at night, keep an eye on your belongings at all times, lock your hotel room doors and patio, and utilize the safe in your room. Most importantly, don't get sloppy "schnockered" and don't put yourself in a situation you might not be able to get out of.
GETTING TO THE ISLANDS: 
There are two ways to get to Ambergris Caye/San Pedro or Caye Caulker from Belize City Philip S.W. Goldson International airport. Whichever way you choose to get to the island, please factor in the time it takes to get back to the international airport (airplane/ferry and taxi) so you don't miss the cut-off to check-in for your international flight home.
By Airplane:

  
To get to Ambergris Caye/San Pedro or Caye Caulker you can fly from Philip S.W. Goldson International airport but it will cost you. However, there is another airport in the city.  Take a short taxi ride from the international airport to Belize City Municipal Airport and purchase a ticket on Tropic Air or Maya Island Air and it will save you a ton.
Tickets on Maya Island Air run anywhere from $45 to $108 (one way) depending on the date and time. It's best to book early to get the best rate. Tropic Air flights cost somewhere between $80 to $120. Remember, you can mix and match your transportation (ferry and flight) if it's cost-effective.
We flew on Tropic Air and purchased 2 RT tickets to San Pedro.  Most flights take off from Municipal and stop in Caye Caulker on the way to San Pedro but a few that circle back to the international airport to pick up passengers. Either way, the flight lasts about 20 minutes and you should be on the island sipping cocktails in no time. Book your ticket ahead of time online to avoid any delays. *Due to enhanced screening procedures for arriving international passengers at the Belize International Airport, processing times may be longer than usual. Therefore, the company suggests you allow a minimum connection time of three (3) hours for your domestic flight.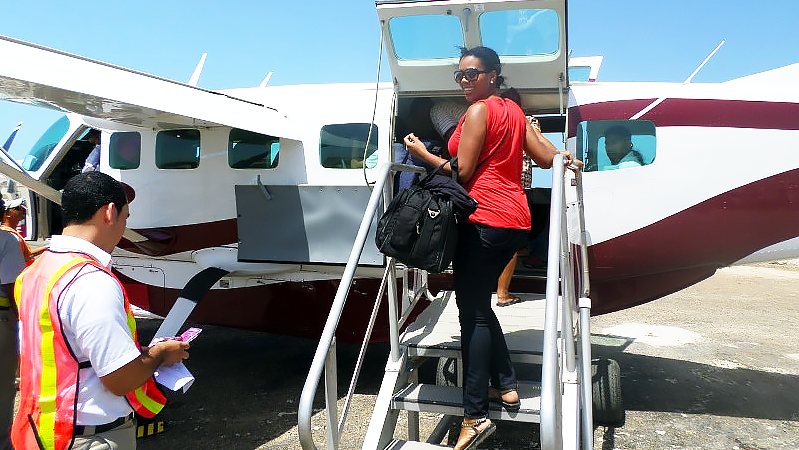 By Ferry:  
Taking the ferry is a much cheaper option. You can get 2 roundtrip tickets from Belize City to San Pedro for around $100 (*at the time of publishing). When you arrive at the international airport, take a taxi to the ferry terminal and purchase your ticket. Unfortunately, there are a few drawbacks when it comes to taking the ferry and saving all that money.
The ferry ride takes 90 minutes from Belize City to San Pedro and if you miss it you'll have to wait at least an hour for the next one.  On a busy day, it could take you hours to get to the island.  If you're in a time crunch, this is NOT the way to go.  Another factor you need to consider when choosing the ferry is bad weather.  If you get seasick, don't opt for the ferry!  Also, boats can be delayed or canceled if the water is too rough.  Just something to consider.  If you have time and good weather, the ferry would be a great way to ease into the island life!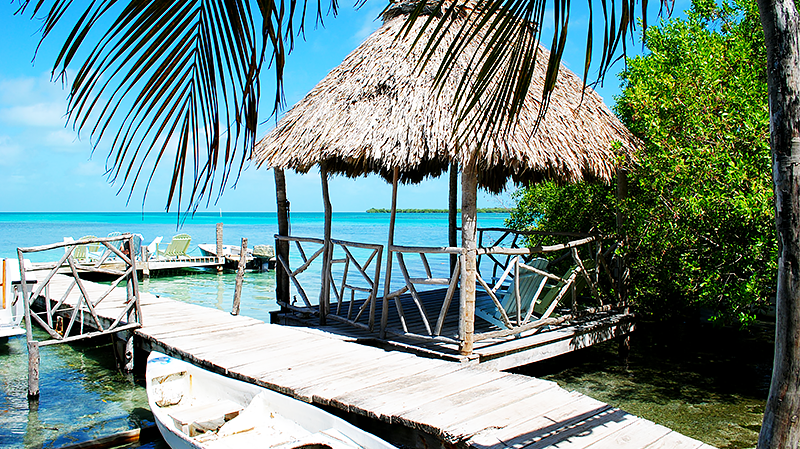 WHERE TO STAY:
There's no shortage of hotels, vacation rentals, and hostels in Ambergris Caye. From budget to luxury, the island has you covered. You'll probably spend more time finding the best location than you will on choosing a place to stay. Currently, there are certain Gold Standard Hotels that are approved for reopening to tourists by the Belize Government. According to the Belize Travel Health & Safety website, "these hotels are operating within a tourism safe corridor and have adapted new behaviors and procedures while ensuring minimal impact on the guest experience." Here's a quick rundown of some of the areas:
San Pedro Town: This is where the action takes place and has most of the bars, restaurants, and nightlife. It's just 3 blocks wide so it's very walkable and impossible to get lost. For mid-range hotels in the city center, check out the SunBreeze Hotel or Mayan Princess.
North of Town: About 5 miles north of San Pedro, you'll find more upscale resorts and a number of bars and restaurants. For a luxury stay, check out Matachica Resort & Spa and book your own Bungalow, Casita, or Villa.
South of Town: This small community is mostly residential but there are a few stores, bars, and restaurants.
The hotels I've listed above are included on the Gold Standard Hotels approved list. Check out this infographic for more detailed information on the arrival process and safe corridors.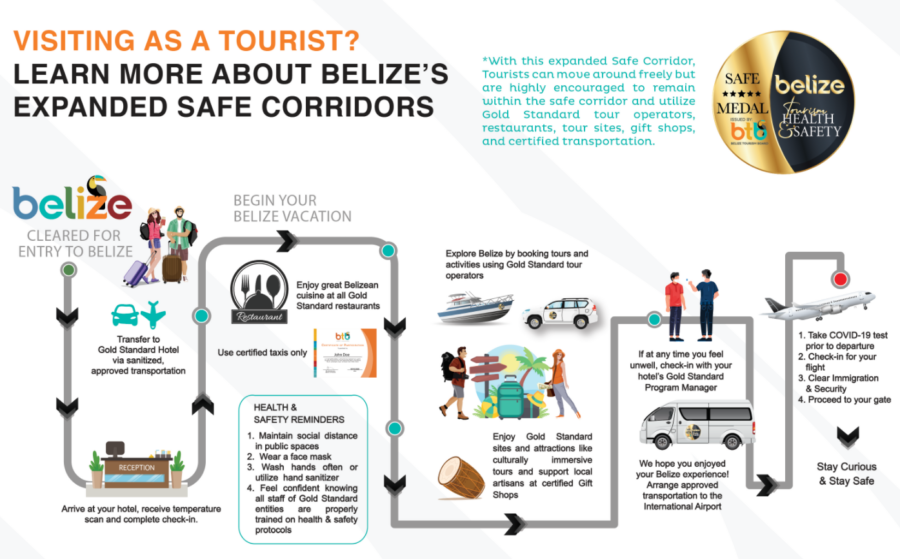 Best Advice:  If you're only in town for a few days, the best thing you can do is pick a hotel or vacation rental that's centrally located so you can maximize your time. You don't want to spend your days trekking back and forth across town. If you're traveling alone, stay in a hostel where you'll meet other solo travelers. If you're traveling as a couple or group, try a hotel or vacation rental that fits your travel style (budget, mid-range, or luxury).
GETTING AROUND:
Ambergris Caye is only 25 miles long but the areas where you'll be staying (as a tourist) are quite small. So, the best way to get around is on foot, in a golf cart – which you can rent relatively cheaply, and by water taxi.
WHAT TO DO:
While there are plenty of things to do in Ambergris Caye, it's a good idea to get out and see more of Belize (as a whole). Look for tour operators that offer the best prices and have the best reviews.
Hol Chan Marine Reserve & Shark Ray Alley:  I, highly, recommend booking this tour if you're not a diver.  We spent a little more than an hour snorkeling in Hol Chan Marine Reserve as our guide pointed out vibrant fish and impressive coral.  The next stop was Shark Ray Alley where we snorkeled and swam next to massive, 4-7 feet nurse sharks, stingrays, sea turtles, and other big fish.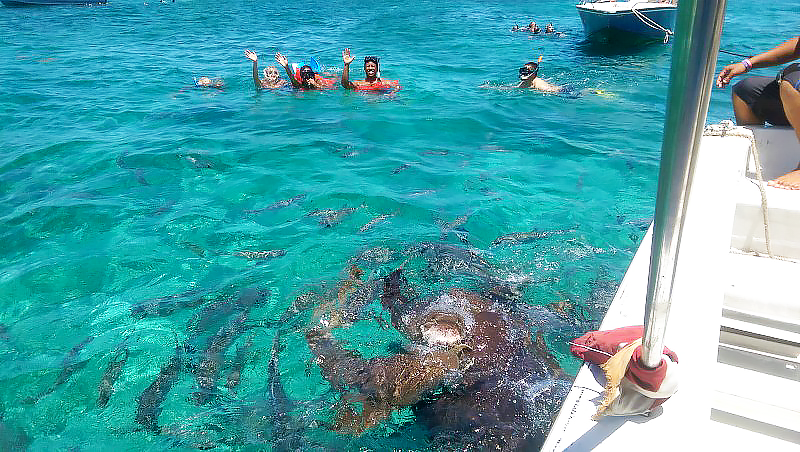 Bacalar Chico National Park and Marine Reserve, UNESCO World Heritage Site: This is part of The Belize Barrier Reef Reserve System (BBRRS), which was named a UNESCO World Heritage Site in 1996. It's one of seven protected areas along with:
Blue Hole Natural Monument

Glover's Reef Marine Reserve

Half Moon Caye Natural Monument

Laughing Bird Caye National Park

Sapodilla Cayes Marine Reserve

South Water Caye Marine Reserve
Mayan Ruins at Lamanai: This is one of the largest Mayan sites in Belize and the tour is said to be one of the best in town. Check with the locals for the best tour operators as not all tours are the same. 
Blue Hole: While we didn't visit this site, I hear it's beautiful to fly over during a tour.  This is one of the main attractions in Belize so it's pretty pricey. You'll have to decide if it fits your budget but if you can afford it it's worth the money.
Festivals:
Carnival

San Pedro Lagoon Reef Eco-Challenge

San Pedro Lobster Festival

Dia de San Pedro

International Costa Maya Festival

Tres Pescados Slam Tournament

Belize Independence Day

Holiday Boat Parade
Natural Phenomena: 
Bioluminescence tour which takes place in Hopkins. It's quite a trek from San Pedro but worth your time and efforts.
Side Note: Please check to see which attractions are open during your stay. Many sites may be closed or have longer wait times due to Covid-19 and social distancing measures.
WHERE TO EAT:  
There are dozens of places to eat but these are just a few of the places that were recommended to us by the locals. Be sure to try everything from the local seafood joints to the fancy fusion spots. *Be sure to ask your tour guides or other locals for recommendations on local restaurants serving authentic food.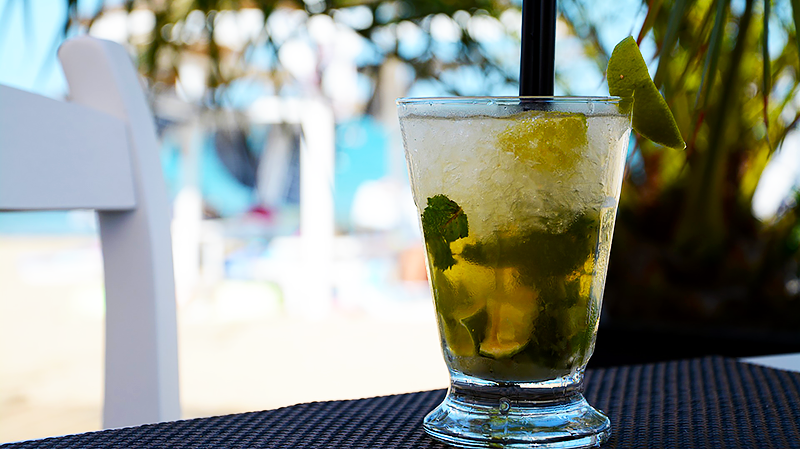 Belize Chocolate Company: Chocolateria, Gift & Specialty Shop
Blue Water Grill: American, Caribbean, Seafood 
Elvie's Kitchen: Mexican, American, Caribbean
Fido's Restaurant & Bar: American, Caribbean, Bar – While this is more of a tourist spot, it has a great location right on the beach with an open-air dining room. On weekends, they have a live band that plays from 9 pm-12 am. The prices were very good here so don't miss the grilled shrimp bruschetta appetizer and the shrimp or conch ceviche.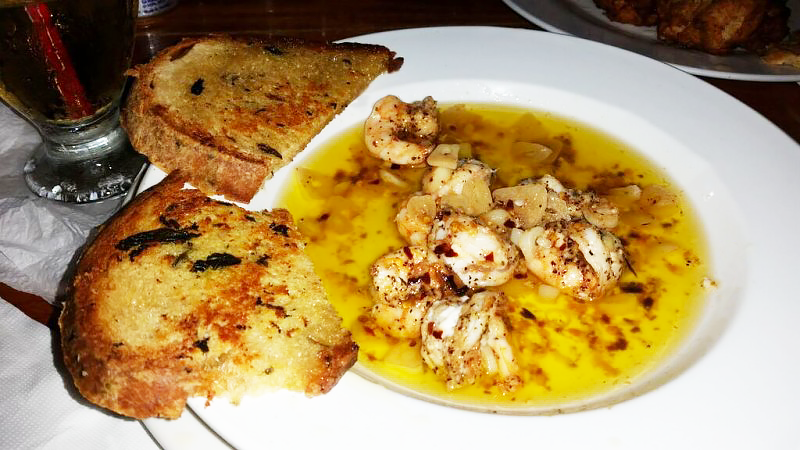 Lily's Treasure Chest: Caribbean, Bar, Seafood (local hangout)
Rojo Beach Bar & Lounge: Caribbean, Bar, Seafood
Waruguma: Caribbean, Latin, Seafood
Wrap Up:

 
I hope you enjoyed my advice on traveling to Belize. The country has a lot to offer and you should try to see as much as you can. On my next trip, I plan to visit Ambergris Caye and San Pedro but I will branch out to other islands! If I've forgotten anything, please let me know in the comments! Also, I'd love to hear about your experiences.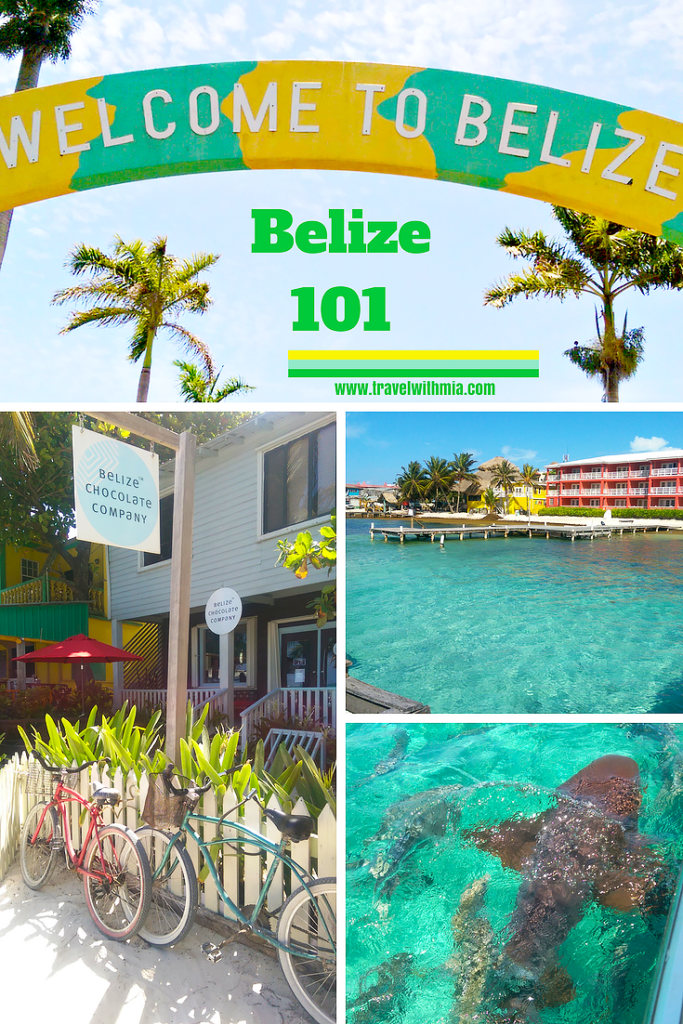 ---
Have you been to Belize?  Are you planning a trip?  Tell me about it in the comments!
[Note: This post was originally published in 2015 but it was updated in 2018 and again in 2021. Some images via Pixabay]