I'm a sucker for colorful buildings, cobblestone streets, and a beautiful public square. So, when I visited the tiny town of Telc, compliments of Czech Tourism, I instantly fell in love. Telc, a UNESCO World Heritage Site, is located in the Vysocina Region and sits near the southern border of Moravia and Bohemia. This charming city is just a few hours from Prague and you can reach it by bus, train, or car. If you've only got one day to play, here's what I would do with 24-hours in Telc.
The Most Charming City in the Czech Republic
---
MORNING
Since time is limited, you should get moving. Even though it's small in size, there is so much to see and you don't want to waste a moment. The first thing you should do is make your way to Zachariase z Hradce Square. Upon entering the largest square in the Czech Republic, you'll see the stunning Burgher houses. These bright, pastel buildings were built in beautiful Renaissance and Baroque style. They'll, definitely, have you grabbing for your camera. Nothing like a good Instagram photo to start the day… am I right?!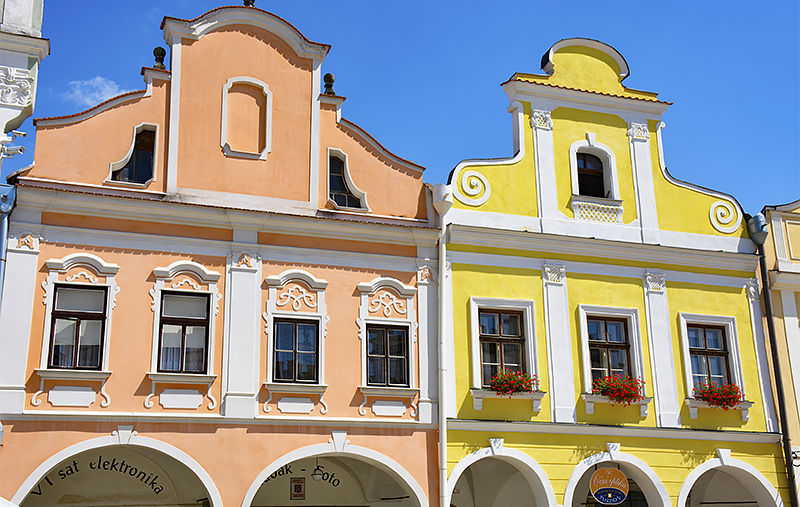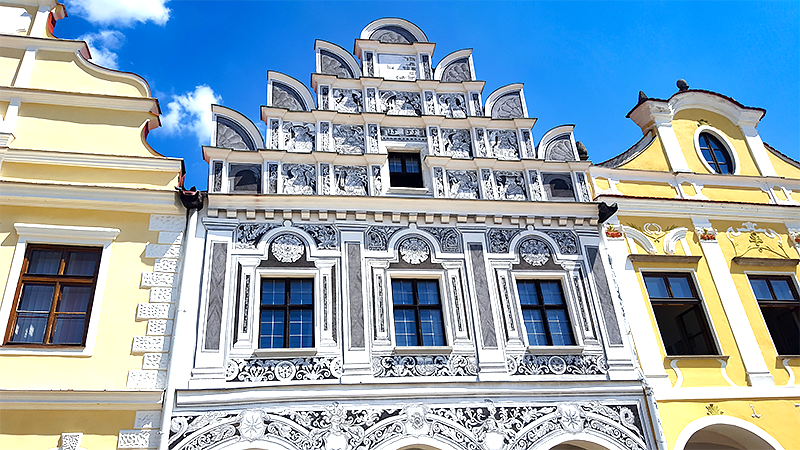 Other notable buildings are the Municipal Gallery "Fireman's House" and the Town Hall.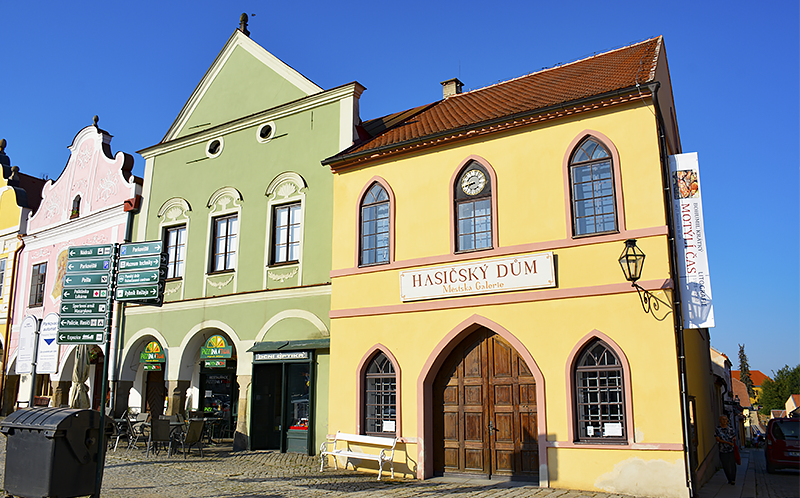 Next, check out Telc Castle or Státní zámek. As the "crown jewel" of this little town, Telc Castle has a rich history that spans several centuries. If you're into history, art, and/or culture you'll love Státní zámek.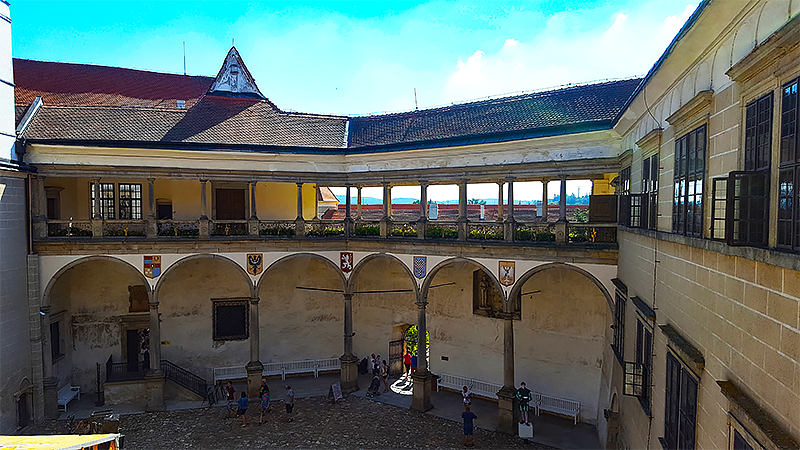 Inside the Castle gates, you'll find lush grounds, ornate halls, elegant paintings, and exquisite architecture. I can't speak for everyone but I instantly fell in love with the Castle and I wanted to take my time. There's a lot to see so if you rush through you'll miss something.

Now that you've seen everything from the ground, you'll want to get a bird's eye view. St. Jacob Tower is the perfect spot to see it all. I hope you're ready because you're about to climb the tower! At first, I thought the Tower's narrow staircase was going to trigger my claustrophobia. Luckily, I was okay because there were little break areas that were open and it was nicely ventilated. Crisis averted!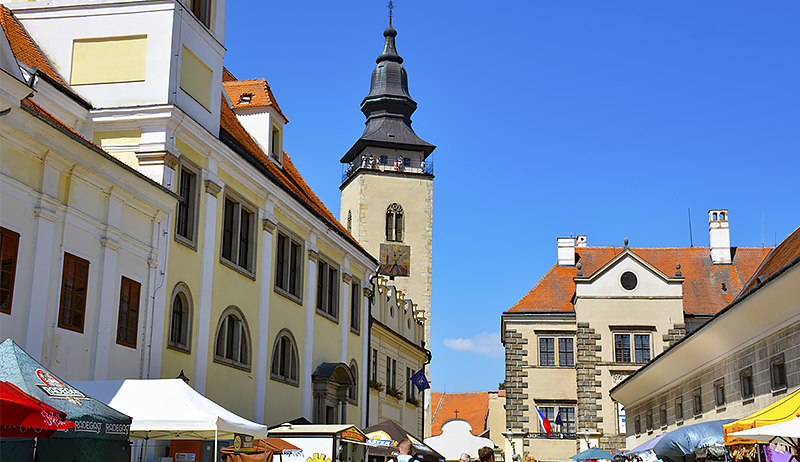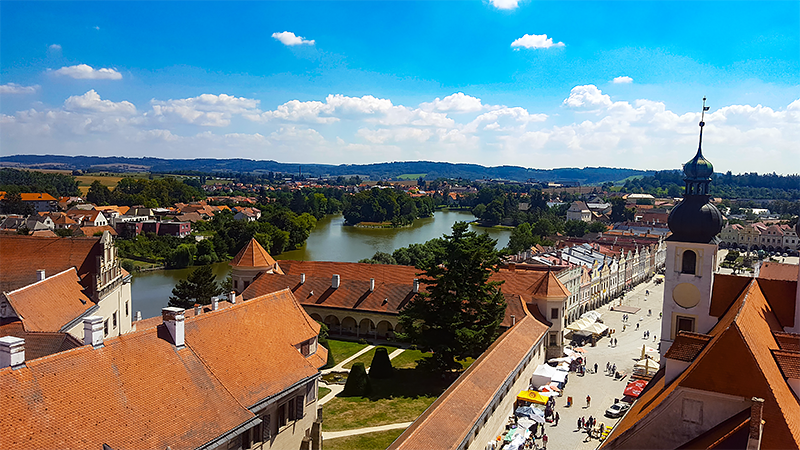 AFTERNOON
Now, it's time to go to the Underground Passages of Telc for a totally different experience. Not for the faint of heart or the claustrophobic but a great place, just beneath the main square. Here, you'll learn a bit more about the history of the town. Unfortunately, I made it about 50 feet in and had to turn back because I was starting to panic. However, I did stay in the entrance long enough to snap a cool pic! Yep, I did it for the 'gram… you're welcome!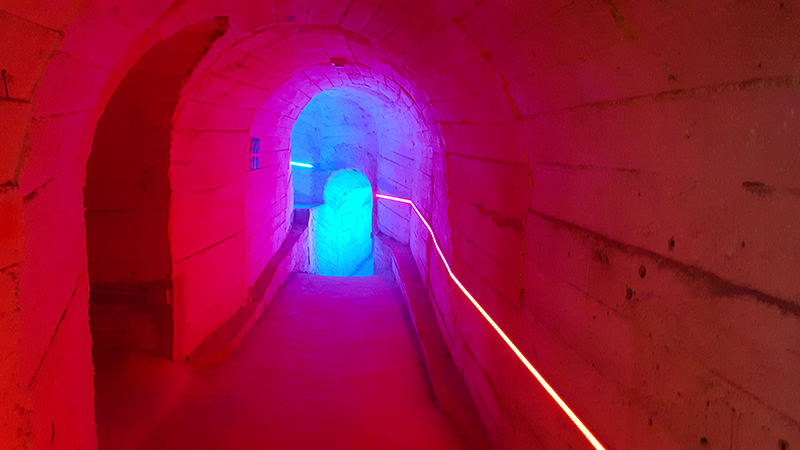 In the main room, there are a few interactive exhibits including "mist screens" with movie projections, touchscreens, and transformative floor displays. I may not have entered the passageway but this part of the Underground was worth visiting too.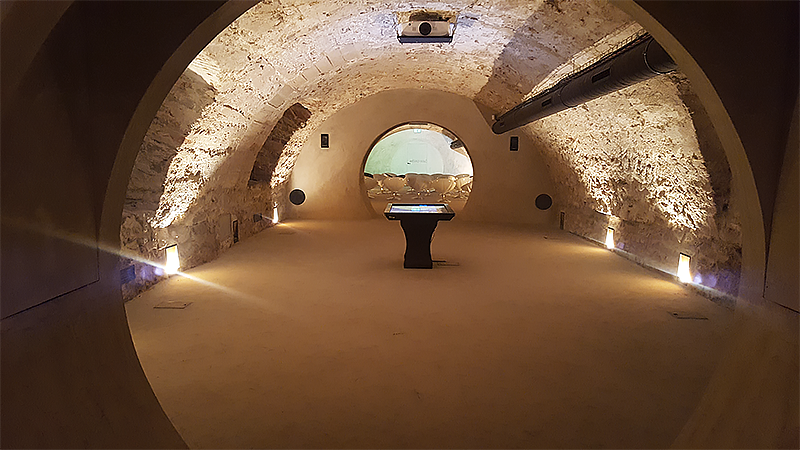 By now, you may need a meal or a little pick me up if you skipped breakfast. There's a great little cafe called Taberna Norler at the end of Zachariase z Hradce Square. Try a coffee tonic, a specialty lemonade, or a cold brew drip coffee. If you want something sweet, stop at any of the numerous ice cream carts or shops in the area. I'm pretty sure I had ice cream at least twice and it was some of the best ice cream I've ever had.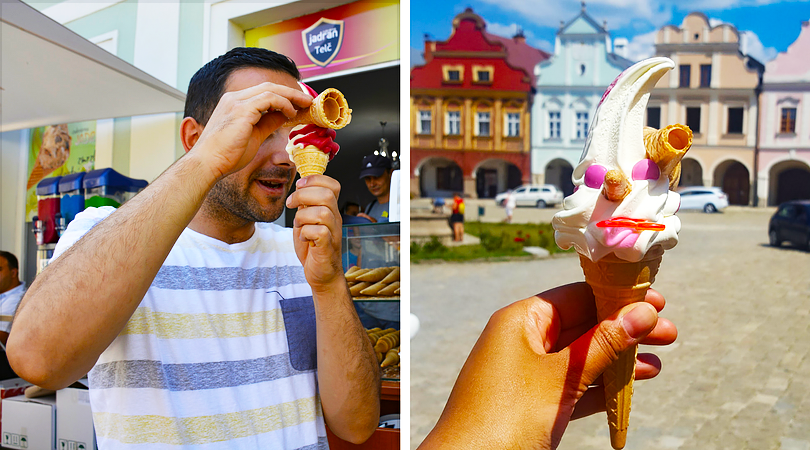 While you enjoy your treat, take a walk down by the Belp footbridge and Stepnicky Pond and take a rest or do a little shopping at the outdoor market. After lunch, it's time to get moving again. You still have a good amount of sights to see.
Take a walk just outside the town square to see the beautiful reflection of the Church of St. James and Jesuit College. This is a magical spot for photography lovers. Since you're already outside the square, you should keep walking and make your way to the Jewish Cemetary. It is a bit of a hike but there's so much history and, oddly enough, beauty to experience there.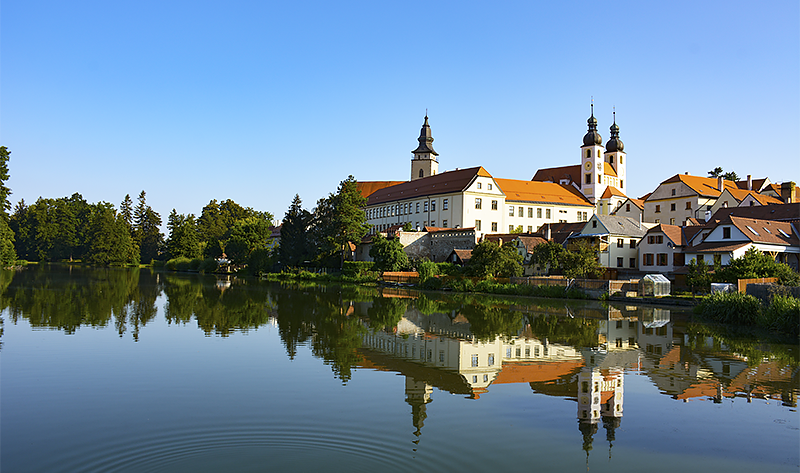 EVENING
At this point, you should take a quick break and go back to your hotel before your evening begins. There are plenty of hotels to choose from by my favorite is Hotel U Hrabenky, the ONLY 4-star hotel in town. It's located a short 5-minute walk from the town square. It has 17 rooms, a restaurant with indoor and outdoor seating, a bar, and – surprisingly – a bowling alley.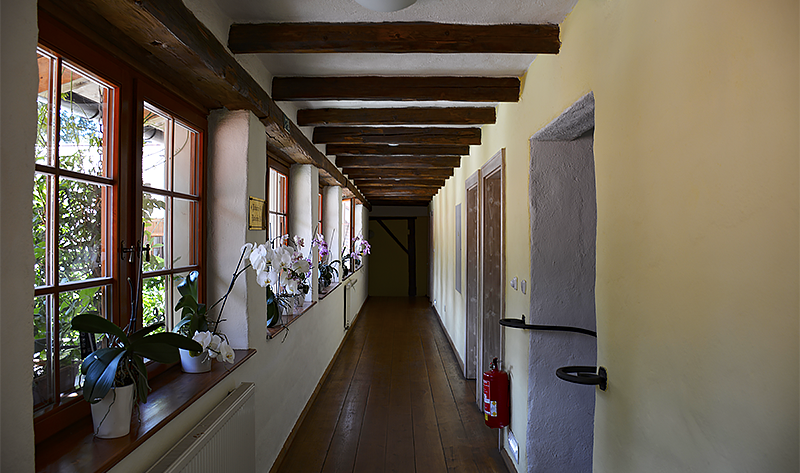 Once you've freshened up, you should find your way to Švejk Restaurant for a great meal. They have a patio where you can people watch while enjoying your meal. Our group ordered various items on the menu and all received rave reviews. We also drank a good amount of Czech Beer, my favorite beer by the way. Of course, there are plenty of restaurants to choose from but Švejk Restaurant gets my vote.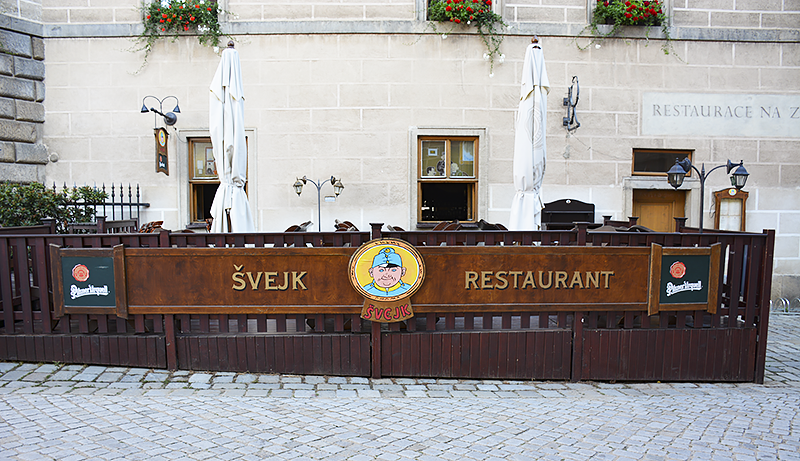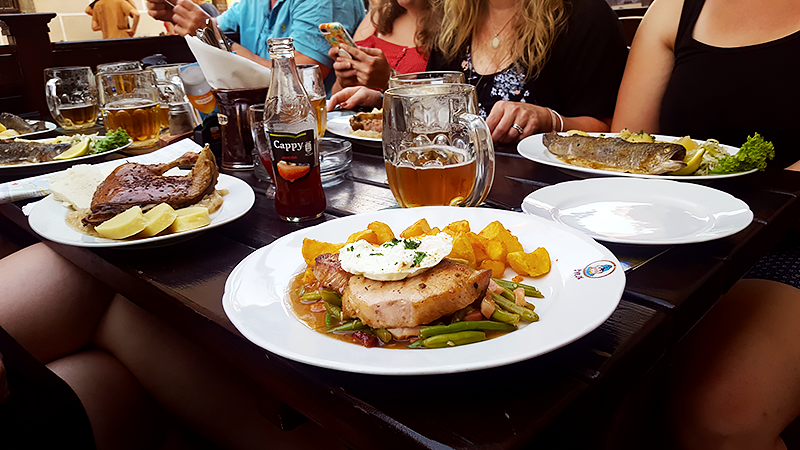 After dinner, I love to work off my meal by wandering around town and getting lost in the streets. If you're lucky, you may stumble upon a cool concert, like we did, at Panský dvur (the free time activity center). To our surprise, there was an awesome Cuban band putting on a concert and we had a great time dancing the night away. Panský dvur has many activities throughout the year so be sure to check the schedule for upcoming events.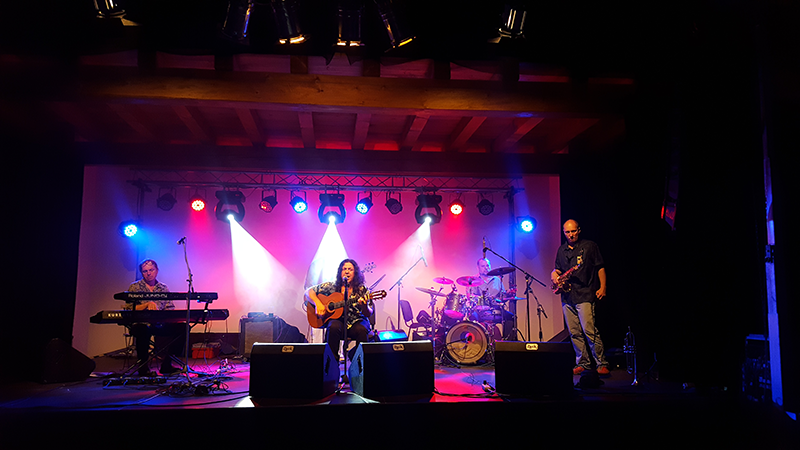 Wrap Up
If you only have one day in Tel?, these are just some of the things you can do. Of course, spending more time in town would allow you to enjoy a bit more. However, any amount of time you can spend in the most charming city in the Czech Republic is time well spent! For more on the Czech Republic, check out some of my other POSTS.
Disclaimer: During my trip to Tel?, I was a guest of Czech Tourism. However, as always, all opinions are my own and reflect my own personal experiences.