As much as I travel, a good pair of noise-cancelling headphones is essential for my sanity! Of course, everyone knows about the big name brands that cost hundreds of dollars. Luckily, for your wallet and mine, there are companies out there making products that are on par with the big names. One such company is Positive Vibes. They've created a small, quality line of noise-cancelling headphones. For this post, I'll be reviewing the Solitude WX1.
THE PRODUCT:
Touted as the "world's first wireless headphone to utilize the patented dual-driver system", these lightweight, Bluetooth headphones are a travel necessity! Take a look at these specs to give you a bit more info. I mean, for those of you who are super tech-savvy. Honestly, I don't know what half of this stuff means but I do know that it comes together to make a quality product!
SPECIFICATIONS:
Bluetooth Version: V4.1
Operating Distance: > 10M (line of sight)
Power Supply: Built-in lithium polymer battery 3.7V /600mAh
Charging Time: 2.5 hours
Micro USB charger and power adapter DC 5V, 500mA
Standby Time: up to 30 days
Talk Time/Music Time: up to 30 hours
Frequency Response: 20~20,000Hz
ANC: >18 dB at 125HZ-250Hz / >94% noise
Dual Speaker size: L: 40MM H: 30MM
Normal Impedance: 32?±15% at 1,000Hz
Power Rating: Normal 10mW
Maximum Input Power: 30mW (24Hrs)
Output S.P.L: 105±3dB at 1KHz with Vrms input=178mV|(LINE IN)
R/L Output Difference: <3dB at 1KHz 1mW (ANC on)
Distortion: 5% Maximum (1KHz/1mW)
ACCESSORIES: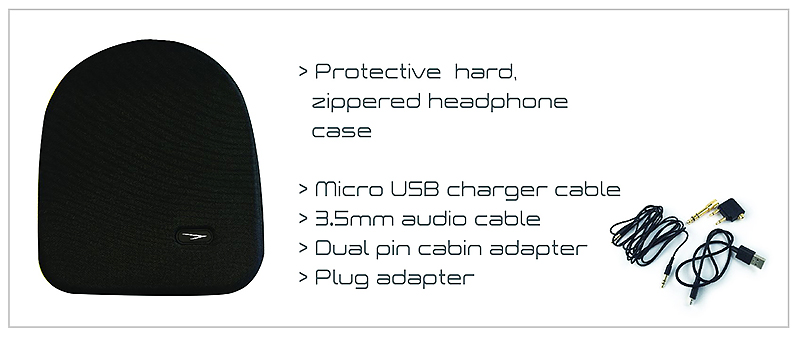 THE PROS:
This is a great pair of headphones for many reasons. First, they're affordable and since I focus on "seeing more and spending less" I like to save money where I can. Normally, they sell for $129.99 but they're currently on sale for $82.99. So, you can get the best noise cancelling headphones under $100. Score! Second, this really is a quality product and it can be even higher quality while using varying Headphone Amps and other amplifying products. The sound is crisp, clear, and static-free. Lastly, they're sleek, comfortable, and they fit perfectly in my small tote bag. If you're clumsy, like me, you'll appreciate the hard, protective case. It doesn't take up any extra room and it keeps your headphones nice and safe.
I have several pairs of "travel headphones" but they aren't all created equally. Trying to find a good pair made me feel like Goldy Locks! One pair had great sound but the headset was too tight and the earphones were too small. Another pair had a flashy, trendy look but the sound was garbage. Luckily, I found the Solitude WX1 which happens to be just right!
A really cool side note about the Solitude WX1: It offers "great for technology and multisensory learning particularly for kids with learning disabilities such as ADHD, Aspergers, and Autism."
THE CONS:
There always has to be a "con" section to go with the "pros" so here it is. I, really, couldn't think of a specific con for these headphones so I'm going to talk about one thing that could use a tweak. So, either I have a small head or the headband for the headphones is a tad big. It's not so big that it falls off or makes using them a pain. It's more like they're a little loose. However, when I used a pair of different headphones, I found the band to be too tight. So, I appreciate the fit of these a bit more after cheating on them with an inferior pair.
I spoke with one of the executives at Positive Vibes and she said they are aware of the fit and it's something they're looking into. Either way, I would still recommend them to you as they're fantastic. If you have a bigger head or bigger hair, you're good to go. If not, here's a little pro tip, turn your headphones backward (as in left headphone over right ear and vice versa). This will make them fit a little more snug.
WRAP-UP:
Would I recommend Solitude WX1 Noise-Cancelling Headphones? Absolutely! I'm very happy with mine and I make sure not to leave home without them. One thing Positive Vibes wants you to know is that "noise canceling headphones won't cancel noisy neighbors or snoring spouses. They are mostly used for canceling annoying low-frequency background noise not "annoying people"."
Honestly, I beg to differ as I use them extensively on airplanes and they block out all the unwanted noise. Also, I use them at home while my husband snores right next to me and I can't hear a thing. Definitely worth every penny! So, do yourself a favor and grab a pair of the best noise cancelling headphones under $100. You won't be disappointed!
---
While I received this product complimentary from Positive Vibes, all opinions are my own and reflect my own personal experiences.