Your upcoming vacations may already be on the books but I'm going to tell you why Tallinn, Estonia should be your next trip. It's true, this city doesn't get as much press as Paris or Rome. But, Tallinn has a lot of what you love about your favorite European cities. Unique architecture, ancient ruins, a colorful Old Town, and everything in between. The best thing about it? It's affordable and it's not overrun by tourists, yet. Of course, one day, the word will get out and everyone will want to go. So, trust me, this should be your next trip and here are 5 reasons why!
THE COLORFUL STREETS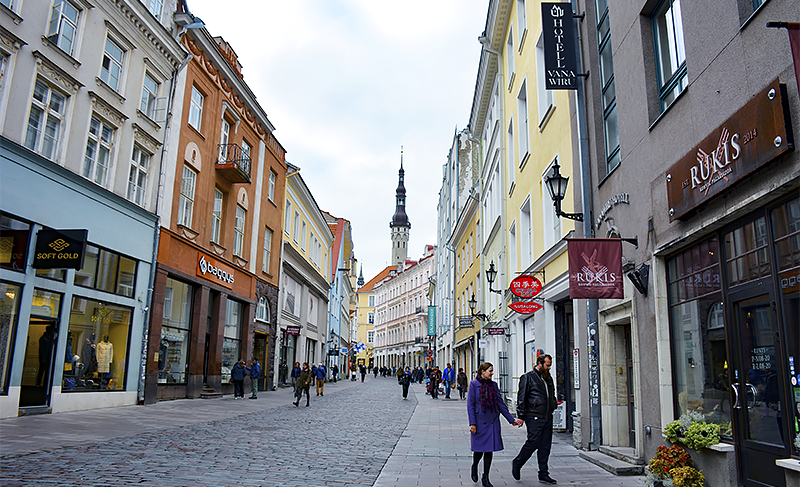 Old Town Tallinn, a UNESCO World Heritage Site since 1997, is just as charming as it can be! The buildings are painted in pretty pastel colors and some of them have Instagram worthy doors. Running through the heart of the city, awash in pastels, is the most famous colorful street called Pikk. This is the longest street in Old Town and one of the oldest streets in Tallinn. It's lined with great shops, galleries, bars, and restaurants that keep it quite busy. Just around a few corners is another well-known street called Viru (pictured above). This street, though not as long as Pikk, is still buzzing with tourists and locals alike.
You can make your way around town on foot or you can hop on the City Train. This little blue train will take you on a 20-minute ride through Old Town and down Pikk street along the way. Be sure to choose the right weather to enjoy this ride because the train doesn't have windows. Also, be prepared because the ride is quite bumpy on those cobblestone streets.
THE CREATIVITY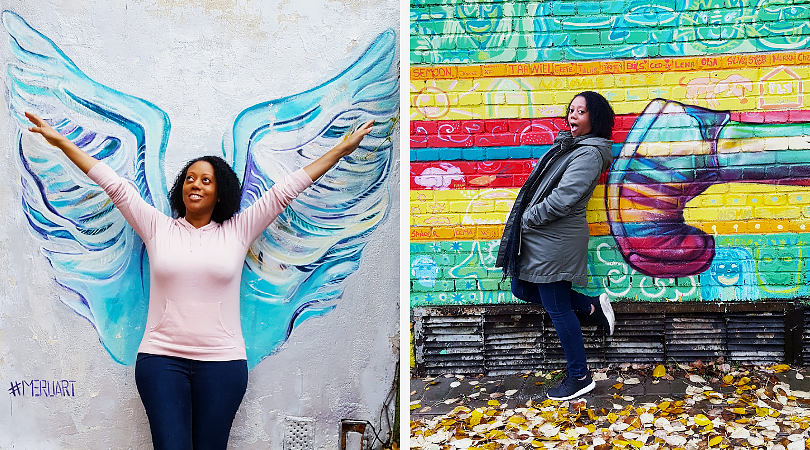 If you like Instagram, you'll love Tallinn because there are a ton of places to "do it for the 'gram"! One of my favorite areas is Telliskivi Creative City. Located in a former industrial complex, this incredible place has everything from fine art to street art, unique shops, bars, restaurants, and a flea market on Saturdays. In addition to all of this, Telliskivi Creative City hosts over 600 events throughout the year. Even if you're not the "creative type" you'll enjoy this area.
Before you leave, don't forget to check out Depoo for some creative street food (and delicious coffee)! Then, head over to the main building to the Balti Jaam Market for fresh fruits and vegetables. Or, grab one of the highly Instagrammable cupcakes at Vahvlihaldjad. Some of their cupcakes are topped with unicorns, bunnies, flamingos (my favorite), and more. Since we're already talking about it, the food is another reason why Tallinn should be your next trip.
THE CULINARY DELIGHTS

While Estonia may not be known for its food, Tallinn has its own strong foodie scene. From breakfast to dessert, you'll have plenty of restaurants to choose from. Pictured above is the breakfast we had at Cafe Grenka, just outside Old Town. We popped in one morning because we heard good things and it didn't disappoint! We each had spinach omelets with bacon and a side salad, I had a cappuccino, and my husband had Vana Tallinn (Estonian liqueur) coffee. I really enjoyed the food so I'll, definitely, go back. Next time I'll try the pies or the "Grenka" (similar to avocado toast but with various toppings).
For a unique dining experience, we went to Olde Hansa. Walking into this restaurant was like stepping back in time to the 15th century. Everything felt authentic… even the, ahem, toilets! The restaurant was packed with couples, friends, and families all enjoying the atmosphere, the food, and the drinks. For dinner, I had Grilled Salmon with Forest Mushrooms and my husband had the "Divine Leg of Pork" with beer syrup. We also had local craft beers, after dinner coffees, and dessert. Obviously, we had a rough time walking out since we were stuffed. But, in my book, that's memorable dining experience and just one of many in Tallinn!
THE LONG DAYS & NIGHTS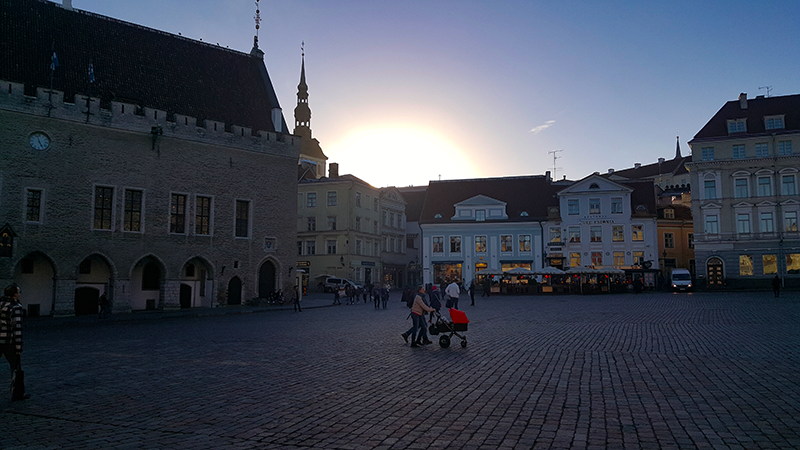 Due to its location, pretty far north, Tallinn experiences extreme changes in daylight in summer and winter. In the summer, Tallinn can have up to 18 hours of daylight on the longest day. This period in the summer is called the season of White Nights. You can pack a lot into a day when the sun rises around 4 AM and doesn't set until 10 PM. However, in the winter, there are just over 6 hours of daylight on the shortest day. Whether you like summer or winter, it's always a great time to visit Tallinn.
Since it was cold and wet when we were there, the streets were practically empty at night. So, we spent some time walking around and stumbled upon Stalkeri käik (stalker's path). This street was made famous by an old Russian film called Stalker. Honestly, it was a bit creepy! However, Rotermann Quarter (the location of Stalkeri käik) and Old Town were lovely in the evening. I heard some places in Tallinn were haunted but we didn't see anything creepy. Even without ghosts and spirits, we enjoyed our time walking around the half-empty streets.
THE THINGS TO DO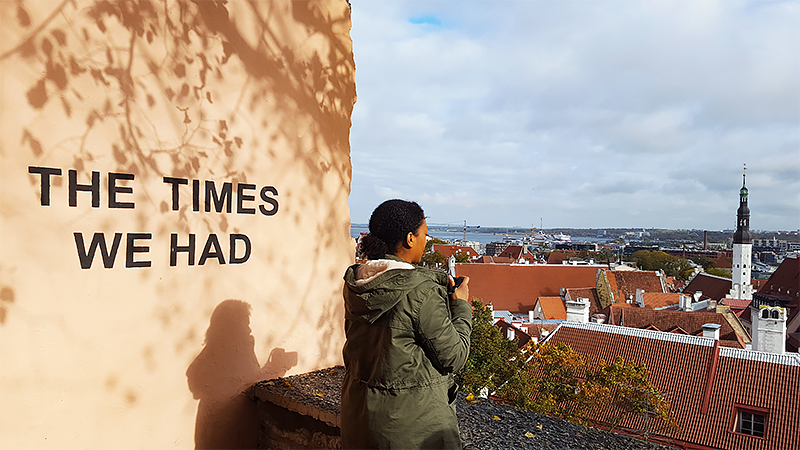 From stunning lookout spots to the bustling Kalamaja neighborhood, Tallinn is filled with exciting things to see and do. There's great architecture, a very tall TV tower, and an open-air museum with old world charm. You'll probably run out of time before you run out of things to do. We spent 3 days there and didn't even scratch the surface. Of course, it rained the first two days so that had something to do with it but we still managed to see quite a bit.
Will Tallinn, Estonia Be Your Next Trip?
Even though I just visited, I know Tallinn will be MY next trip because I left a piece of luggage in our rental apartment (don't ask, long story). My husband says I did it on purpose so I could go back sooner but what does he know?! I am excited to return because I'll get to see a little more of the city, if only for the day. I hope I've given you enough reasons to visit Tallinn on your next trip! It really is a wonderful city filled with wonderful people. *Be sure to check back for my next post on "what to see and do in Tallinn."
---
A special thanks to Visit Estonia for hosting us. We had an amazing time in Estonia and we appreciate your hospitality. As always, all opinions are my own and reflect my own personal experiences. 
---
Don't leave just yet, here are a few more posts on my favorite European cities.