Well, the title suggests that I was in Paris with The Blonde Salad and Gary Pepper Girl. However, it was a chance meeting but it resulted in me skipping with joy. Check out the story of how I met The Blonde Salad and Gary Pepper Girl in Paris.
The Blonde Salad and Gary Pepper Girl in Paris
While visiting Paris, my husband and I were enjoying on one of those bus tours I talked about in my Barcelona post! As we passed Pont Alexandre III and admired its beauty, my husband commented: "those women are pretty fancy!" As I turn to look, I notice the three fancy women are none other than my three favorite bloggers/entrepreneurs, Chiara Ferragni (The Blonde Salad), Nicole Warne (Gary Pepper Girl) and Zanita Whittington (ZanitaZanita). I was absolutely floored to see these beautiful, successful and all-around awesome women just standing on a bridge in Paris as I rode past.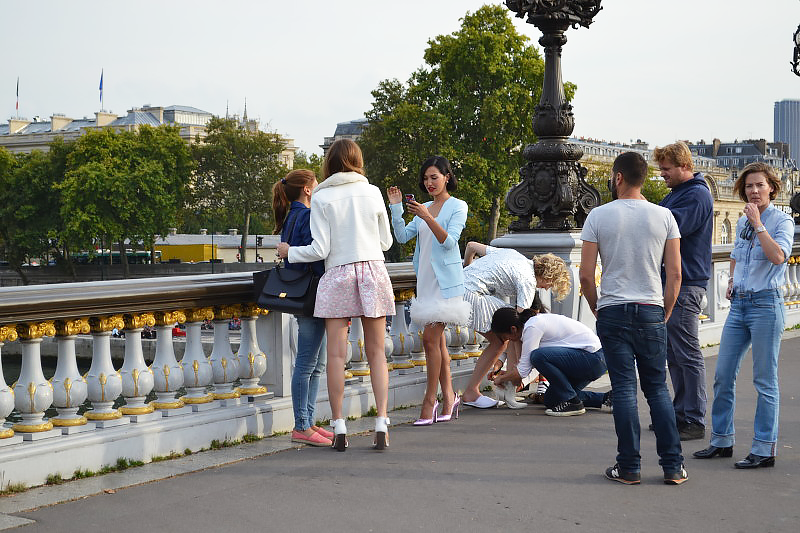 (Behind the scenes photos by Travel with Mia)
Get off the Bus!
Obviously, my husband and I exited the tour bus at the next stop and headed back to the bridge to see if I could snag a picture with the trio. After our half a mile walk, I stood like an idiot watching the girls get ready for their shoot, not knowing what they were shooting for. Finally, I worked up the nerve to ask for a photo and I was immediately shot down by the set producer (or whoever she was).
Take the picture!
As I hung my head and walked back over to my husband, I heard someone say "hey, go ahead but make it quick." So, I ran back over to Chiara Ferragni (The Blonde Salad) and Nicole Warne (Gary Pepper Girl), jumped in the middle of them and struck my best fashion pose as my hubby snapped away with our fancy camera… I wasn't leaving this once-in-a-lifetime opportunity up to my cell phone camera.
After we snapped this awesome photo, I realized that one of the cameramen had been filming the whole encounter and he asked if I was happy and I replied "YES" as I skipped away wondering if the video might end up on the internet somewhere! For the rest of the day, I wandered around the streets of Paris with the biggest smile on my face.
Star Struck!
I've never been star-struck! I was a flight attendant for 7 years and worked many first-class flights filled with celebrities. And don't forget my time spent as an entertainment publicist working in Hollywood. But, this was different. I respect and admire Chiara, Nicole, and Zanita for their hard work, determination, and entrepreneurial-know-how.
As I begin my own blogging career, it's encouraging to see where these ladies began and how far they've come. I was genuinely happy to meet them and they were as nice as I imagined they would be. Unfortunately, Zanita was in the midst of a wardrobe change when we took the photo. So, I didn't want to press my luck by waiting for her to finish. I was told they were on a tight deadline.
Paris is always a good idea!
Needless to say, our trip to Paris was nothing short of amazing. Realizing I was there for the Lucky Magazine cover shoot, for Chiara, Nicole, and Zanita, was pretty freaking awesome!!! Check out the cover below and click the link to read the full article at Lucky Magazine.
Thank you, Lucky Magazine for the awesome opportunity! If you have that video, I'd love to see it!! FYI… Chiara was sweet enough to like the photo I posted of the three of us on Instagram. Nicole was just as sweet when she "favorited" my tweet about this post on Twitter! Gotta love those ladies!
Have you met any of your favorite bloggers, celebrities or idols? Tell me all about it in the comments!