I talk a lot about "seeing more and spending less" and today is no different. If you've seen my Instagram feed or pictures on the blog, you'll notice I don't have a ton of style. Yes, I outed myself as "style-challenged". To be honest, I don't do much shopping because I want to spend all of my free money on traveling. Unfortunately, with this attitude, my wardrobe suffers and all of my outfits look basic. Luckily, I found thredUP – this amazing site where I can buy clothing and accessories without breaking the bank or draining my travel fund.
What is thredUP?
thredUP is the largest online consignment shop and thrift shop. They sell clothing, shoes, and accessories for women and children. You can find everything from "fast-fashion" to designer items for 70-90% less than retail! Just create an account and start shopping. Once you've searched the site and saved items to your favorites, thredUP will create their "top picks" for you. I love this part because they've suggested things I didn't even know I wanted!
How Does thredUP Work?
thredUP works in two ways: buying and selling. Personally, I enjoy buying! I'm all about taking advantage of the incredible prices. However, if you have great pieces in your wardrobe that you don't wear, you can sell them to thredUP! Be aware that only certain items are accepted. You can read more about that here.
How Much Does it Cost?
This is by far the best thing about thredUP, in my opinion. On my last order, I purchased 8 items that ranged in price from $5 to $45. Let's look at some of the awesome things I found: The Theory cocktail dress pictured below was originally sold for $335 but it was $63.99 on thredUP. Luckily, I happened to purchase it during a sale and I snagged this gorgeous dress for a grand total of $44.80!! Now that is what I call smart shopping. I was looking for a dress to wear for my birthday and I think I chose the right one. What do you think?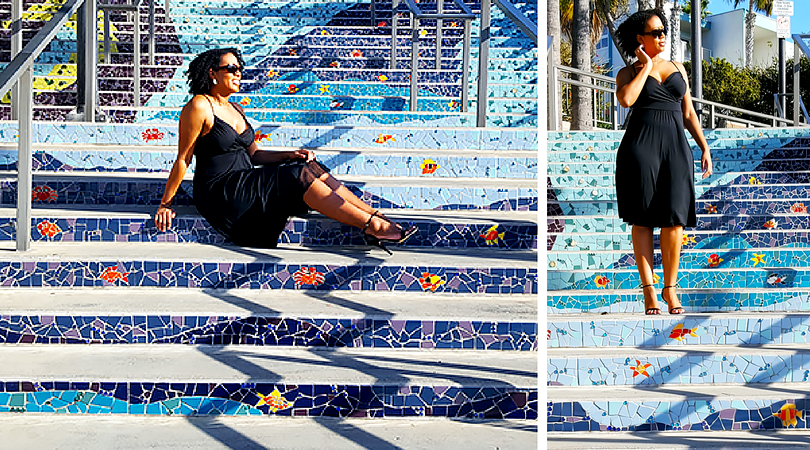 Another great purchase was this casual dress by Vince that originally sold for $185. I was able to get it (new, with tags) for $32.90 after another thredUP discount. No way I would ever pay $185 for a dress because that's a plane ticket in Europe or 2 nights in an Airbnb, haha! But, $32 is right up my alley. Not only was the price right, this dress is super adorable, lightweight, and I can wear it for many occasions.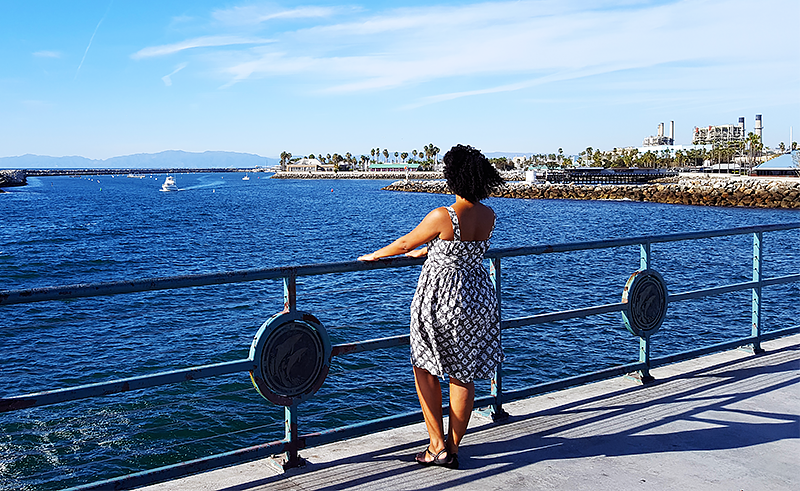 If those prices are still a bit too much for your budget, take a look at this adorable Gap skirt. It was originally sold for $50 but I only paid $5.60! So, you can see that there's something for every budget at thredUP. I love this skirt because it's so versatile. Here's I paired it with a green sweater but I would also wear it with a denim jacket or even a cute nautical type shirt. So many possibilities!

Why Choose thredUP?
If you're anything like me and you spend more on traveling than you do on clothing then this is the place for you. You can stay stylish and trendy without blowing your budget. If you haven't tried thredUP, please go check it out. I promise you'll have a full cart before you even realize you were just browsing!
---
Have you tried thredUP? What was your experience? What cool things did you find? Tell me about it in the comments! Don't forget to Pin this for later!