Lately, I've been jumping on the airport lounge bandwagon. I've visited a few, in different countries and it's safe to say, I'm hooked. Getting away from large crowds, having free food and drinks, and enjoying a more relaxing atmosphere is worth the price.
No1 Lounge London Heathrow Review
Recently, I had a 6-hour layover at London Heathrow so, I decided to research lounges. If you've been to Heathrow, you know that everyone sits in a general area until the gate is posted and I did not want to sit in the terminal for that long. I was happy to find the No1 Lounge London Heathrow located in Terminal 3 because it was one of the only pay lounges available. Since I wasn't flying on a business or first-class ticket like I did on Lufthansa to Frankfurt, I didn't qualify for entry to the other lounges. So, I made my booking online and hoped for the best.
ACCESS
This lounge is strictly a pay lounge. You don't need a special ticket, credit card, or status needed to enter. However, you do need money! The price for adults is 36£ online or 40£ at the door (~$47 – $52) and for children it's 16£ online and 18£ at the door ( ~$21 – $23). The lounge is open from 4:30 am until 10:30 pm.
THE LOCATION
Located in Terminal 3, you'll find the No1 lounge near the Lounge F corridor. It's not hard to find because you'll pass it on the way from security to the main waiting area, food court, and shopping center. There's plenty of signage so look out for Lounge F.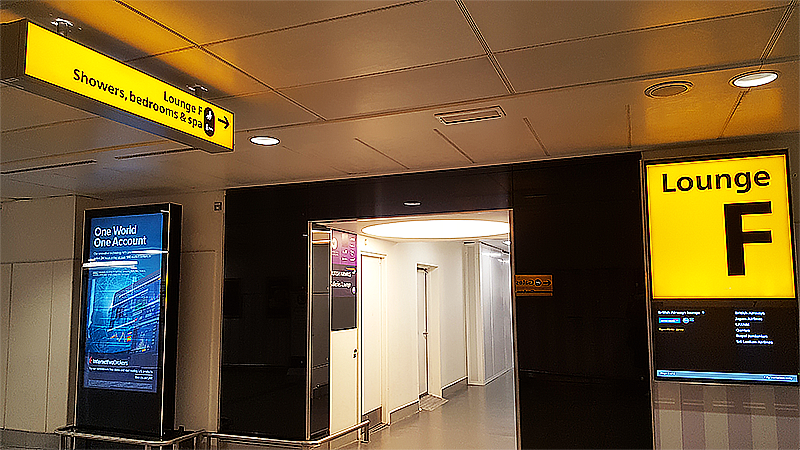 THE LOUNGE
The lounge is set up, almost, like a bar/restaurant. When you walk in, the bar is to your left and there are tables and chairs on your right. If you keep walking, there are more tables and chairs on the left and a couple of small tables with snacks and drinks in front of you. To the right, you'll find big comfy chairs and a table with magazines and newspapers. Past that and around the corner sits the library, spa, a theatre, and private room.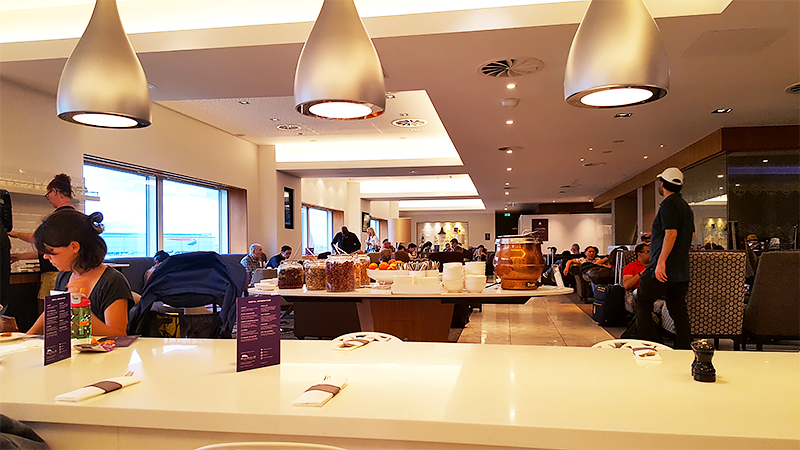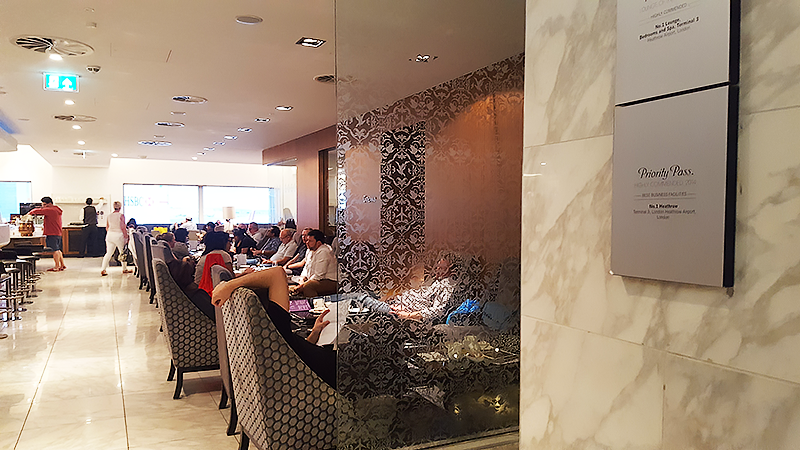 THE AMENITIES
Fully tended bar
Complimentary hot and cold food
Quality magazine titles and national papers
Unlimited WiFi
Cinema
Guest showers
Dedicated table service in our bistro
Flight information screens
Power points
Self-service pantry table
THE FACILITIES
The lounge has shower rooms with towels, hairdryers, and toiletries available for guests. Non-lounge guests can access the showers for about $20. On another note, I was very impressed with the bathrooms because they were clean (and stayed clean), they were super modern and very user-friendly. There were plenty of products, from the spa no less, to wash your hands and moisturize.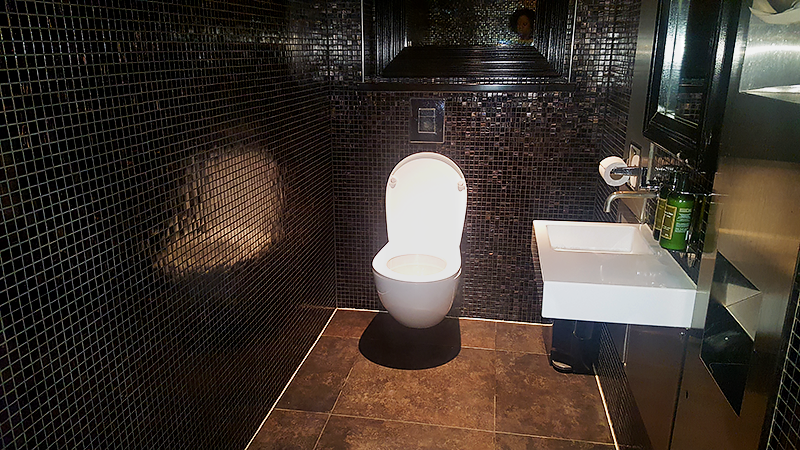 If you have enough time, I recommend booking a spa treatment. This facility offers everything from massages and facials to manicures and pedicures. Here's a quick overview of the range of prices (approximate with exchange rate):
Massage: Low End: 25 minutes – 45GBP/65USD | High End: 140 minutes – 165 GBP/223USD
Facial: Low End: 10 minutes – Free consultation | High End: 55 minutes – 85GBP/115USD
Manicure: Low End: 40 minutes – 40GBP/55USD | High End: 70 minutes – 70GBP/95USD
Pedicure: Low End: 40 minutes – 45GBP/60USD | High End: 70 minutes – 75GBP/100USD
As you can see, there is a wide range of treatments to choose from and there's something for almost every budget. I wish I hadn't been alone on this trip because I would have had a spa treatment. Unfortunately, the lounge was packed and I wanted to make sure I had a seat the whole time so I skipped it. Kicking myself now!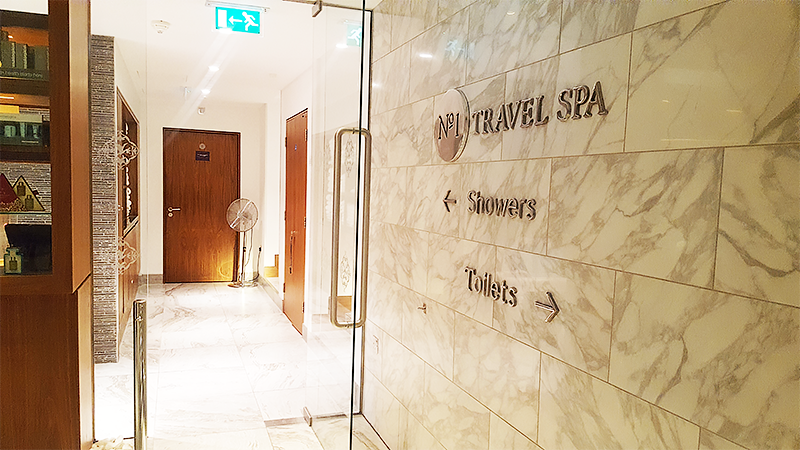 THE POD BEDROOM
For those that have a much longer layover, the NO1 Lounge London Heathrow has Pod Bedrooms for rent by the hour (3-hour minimum). The bedrooms are airside (inside security) which is great when it's time to check out. Amenities include:
En-suite shower room & WC
Aromatherapy Associates toiletries
Hairdryer & shaver socket
22″ flat screen TV
Unlimited WiFi
Small desk area
Free international calls
Infant cots available
Prices are by the hour: Single (25GBP/33USD) Twin (35GBP/47USD), and Triple (40GBP/55USD)
THE FOOD

What I liked about this lounge over the Lufthansa Business Class Lounge Frankfurt was the bistro style setup. No buffets with mass-produced food sitting out for all to dig into. Here, you sit down at a table, comfy chair, or at the bar and order from the menu. It made the lounge feel a bit more upscale to me.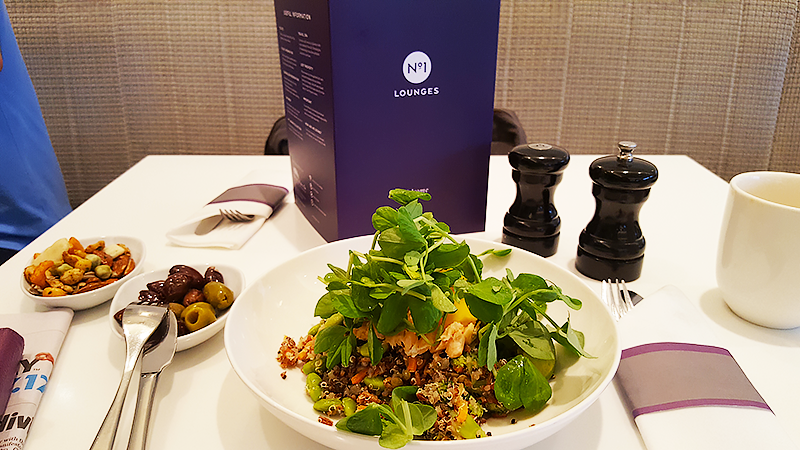 THE GOOD
The best thing about this lounge was that it was away from the massive amounts of people in the terminal. I would have paid double (shh, don't tell them) to stay away from those crowds. The other great thing was the booze! I think I had 3 glasses of wine with lunch. If you've been to London you know I got a killer deal in the lounge. No doubt, I would have paid more than the cost of entry on 3 glasses of wine in the terminal.

THE BAD
While I enjoyed the setup of the lounge and the bistro, I didn't really enjoy the food. It looked pretty but it wasn't the most appetizing. Luckily, the food and drinks (including alcohol) are included in the entrance fee. So, I was able to order a different dish that was more palatable. Okay, that's harsh – my sandwich was actually quite good.
THE CONCLUSION
Would I book a spot in the No1 Lounge London Heathrow again? Yes, definitely. Even though it isn't as nice as the business class or first-class lounges, it's worth the money. Be sure to book your spot online and save a few bucks. Visit No1 Lounges at London Heathrow, London Gatwick, Birmingham, and Edinburgh airports.
---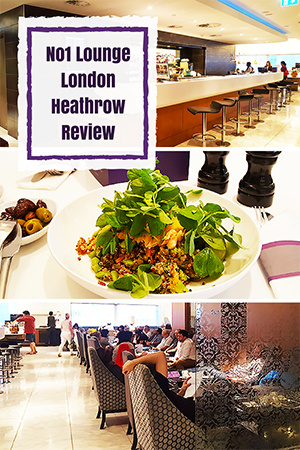 I hope you found my No1 Lounge London Heathrow review helpful! Have you been to this lounge or any other location? What was your experience? Have you been to any other lounges? Tell me about it in the comments!