A great piece of luggage is a MUST for every traveler. Seriously, there's nothing worse than buying bag after bag because they keep falling apart. Fortunately, I was introduced to some of the best luggage that will soon hit the market. G-RO, "the most funded luggage campaign in crowdfunding history", launched a Kickstarter campaign featuring the newest additions to the luggage family.
Recently, I had the pleasure of visiting the G-RO office to check out the luggage in person. As I was introduced to each piece, I was more and more impressed. The workmanship, design, innovation, and quality of materials are unrivaled at this price. If you backed the first G-RO Kickstarter campaign, you know what I mean. If you've never heard of them, stick around. *Update: This Kickstarter campaign has ended but you can still shop the 2018 G-RO collection.
G-RO: Smart Luggage for the Savvy Traveler
Founded in 2010 by industrial designer Netta Shalgi and strategist Ken Hertz, Travel-Light LTD was established with the goal of becoming a global innovator in the travel and mobility industry. The company is focused on creating a new standard that meets the traveling challenges of the 21st Century. Travel-Light delivers high-quality products at competitive prices for the growing population of commuters and travelers.
Made by people, for people, improving all aspects of traveling accessories, their vision is to redesign the future of traveling and commuting. Using all new methods, Travel-Light is a company for novelty traveling accessories and a wide variety of traveling and mobility concepts and solutions.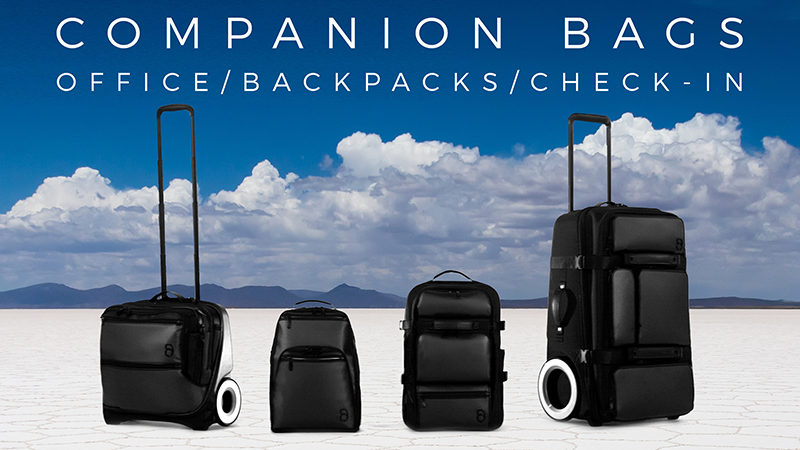 The Campaign
In this Kickstarter campaign, you can choose several different pieces of luggage or bundles of two or more. For more information on pledge amounts, please visit the website. Right now, only 1 day remains for this campaign so check it out NOW!!
The Luggage
The G-RO line features some of its most innovative products with charging capabilities, TILE Bluetooth Trackers, unrivaled durability, ergonomic design, and wheels that let you roll over everything. Come on, let's check out the bags!
The Check-In

The Check-In is THE coolest piece of luggage. I wish I was on team #CheckedLuggage because I would love to use this bag. For those who love to pack it all and schlep it across the globe, this is the bag for you. It's incredibly roomy and lightweight despite its size, it has multiple, dual handles for convenience, bumpers for protection, a special section for shoes away from the main compartment, mesh dividers to keep things organized, and it expands and has compression straps. Wheew, that's a lot but, seriously, this is one amazing bag!
Key Features:
Spacious expandable interior (86L to 96L)
External shoe pocket
Signature axle-less tough terrain wheels
Compression straps
Multiple handles for easy carrying
Comes with a TILE Bluetooth Tracker
Measures 14 in x 16.5 in x 28.5 in
The Office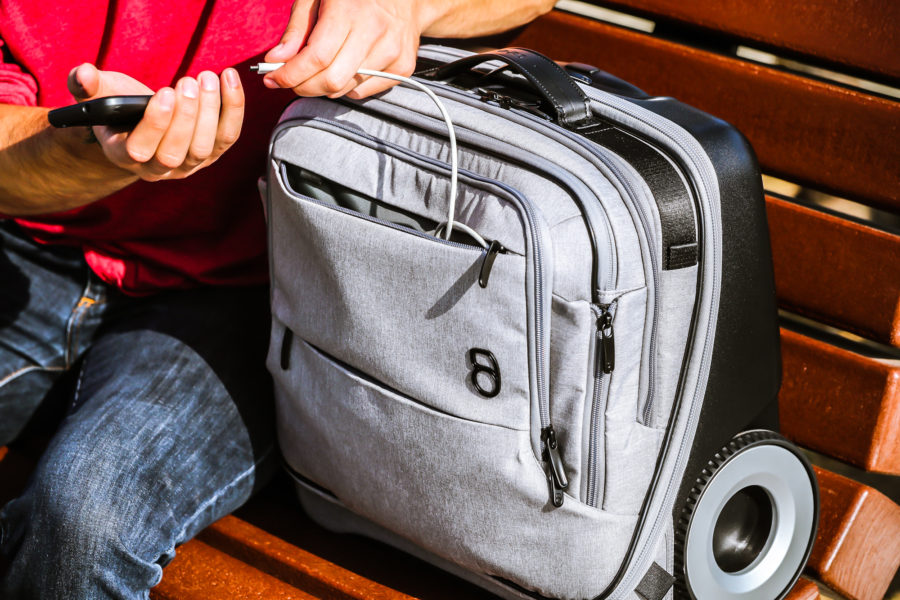 This is an everyday "commuter companion bag" that has multiple uses. Use it during the week to hold files, folders, and all of your important company items. On the weekends, pack it up for a quick getaway because it can hold 2 days worth of clothing. With multiple compartments for all of your essential items, the Office is perfect for everyone.
Key Features:
Padded waterproof 15″ laptop compartment
Spacious interior compartment for daily commuter items
Hybrid material design of polycarbonate and lightweight fabrics
Signature axle-less tough terrain wheels
Multiple easy access pockets for organized packing
Comes with a TILE Bluetooth Tracker Measures 16″ x 9″ x 16″
The Backpack XV

I loved this backpack because I knew it would be perfect for the hubs. This bag has so many cool features that I won't be able to list them all. Here's a quick rundown: a protective spot for (sun)glasses and another for foldable headphones, mesh dividers so you can see all your stuff, it opens partially or a full 180 degrees, it has adjustable chest straps, 2 expansion zippers, and compression straps to keep it all under control. The best feature, according to my husband, is the luggage strap. For some reason, most backpacks don't have them so he's stoked about being able to pop the Backpack XV on his luggage handle. If you're looking for a backpack that's a little more rugged and ideal for taking with you into the great outdoors, perhaps for going camping with, you may want to check out the products from Bass Pro Shops where you can find this and more. If you're looking to save some money, why not take a look at this helpful site which has coupons and promo codes to help you get a reduction on your favorite products.
Key Features:
Expandable interior (15L to 32L)
Water protected USB charging port
Dual 180 ° openings
Easy access laptop compartment allowing you to access your laptop from the top or either side of the bag without unpacking
Thoughtfully designed interior pockets for organized packing
Comes with a TILE Bluetooth Tracker
Measures 12 in x 5.5 in (11 in expanded) x 18 in
The Backpack Light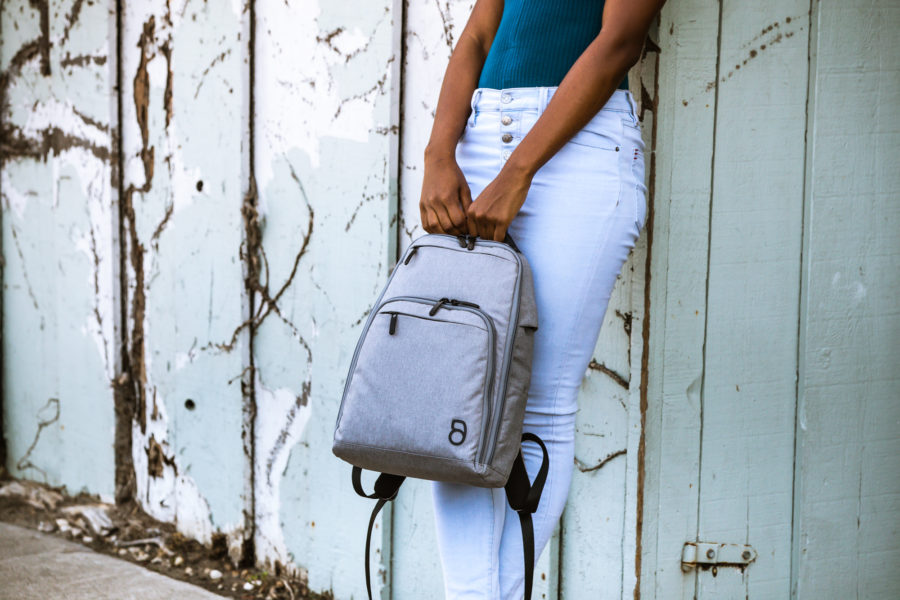 This is, by far, my favorite piece because it solves two issues I've faced during my travels. Issue #1, I need something I can use as my "personal item" on the airplane. This bag is roomy and organized with several internal pockets and a padded laptop compartment which is perfect for a carryon. Issue #2, I need a "day bag" when I'm exploring my destination and this bag is sleek and lightweight so it won't be a pain in the neck to carry for long periods. Also, just like each of the bags, it comes with a power pack and charging capabilities.
Key Features:
Lightweight construction
13 in padded laptop compartment
Water protected external USB charging port
"No fishing" design with wide-mouthed opening
Comes with a TILE Bluetooth Tracker
Measures 11 in x 5.5 in x 15 in
---
The Wrap Up:
A well-made piece of luggage is essential but not all luggage is created equal. The G-RO family of luggage is sleek, modern, and durable and can't be beaten. Please, don't miss your chance to back this Kickstarter campaign. Check it out HERE. As of right now, you only have 1 more day to get in on this incredible deal! Trust me, you won't find products of this quality for this price anywhere else.
Disclosure: I received products in exchange for this post. However, as always, all opinions are my own and reflect my own personal experiences. Additionally, I – personally – backed this campaign on Kickstarter with my own funds.
*Note: Images, specs, and company information provided by G-RO.