I don't normally write about luxury vacations because I like to "see more and spend less". However, sometimes, I want to splurge a little and be pampered a lot. I want a fancy vacation where I can sip champagne, relax by the pool, and have a daily massage. I'm thinking a luxury couple's getaway in Thailand is in order.
A few months ago, a group of couples (4 to be exact) decided to plan a trip to a tropical destination. We wanted to relax, unwind, drink, eat, and go on some excursions. We had everything planned but one couple had to back out so we scrapped the whole idea.
Now, we're ready to start planning this epic trip but we want to go bigger and farther from home. So, we chose Thailand! Thailand is stunning and there are endless things to do and places to go and it's filled with the nicest people you'll ever meet. Not only is the scenery amazing, the villas and vacation rentals are to die for. We're going to rent a villa that sleeps 8 for our Thailand Luxury Vacation. Since the price is split between 4 couples, this will keep our costs down and allow us to bring in a chef, bartender, and masseuse all for the price of one night in a 5-star hotel the U.S.
Luxury Couple's Getaway in Thailand
WHERE TO GO
Thailand has, literally, hundreds of islands so it can be a tough choice when deciding where to go. To narrow it down, think about the type of activities you want to do. Also, decide whether you want to be close enough to take day trips to other islands. That should help you choose the best destination. My favorite islands are Koh Phi Phi, Koh Tao, Koh Samui, Koh Phangan, and Phuket. For this trip, we've chosen the island of Koh Samui and we're looking forward to 5 glorious days in paradise.
WHEN TO GO
The best time to visit Thailand depends on where you're going. The weather can differ from island to island and city to city. If you're going to Koh Samui, the best time to go to avoid the rain and relentless heat is January through March or April. The weather should be just about perfect for hanging on the beach and island hopping. Our first time to Koh Samui, we went just after Christmas through the beginning of the New Year. It only rained twice in the morning and it was sunny and warm (maybe 85 degrees) the rest of the time. If traveling January through April isn't possible, don't worry. Koh Samui has some of the best weather in Thailand year round.
WHAT TO DO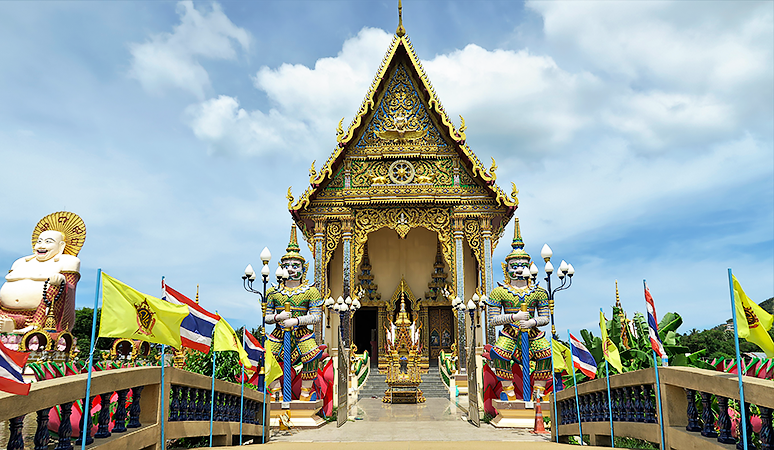 Image via Pixabay by Bertomic
Island Tour
Take a tour around the entire island of Koh Samui with a private car and English speaking driver. You'll see popular places like Big Buddha ( Wat Phra Yai), Grandmother and Grandfather Rock (Hen Tai and Hen Yai), mummified monk (Wat Khunaram), Wat Plai Laem – the 18 arm goddess of mercy and compassion and so much more! The tour, generally, lasts about 4 hours but can be more or less depending on your interests.
Island Hop
Book a speedboat or catamaran and get out into the open water. Take a ride over to Ang Thong National Marine Park and snorkel, explore the park, enjoy lunch on the boat/beach and get some stunning photos out of it. What's not to love about that?
However, if you're thinking of using drugs like cannabis, ice, cocaine, and the like, which seem to be available in the destination, you might want to do some research beforehand. Starting by asking questions like is Weed Legal In Thailand? It is always better to be sure of the do's and don'ts of the locale before you visit.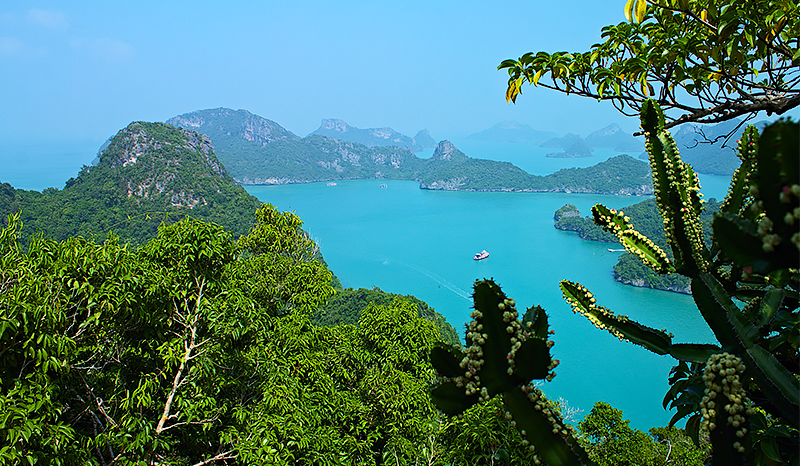 Image via Flickr by Nicolas Vollmer
5-Star Dining
Tree Tops Sky Dining & Bar, Barracuda, and Dining on the Rocks are all excellent options for an upscale dinner. Tree Tops Sky Dining & Bar and Dining on the Rocks both have sensational views right from your table. Experience some of the best food the island has to offer.
Night Markets
If you're a bit more adventurous or you're not looking for a fancy dinner, try the Night Markets. Like to eat bugs? They've got those on a stick. Like to shop? They've got rows and rows of people selling their goods. Last time, I bought a tank top for $2USD and it's still my favorite. Like to drink? They've got pop-up bars right there on the street and they'll mix you a drink for less than a dollar US. Or do you like to eat everything (like me!) Yep, they've got all the food you can eat and then some. Beware: ONLY go to street food vendors that cook to order and have a line of local people. They know what to eat and which ones are the cleanest. (To clarify, if you're in Thailand, don't pick a vendor with a line of Western-looking people)
Nightlife
There are several great bars and restaurants around Koh Samui (especially in Chaweng) so don't stay in one area. Taxis are cheap and going from one side of the Island to the other is fairly inexpensive. Drink a little, eat a lot and mingle with the locals.
WHO SHOULD GO?
I don't expect every trip to be a luxury vacation but there's nothing wrong with taking one every now and then. Singles, couples, families, and groups can all benefit. If you're worried about the budget, grab a group of friends and make it a luxury couple's getaway in Thailand so you can split the cost.
WHY YOU SHOULD GO
Thailand is one of the most beautiful places in the world. Not only are the beaches stunning, the food is stellar, and the people are welcoming. I see why they call Thailand "the land of smiles"! Any destination you choose in this inviting country will be worth the trip.
---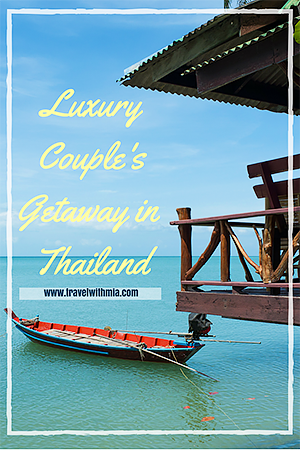 Have you been to Thailand? Did you visit Koh Samui? What was your experience? Tell me about it in the comments!
[Feature/Pin Image via Pixabay]