One of the first posts on my blog was about my trip to Barcelona, Spain. Since I was a new blogger, I didn't quite know what to write about or who I was writing for. I still don't have it all figured out but I do have a clearer voice and a little bit of a vision.  On that note, I've decided to do another post on my time in Barcelona with a bit more insight.
Barcelona Revisited
THE APARTMENT:
After lots of research, we decided to rent an apartment on VRBO in El Born (one of the oldest neighborhoods in the city).  The only thing I didn't like about the apartment was that it was on the 5th floor and there was no elevator. However, the hubs and I decided it was a good way to work off all the food and booze we planned on consuming during our 5-day vacation.  The apartment was very centrally located and it allowed us to walk from one end of the city to the other (including the beach) while taking in the beauty of each neighborhood.   Even though we walked everywhere, we were just a few minutes away from the train station near Plaça Reial.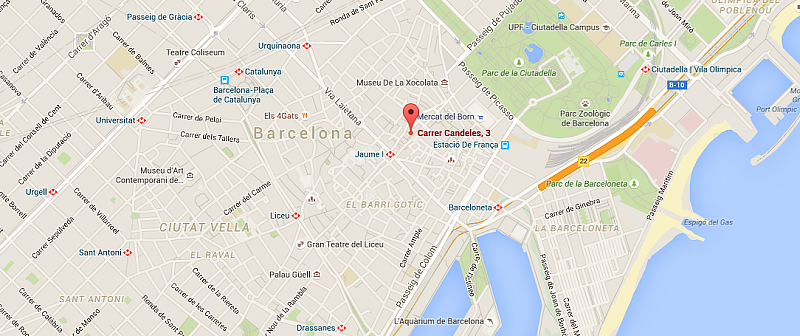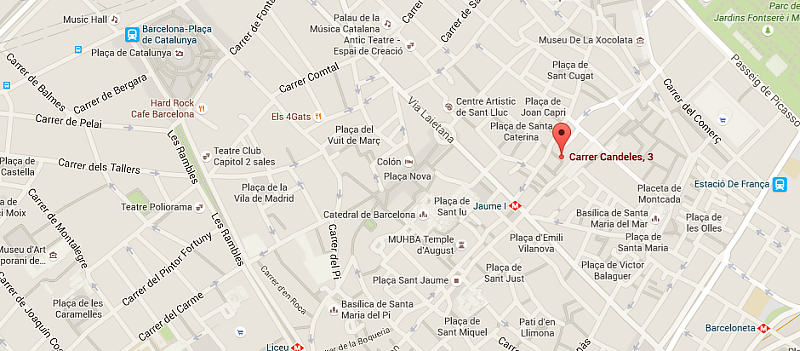 (Note: Click the map to see a larger photo  – click again in the new window and see it even larger.  Notice how close we were to the beach, Las Ramblas, Plaça Reial and several museums including Picasso's.)
THE FOOD:
One of my favorite things about Barcelona was the food!  My husband and I are huge foodies and we mostly travel to eat!  The owner of our vacation rental was kind enough to give us a few great suggestions on where to have excellent Tapas and Paella, two things that should not be missed when visiting Spain.
Our first night, we met up with a friend from the U.S. and she took us to Santa Caterina (below, right) for dinner. While this place had more of a fusion vibe, the food was delicious and the atmosphere was great. We returned on another day for a late night snack and a pitcher of Sangria! If you visit, don't forget to stop by in the daytime so you can shop in the Santa Caterina Market!  After dinner, we went to Plaça Reial for a drink at Ocaña where we ended up dancing until dawn, literally.
Tapas
For Tapas, mostly seafood, we went to a small, unassuming restaurant called Betlem (below, left) that had incredible tapas prepared in the tiny kitchen in the back.  I'm sure I ate my weight in mussels and olives.  Seriously, I love olives but Spanish olives are amazing and I could live off those alone.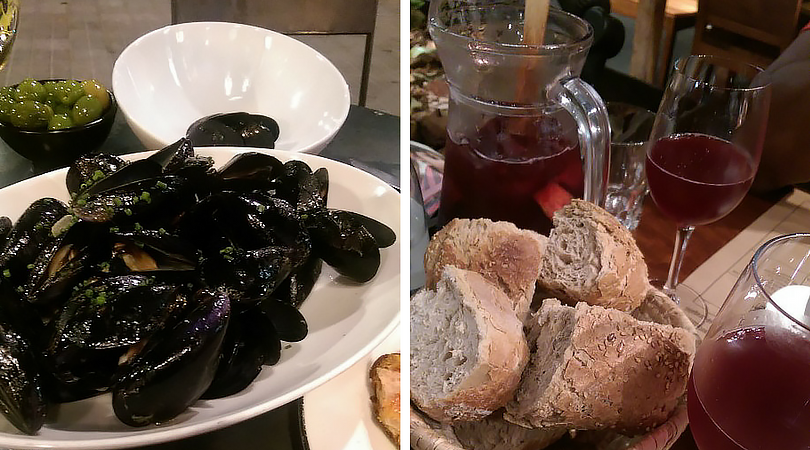 Paella
Another restaurant that came highly recommended was Xiringuito Escriba (below) located oceanfront on Barceloneta Beach. I cringed making a reservation at 10 pm because I'm American and I eat dinner at 7 or 8 pm. But… when in Spain!  At dinner, we sat next to a lovely Catalan couple who gave us a few suggestions on things to do.  We enjoyed the conversation as much as we enjoyed the olives, razor clams, and the seafood paella!  By the time we finished our meal, it was nearing 1 am and we were shocked at how late it was but no one around us seemed to notice the time.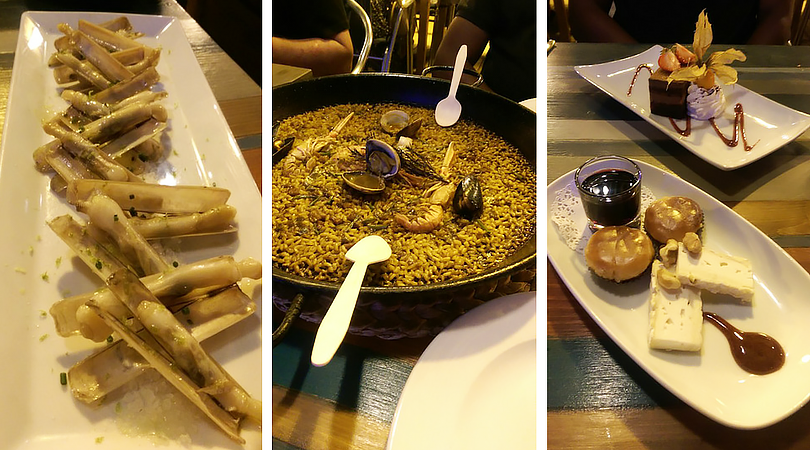 After dinner, the Catalan woman reviewed my dinner choices and said: "you certainly don't eat like an American!"   To me, this was an awesome compliment!  I felt like my two years living abroad and my travels around the world had refined my palate. Not only that, it opened my eyes to more than just "American/Americanized" food.  When I was young, my mom took us out to eat but rarely let us order the same dish twice.  She always said we should try new things to broaden our horizons.  Don't get me wrong, a burger and fries will never get old but I love eating local cuisine.
THE SIGHTS:
We did the Hop-on, Hop-off bus tour and that allowed us to see the city in one day. Also, we were able to plan our route for the rest of our trip.  The highlights were the Picasso museum (be prepared for looooooong lines), Park Guell, La Sagrada Familia, Barceloneta Beach, Las Ramblas, CasaBatlloo, and most of the "not to be missed" sights.
My first thoughts of Barcelona were that it lacked something that was quintessentially Barcelona.  I mean, Paris has the Eiffel Tower, Rome has the Colosseum, and Athens has the Parthenon. I couldn't put my finger on what Barcelona had until we attended La Festa Catalan and watched the Castellers.  Watching the Castellers build human towers with the tiniest little kids on top was surely a treat!  The music, the excitement, and the fear was all part of the fun and everyone seemed to enjoy the show.
Yes, I know that the Catalan festival is not unique to Barcelona. (And it's not a landmark or ancient ruin) However, it was the first time I felt like I was seeing something not seen in another European country.
Overall, I loved Spain and I wish we could have seen more of it.  We will return one day and I can't wait!
---
I'd love to hear your stories about Spain.  Leave your comments below.