Who doesn't love going to the airport and hopping on an airplane to some far away place? Obviously, that's one of my favorite things to do but sometimes it's not as fun as it sounds. Lately, airlines have gotten a bad reputation for overcharging for carryon bags, cramming seats together for more profit, and just being genuinely uncomfortable. However, passengers can take some of the blame for the uncomfortable situations that arise in-flight.
Here's how YOU can help everyone feel a bit more comfortable on your next flight. These are 10 things an airplane is NOT… ya know, in case you forgot!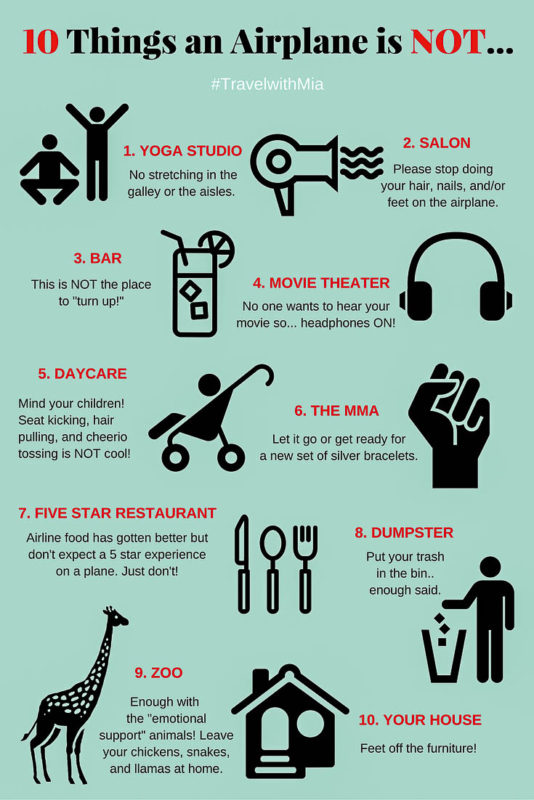 I'm sure most of you would never do any of these things on an airplane! So, if you're the perfect traveler, feel free to pass this along to friends and family who break the rules! Of course, this is a fun piece about airline travel so please don't take it too seriously!
However, we can always do our part to make others feel more comfortable in many situations. Here's my professional, flight attendant, advice: be kind to others, play nice and have some compassion. If you see an elderly person traveling alone, chat them up and make them feel special. If you see a single parent traveling alone, ask if you can carry something or if they need help. Maybe they need someone to hold the baby while they go to the bathroom or while they wolf down their food. However you choose to help, let's just be nicer to each other!
---
Have you broken any of these rules? Do you know anyone who needs a reminder about airplane etiquette? Tell me about it in the comments!
(I'm aware that there are certain instances where some of these rules may need to be broken so no need to point that out in the comments)